Triple Treat
Plan Now, Travel Later To The U.S. Virgin Islands
By Cecilia Deignan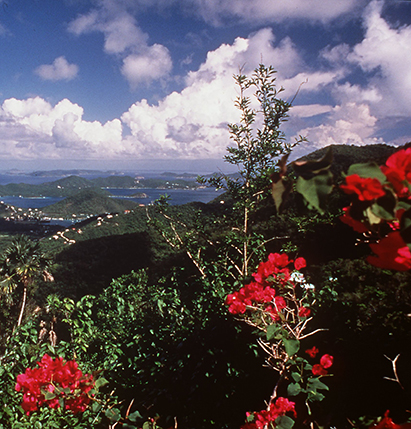 Who isn't dreaming of getting away? Perhaps hiking in a rainforest, lounging on a sandy beach, or participating in a rum tasting. But the question remains: Should you travel? Of course, it's possible with more destinations, especially in the Caribbean, open and welcoming visitors. However, it will be different since restrictions of one sort or another will be in effect. It's essential to take not only your safety into consideration but the safety of others. Americans need to follow the State Department and CDC's advice since protocols and information change so rapidly.
Without question, the coronavirus is changing everything about how we live. But travel won't end. A journey is what brings our world together; it is how we learn about other cultures and is an important part of people's lives.
The U.S. Virgin Islands may be a perfect choice. You get three islands to explore, and there's no passport required for American citizens. St. Thomas and St. John are neighbors, only four miles apart, and traveling between the two for the day or an afternoon is a cinch. St. Croix is farther afield, but still within reach by seaplane or ferry. Whether you choose one, two, or all three, you won't be disappointed. They're beautiful, fun, and America's paradise.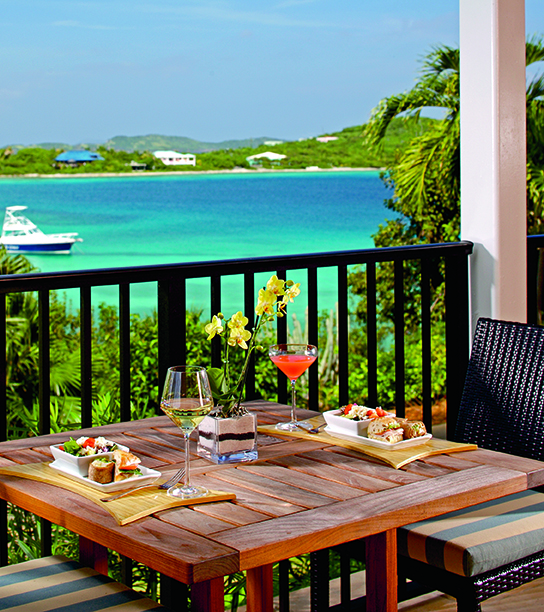 ST. THOMAS
Duty-free shopping comes to mind when people think of St. Thomas. The busy streets and lanes of Charlotte Amalie are chock-a-block with jewelry shops, designer boutiques, liquor merchants, and souvenir stalls. And when cruise ships once again dock in this popular port, the streets will team with tourists looking to take advantage of the daily specials. Nevertheless, St. Thomas offers a lot more than shopping. Magens Bay, for instance, is one of the world's prettiest beaches. Located on the north shore, directly opposite Charlotte Amalie, Magens Bay can get crowded at times. Head to the western end, where the snorkeling is best. When you come up for air, you'll marvel at the extraordinary view of the glistening beach, turquoise water, perhaps a sailboat or two, and bright green peaks enveloping the bay. When evening falls on St. Thomas, it's not the end of the day but rather the beginning of the night, and you'll want to try some of the truly exceptional restaurants on the island. Old Stone Farmhouse, at Mahogany Run, is one of the most beautiful spots for dinner. Soft candlelight perfectly balances the massive stone walls and archways in this 200-year-old plantation house. And the chef's international cuisine is spectacular
WHERE TO STAY
Ritz-Carlton, St. Thomas Built in the style of a Venetian palace, the Ritz-Carlton treats guests like royalty. Sophisticated guest rooms features balconies which peek out over beautiful gardens, an infinity-edge pool, the beach, and the sea beyond. Additionally, there's Internet, marble bathrooms with deep soaking tubs, and lots more. The spa, salon, and fitness center will soothe body and soul; the Ritz Kids program packs in a full day of activities for kids, including collecting seashells and feeding iguanas. A 54-foot catamaran is available for a day or sunset sail. Info: ritzcarlton.com.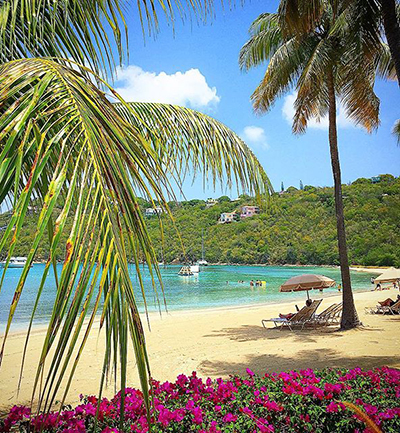 ST. JOHN
Columbus sighted St. John over 500 years ago, but it was Laurence Rockefeller who put it on the map. He purchased most of the island in the 1950s and then turned over the bulk of it to the federal government for a national park. About two-thirds of St. John, including 5,600 underwater acres, is now preserved as Virgin Islands National Park. Cruz Bay, the main town, has a colorful waterfront and narrow streets lined with interesting shops and some excellent restaurants. Nearby, Mongoose Junction is a maze of stone buildings housing upscale shops and boutiques that feature resort wear, jewelry, handcrafts, and more. Be sure to visit the National Park Visitors Center, adjacent to the Cruz Bay wharf, to learn about outdoor activities and hiking adventures in the park. For example, Trunk Bay has an underwater snorkel trail with plaques that identify the corals and fish. You'll also want to explore some of the island's 30 fabulous beaches, such as Cinnamon Bay, Hawksnest Bay, and secluded Honeymoon Beach. Eco-adventure is the primary appeal of St. John, but don't let that fool you. Cruz Bay offers after-dark entertainment.
WHERE TO STAY
Westin St. John Resort & Villas The island's largest resort offers a nice prime beachfront location along with plenty of activities to keep family members busy. Need to explore: rent a car to see nature upclose and the area's beautiful beaches. Spread over more than 40 acres and adjacent to Great Cruz Bay, the resort is lush with planted gardens which add to the feel of being in the tropics. White sandy beachees beckon sun worshippers and a large pool will satisfy loungers.
Info: marriott.com.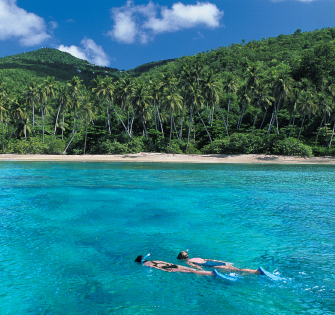 ST. CROIX
Better known as the Big Island, St. Croix is the largest of the U.S. Virgin Islands with an intoxicating laid-back feel you'll soon get accustomed to. Cruzan life focused on agriculture through the 1960s, when vacationers discovered the islands beautiful beaches and reefs teeming with sea life. Buck Island Reef National Monument, off St. Croix's northeastern coast, includes a 700-acre marine garden with an underwater snorkel trail. Some 200 sugar plantations once covered St. Croix, and ruins of sugar mills still dot the landscape. To get a grasp of plantation life, visit Whim Plantation, near Frederiksted. Its Great House has period furnishings, including original furniture handmade by slaves. Be sure to try a johnnycake, a local specialty still prepared in the kitchen. Frederiksted, on the islands western end, is the smaller of St. Croix's two towns and its main port. Historic Fort Frederik has protected the waterfront since the 1750s. Lining the narrow streets nearby, Victorian-style, gingerbread-bedecked buildings house boutiques catering primarily to cruise-ship passengers. Christiansted, on the northeast coast, is St. Croix's commercial center and offers the best shopping opportunities. Both towns have rich histories, and exploring on foot will reveal historic landmarks and unique colonial architecture. A self-guided Heritage Trail traverses the entire island, linking the two towns and tracing St. Croix's history, culture, and environment.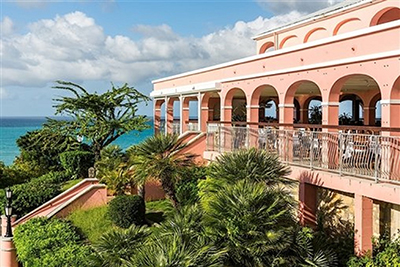 WHERE TO STAY
The Buccaneer Hotel Aimed at travelers who want everything at their fingertips, The Buccaneer offers gorgeous beaches, pools, and plenty of sports facilities. The palm-tree-lined main drive is welcoming and leads to the large, pink main building atop a hill. The rest of the resort sits on a former 300-acre former sugar plantation, where guest quarters are scattered about the manicured lawns. Accommodations are spacious and styled with a tropical theme and include local art. Go ahead and splurge for a Beachside Doubloon room just steps from the sand. There are camp activities for kids ages 4 to 12. Info: thebuccaneer.com.
For more information on the U.S. Virgin Islands, go to visitusvi.com.