JAYCATS CUSTOM KITTY STOCKINGS
We love supporting small retailers, and Jaycats Custom Kitty Toys and Stockings are beautifully made with love for cats. Even kitties need a Christmas stocking, and this one is purrfect for your feline family member or cat lover! Stockings are available in black, silver, or gold. This hand-sewn, sturdy canvas stocking measures roughly 14 inches tall by 6 inches wide. It features a cat silhouette wearing your choice of either a Christmas bow with a bell or a sweet little bowtie. A glossy red ribbon is woven around the top, with glittering or matte Christmas ornaments tied on the ends. Personalization included. 
Info: jaycatdesigns.com.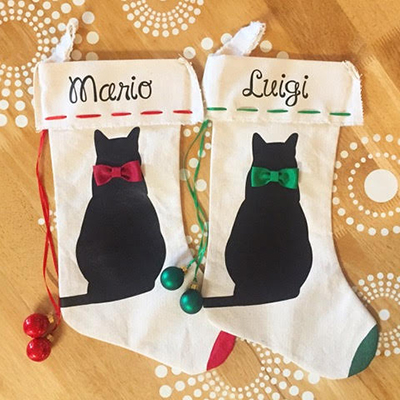 Your kitties will love these innovative and cool-looking Happystack Cat Towers for climbing, hiding, resting, and scratching that will satisfy your cat's wellbeing and engagement. The sturdy triangular design is perfect for your living spaces and comes in four colors. The carpet allows cats to scratch and climb with ease. Happystack cat towers can be easily disassembled for storage or stack the three nesting levels inside each other. Happystack cat towers are 100 percent made in the USA! Info: wisewhisker.com.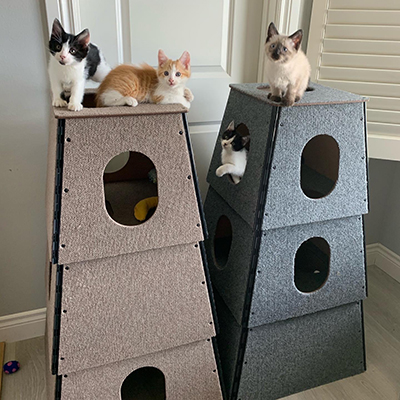 A smart HD pet camera with laser toy is the coolest way to monitor your kitties while you are away! Watch your favorite felines with live 1080p HD video, night vision, and 4x digital zoom. You can also get full room coverage with a 160-degree view. Best of all is the two-way audio and interactive laser toy so you can interact with your cat, so they don't have separation anxiety! Set Laser to auto-play mode to keep pets engaged when you're busy. Pet Cube's newest feature is its app, where you can interact with a vet and your fur child in real-time. Info: petcube.com.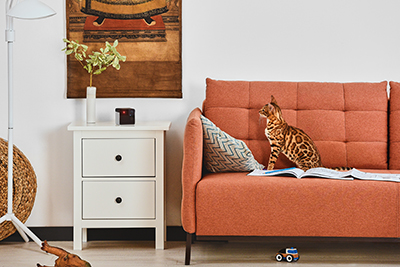 The CATVIAR Condo is a meowlossol caviar tin with four entrances so your kitty can hide and escape. The Condo has two interior shelves for your fur baby to snooze and dream of caviar, and a bed on top so your kitty can be the top Cat in your home! Also included is a tin of Caviar for you! Best of all, Square Paws donates 10% of net profits to agencies dedicated to animal rescue and refuge. Designed by Architect Mario Arbore, Square Paws believes that your cat's towers and condos should be part of your home design. This is the perfect intermingling of art and functionality. Each tower is produced by special order, made in the USA, and artesian-crafted. Info: squarepaws.com.