SNOWY NIGHT SELFIES
Winter holiday check list: red plaid, cozy vibes, and family time. These matching family flannel PJs from Lanz of Salzburg are perfect for a snowy night—hunker down for some snuggles and family-selfies. Info: eileenwest.com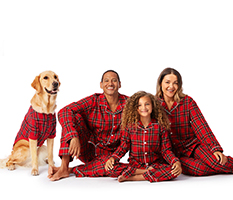 SEEING DOUBLE
COVID-19 is like that annoying relative that just doesn't know when to leave the party. Let's make the most of it with these awesome twin mask and bandana sets from Sam and Nala! With lush, breathable fabric and gorgeous patterns, it's an easy and practical gift that will steal the show this season. Info: samandnala.com.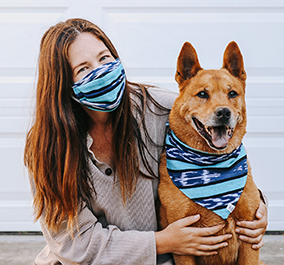 LUXE AND LOVELY
Luxurious, indulgent macarons for the poshest of pooches from Bonne et Filou. In flavors such as strawberry, lavender, and mint, these gorgeous bites are free of artificial coloring or preservatives, corn-free, and wheat-free. Sourced from local suppliers? Yup! Only the best for our four-legged royals. Info: bonneetfilou.com.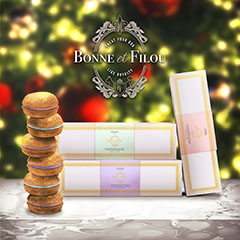 HOLIDAY HARNESS
What's the jingle, jangle we hear? Is it Santa? No, it's Django—delivering the highest-quality dog gifts. Known for their incredible leash and harness sets, they also make raincoats for those icky, mushy days in between magical snowfalls. Info: djangobrand.com.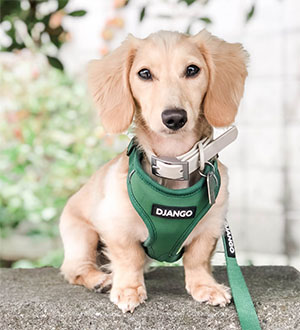 MERRY WOOFMAS TOYS
Being good all year can be "ruff," so reward your furry friend this Christmas with the toy set they deserve! The P.L.A.Y. Merry Woofmas Plush Toy Collection features five cheerful toys in the shape of a hang-able stocking, tasty plate of cookies, ornament-filled Christmas tree, tug-able elf, and a silly Santa. Your furry friend will be howling with joy once they see these delights waiting for them under the tree! Info: petplay.com.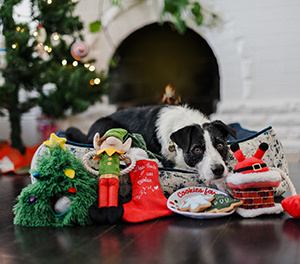 PAMPER THE PUP
We all pamper and primp a bit around the holidays—even Fido has some pre-celebration bubble bath time. Soap Cauldron is a must-have for home and gifting. This hand-crafted, cruelty-free line of grooming products offers coat-specific bath soaps, Pad Balm and Soaks, as well as Sleek & Shine Coat Tamer. With gift sets galore, your shopping is simplified. Info: soupcauldron.com.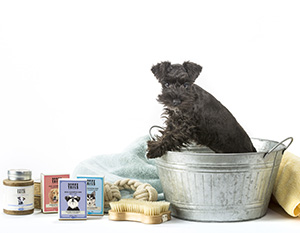 HEARTFELT HOLIDAY
Add a bit of heart—and Nordic flair—to your pup's winterwear. Up Country's ribbon collars are as gorgeous as they are practical. Stain and fray resistant; these fetching collars are designed to last a lifetime and their buckles are Coast Guard approved for high weight hold. With an extraordinary selection of patterns and sizes from XS to XXL—there's a collar for every whim and holiday wish! Info: upcountryinc.com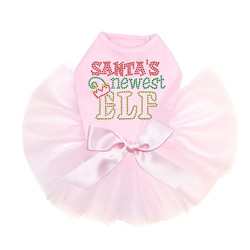 SANTA'S SLEIGH
Your dog has been so good this year, not only is your pooch on the nice list but gets to sleep in Santa's sleigh! Your best friend will be dreaming of stockings filled with treats and toys when he falls asleep on Christmas Eve in his very own sleigh bed. Who needs sugar plums and figs when you've got these cool sleepin' digs! Info: Petco.com.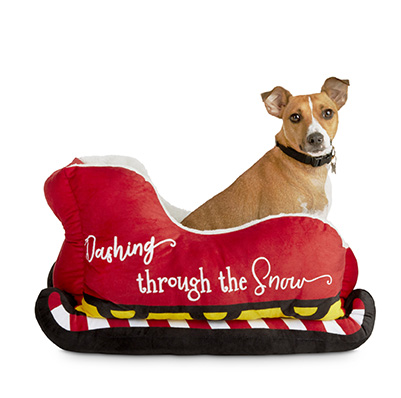 MEALTIME MEMORIES
Make mealtime memories with these super adorable, raised Fun Time Feeders. Crafted with water resistant and durable material, these raised feeders are great for healthy digestion. Sure, you're feasting on turkey and holiday roasts—don't leave out your favorite elf. Bring the holiday magic to Fido's meals too! Info: funtimefeeders.com.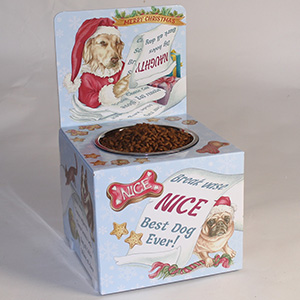 STOCKING STUFFIES
Bark Box helps you fill your dog's stocking with joy. Whether it's a monthly Bark Box subscription or a Dreidel stuffie—there's something for every dog and all the wonderful winter holidays! Does your big dog feel uninspired by normal-size plush? Check out these Big Boi holiday toys—oversized to make a big impression. Info: barkbox.com.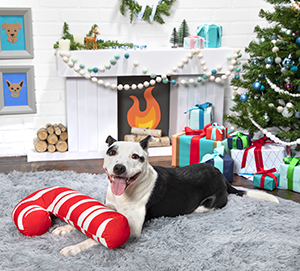 SANTA SETS
You and the puppers plan on dressing up for the holidays? Christmas trees, bows, candy canes, elves, and Santa sets—Pet Costume Center has matching sweater sets for every style! Grab a cup of party punch and be prepared to bow-wow-wow your family with these laid-back, festive designs. Order early and snap a great photo to use as your Christmas card! Info: petcostumecenter.com.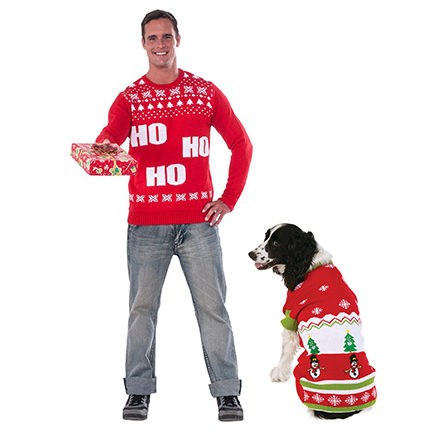 THE BOOD & THE SNOOD
Ruffina designs offers dog separates for optimal winter wardrobe options! The bood is the coat and the snood is the super cozy funnel neck. Spoil your pup with this ultra-soft holiday coat and scarf collection. Mix and match colors include pink, orange, grey, black, pea green and holiday red, of course! Info: ruffian.nyc.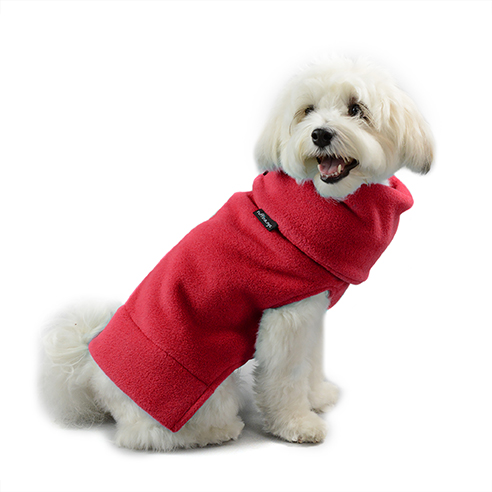 NAUGHTY OR NICE?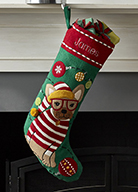 Ho-Ho-Hope your dog is on the nice list! No mantle is complete without these adorable Christmas must-haves. Be sure Fido leaves extra cookies for Santa because these stockings were made for lots of treats. Personalize your pup's stocking for an added touch—and get ready to celebrate in style! Info: thecompanystore.com.
SNOW STORY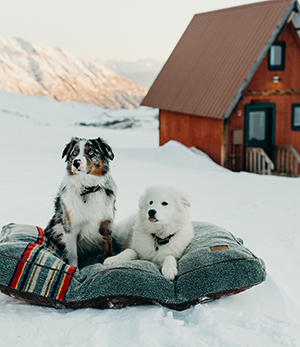 If your dog drank a martini, it would be shaken and bone-dry. Of course, any doggie loves the finer things in life, and expects you to acquire these necessities—including a Pendleton bed. Impeccably balanced quality and style—this dog bed is equally at home in a city loft or mountainside chalet. Your dog will definitely sleep through Santa's visit on this baby! Info: carolinapetcompany.com/Pendleton.