★
ON-Line Exclusive
★
Ring In The Holiday Spirit
Greg Walsh Makes It All Happen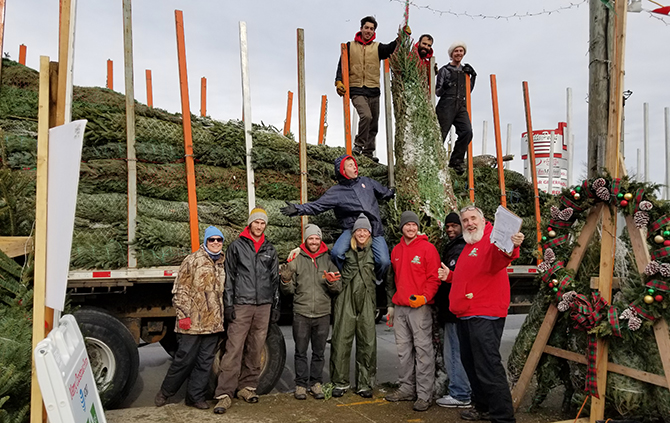 By Patricia Canole
Yes, Virginia, there is a Santa Claus. He goes by the name of Greg Walsh of College Point, Queens, and for more than three decades has been supplying city dwellers a little bit of Christmas joy.
In the early 1980s, Greg noticed a saddening trend; big box stores selling Christmas trees assembly-line style. It sparked an idea: why not create a holiday center in New York City that would make buying a Christmas tree a magical and memorable experience? That vision led this NYC Public School teacher to open Greg's Trees in College Point and expand to spacious locations throughout the city.
Every year, around Thanksgiving, Greg's creative team transforms each of these locales into vibrant winter wonderlands. Besides the myriad lights and decorations, there are hand-painted character cutouts to poke one's head through, a wreath-making station, and a giant sleigh where Santa Claus (he looks like Greg) holds court on weekends. None of this would matter if the Christmas trees were not top quality. All year, Greg works closely with tree growers, ensuring that the tree farms are green and sustainable and that every tree sold at Greg's is fresh and gorgeous.
New York Lifestyles met up with Greg in Queens before donning his red suit to get the scoop on this year's celebrations.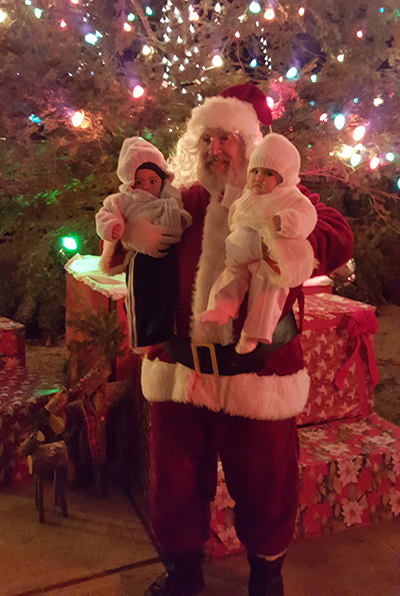 Tell us what inspired you to start Greg's Trees.
I started at 21 years of age, and back then, I was selling fruit in Manhattan, and at the end of the season, I thought, "why not sell Christmas trees?" The first year didn't go well, but the second year was a success; I've learned from year to year. I had one stand for many years, but I thought let me do this for more people, so I added lights, decorations, and more locations to create a family-oriented type of holiday experience.
Has your career as a New York City teacher had any impact—good or bad—on your second career as "Santa"? My students know I'm Santa Claus, and they get a kick out of it. I get a lot of inspiration from my niece. Her daughters think I'm really Santa. When the kids really believe it, it's very motivational. I went to a school in Wisconsin, and apparently, it was the best Santa school in the nation. That said, I never try to push my tree's when I play Santa. It's all about having fun with the kids.
Your success in the Christmas Tree business has been established for more than 30 years. What do you think made it such a success year after year?
Hard work. Most tree guys wear themselves into exhaustion. I always do the right thing with my employees, the NYC Parks Department, and my customers. I pride myself on being reliable. I visit the farms myself. I pick out my trees from green farmers. They're usually award-winning trees. We pay extra for premium trees. It's all about having great trees and giving great service.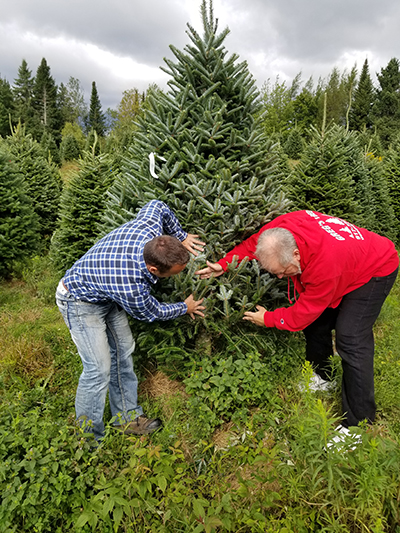 We agree that there is nothing like a real tree at Christmastime. Tell us which tree is a long-lasting one for New Yorkers? Or are they all pretty much the same?
I try to get late cut trees, and you want trees that are kept in the shade. All my trees are good, but unquestionably the Fraser Fir lasts the longest. We also have exotic trees like Nordmann and Noble in addition to Traditional Balsam and a new tree called the Silver Fir.
Give our readers a few pointers on what to look for before purchasing a real tree? (i.e., height, pets, allergies, etc.)
I'd say the first thing is knowing where you're putting the tree. You don't want it right next to a radiator. It must go directly home into a tree stand with water. Picking a tree means finding one you really like, and it's good if it has a little weight to it. The needles shouldn't fall off in your hands. You want the trunk to be straight and not too full, so it doesn't tilt. If you're allergic to trees, you can still have the tree in the house, don't touch it, and you'll be okay from my understanding. 
Lastly, after the holidays, how does Greg Walsh relax?
I go back to work, but my favorite thing is to travel. When I'm in a different country, I usually travel very cheaply. I love to meet the locals, and experience the culture. I would rather eat in a local restaurant in Italy than go sightseeing at a museum. That's what Santa likes to do in his spare time.
For more information on Greg's Trees and locations or how to preorder, visit gregstrees.com.
LOCATIONS OF GREG'S TREES
Manhattan

Lower East Side/Old Essex Market Lower East Side/ABC Playground Tribeca/Washington Market Park
Brooklyn

Williamsburg/McCarren Park Park Slope/Greenwood Beer Garden Greenpoint/The Springs
Queens

Astoria/Bohemian Beer Garden