Time Out With…
Ann Liguori
By Ann Liguori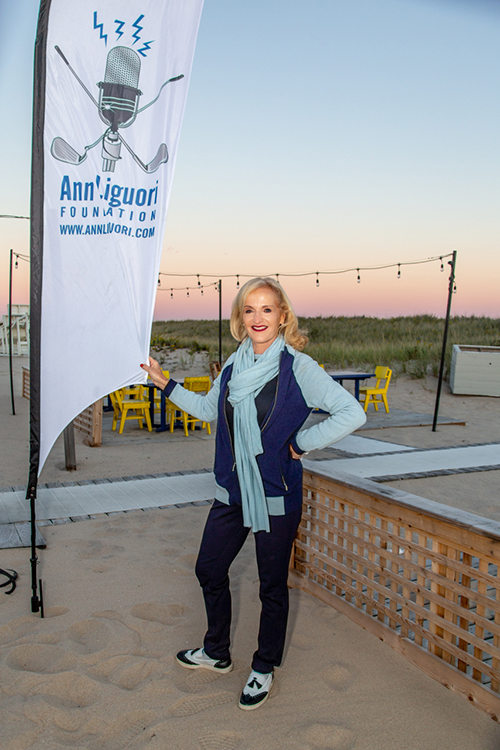 Ann Liguori is an expert sports radio and television commentator, interviewer, author, and businesswoman. She is a leader and visionary in the world of sports media, distinguishing herself in her business as both on-air talent and the owner of sports radio and television properties.
Ann covered her 38th straight US Open Tennis Championship marking 33 years reporting for top sports radio station, WFAN-NY. Ann recently broadcast US Open golf updates which took place at Winged Foot in Westchester and Ann will provide hourly updates on The Masters in November.
AN ILLUSTRIOUS CAREER
Ann was the first woman to host a call-in sports show on WFAN-New York, where she hosted a weekly sports talk show for over 20 years and continues as the station's golf and tennis correspondent and is host of Talking Golf with Ann Liguori, which airs on WFAN during summer months. Ann was also an original on The Golf Channel, hosting the weekly prime-time Conversations with Ann Liguori show which featured Ann playing golf with and interviewing an A-list of celebrities including Matthew McConaughey, Celine Dion, Sylvester Stallone, Kevin Costner, Joe Pesci, Smoky Robinson and Alice Cooper, to name a few. Ann can also be heard Saturday mornings on Sports Innerview on WLIW.org. The sportscaster's insightful interviews shed light on current headlines in the news such as sexual abuse scandals, and money management for athletes to name a few important topics of the day.
"Loving what you do is key to a happy life I believe. Having a passion for what I pursue, day to day, gives me joy and a non-stop fascination with creating new opportunities. I've had a trailblazing, fulfilling career that's still going strong. Yet, I believe my best years are ahead of me," said Ann.
A PHILANTHROPIST

Ann's sportscasting is only the tip of the iceberg. Founder and president of the Ann Liguori Foundation (ALF) also is a big part of her schedule raising money and awareness for cancer research, care, and prevention in addition to mentoring young people hoping to pursue a career in sports media. Her 22nd Ann Liguori Foundation Charity Golf Classic took place this past October at the Maidstone Club in East Hampton.
For over twenty years, Ann has helped raise over $2 million for various charities focusing on cancer prevention, research, and awareness for organizations such as St Jude's, Samuel Waxman Cancer Research Foundation, and Kids Need More. "I'm proud of the work we've done with organizing one charity golf tourney every year for the past 22 years. I lost my Dad to cancer when I was in college and my 22-year-old brother from leukemia a year later. It was devastating for me and my Mom, younger sister, and brother.
Everyone is affected by cancer, either directly or indirectly. Being proactive, raising money and awareness for cancer research in their memory, helps in dealing with these tragedies," said Ann.
Ann also established the Ann Liguori Foundation Sports Media Scholarship administered by NY Women in Communications (NY-WICI) and the Association for Women in Sports Media (AWSM) Champions Mentorship program.
Ann has collaborated with Holly Daniels Christensen, Founder & CEO of Dune Jewelry (dunejewelry.com), with her jewelry line known as the Hamptons Rope Collection. The custom-made pieces incorporate sand from one's favorite beach or golf course in sophisticated, timeless pieces for women and men. It's never too early to begin your Holiday shopping! Savor the memories from your favorite beach or golf experience with the Hamptons Rope Collection.
Ann has a simple belief. "Love what you do and who you are. Be a role model to all and lead by example. Let goodness prevail."
For more information on Ann Liguori, visit annliguori.com.