JASMINA DANOWSKI
In Her Own Words
By Patricia Canole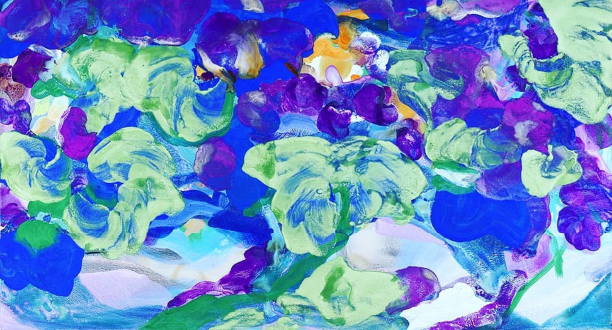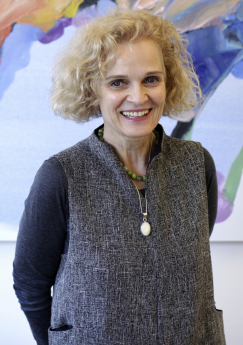 Jasmina Danowski's luminous artworks are simply beautiful. So much so that they have garnered the artist a huge and appreciative audience near and far.
Her vibrant abstract compositions are created in oil and alkyd on panel and in ink and gesso on paper. Danowski's paintings remind one of nature and still life, often evoking the feeling of moving through flowers and landscapes. Danowski's creative process follows a middle ground between the abstract and pictorial. Her breathtaking creations unite an Impressionist delight in nature with the expansiveness of Abstract Expressionism. They evoke recognizable yet undefinable experiences.
We met with Danowski in her Brooklyn studio, where she described her career as always evolving and forever satisfying.
Tell us about your childhood in Germany.
I was born in Stuttgart, Baden Wuerttemberg, and raised in a town called Boeblingen. It was an industrialized area where most of the inhabitants worked either for the Daimler Benz car factory, IBM, or Hewlett Packard. Education was key in everyone's mind to defining the future. I especially remember reading a lot of Molière and Sartre as a teenager and Goethe and Shakespeare. I loved good dialogues and drama and have always been interested in some of the underlying philosophical questions posed. I went on to study pedagogy at the Eberhard Karls University in Tuebingen, where I reconnected with my interest in the arts in a program led by Professor Martin Schmid.
What were your earliest memories as a child and your exposure to the arts?
I grew up with books of European Old Masters and loved it whenever they painted a breaking sky with dramatic light coming through. But I think the first time I really felt some breathless surrender to art was when I saw a reproduction of Caspar David Friedrich's Chalk Cliffs of Ruegen. I begged to go there, lay on edge, look down onto the water and the white cliffs across. It was a whole-body experience triggered through color, contrasts, and depiction of dramatic scenery that shook me deeply. This painting went to the core of human existence for me. When I saw it nothing else existed. A true knockout!!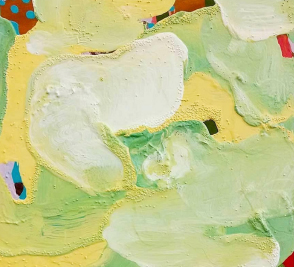 After Germany, you came to New York. What were your first impressions when you arrived?
I remember well when my taxi from JFK started trailing an ambulance with howling sirens. I wondered if it was immoral or pragmatic and concluded that my driver didn't hurt anyone and that this might be the perfect introduction to NYC! While working in an art supply store during the day, I spent many years working in the studio in the evenings and on my free days. Yet. everyday life was never boring to me. New York was always full and rich with new experiences and challenges.
What was the New York City art scene like?
In the early nineties, the artistic climate was post-modern and minimal. Color field painting, geometric abstraction, and monochromatic art were dominant in the galleries I visited in Soho.
Was there one person who influenced you the most?
There were many painters along the way, but I think the more interesting and challenging dialogue was the exposure to monochromatic painting. I followed the careers of various artists who represented that vein of painting, people like Marcia Haffif, Winston Roeth, Phil Sims, and many others. I also loved Robert Ryman's work and early Brice Marden. That time marked a crucial point in my development as an artist. I had had my first one-person exhibition in a commercial NYC gallery and had just received a grant from the Pollock-Krasner Foundation. I felt I had caught up with history by embarking on a large group of monochromatic paintings. I loved and still do love the purity, intensity, and radicalism of monochromatic painting.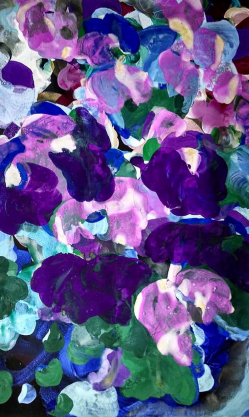 Today, artists are going down other avenues to showcase their works and include hotels, restaurants, and other venues. Have you ever considered this?
Artists need to show their work whenever they can. In 2004, after many years of chipping away, not getting any attention for my paintings, I quit my day job without knowing where to go and what to do next. It was extremely stressful. I was 44, and on the verge of being considered a "crazy lady." I did what I should have done much earlier: I created a website and got my work out to other platforms. It was sheer luck that a young woman found me over the Internet. Her boss, a private dealer/art consultant, sold three large paintings to an upstate company for their new headquarters. I almost tripled my income with those sales. Then, in 2006, I exhibited in group exhibitions (with artists like Betty Parsons, Charlotte Park, Frank Bowling), and also had several successful solo shows with Spanierman Modern in Midtown. But I have also taken on some off-the-beaten-track projects, including two installations in the Pierre Hotel's Two E Lounge in the last three years and one in the Episcopal Church of the Heavenly Rest on the corner of Fifth Avenue and 90th Street in Manhattan in 2009. I am more than open to other projects outside of conventional gallery environments.
Now to your philanthropic work: Describe how you became involved with the Food Bank of NY and donated your artwork.
I donated fifty percent of the sales of select works to the Food Bank. Everything becomes so meaningless when the world is unjust and uneven as it revealed itself to everyone through the pandemic. 
As an artist, you always work under a kind of lockdown to focus, but I did not feel like working on paintings, isolated in a studio. When the pandemic hit, I was looking to find a way to connect and be of practical help. I didn't qualify to volunteer, and when I started hearing calls from the Food Bank, I decided to try to do a fundraiser. I had never done a fundraiser before. My neighbors in Dumbo, the graphic design firm Henk van Assen and his team, generously helped me to design and upload my campaign at no cost. I then sent it to my contact list and used Instagram and LinkedIn to promote it. I did not know whether it would get any responses, but I did. It was a great feeling when I was able to make my first donation, and I followed up with two additional campaigns offering more paintings. The first campaign started last May and the last ended at the end of August. It helped to supply 96,750 meals thanks to some multiplying matching donations that the Food Bank had in place at the time. My loyal supporters deserve the credit for jumping in to help the Food Bank—and me—by buying paintings.
For more information on Jasmina Danowski, visit jasminadanowski.com.