ON THE SMALL SCREEN
By Jenny Peters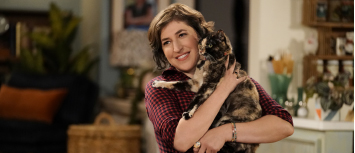 JUST FOR LAUGHS
CALL ME KAT
Fox
After spending ten years starring in The Big Bang Theory, Mayim Bialik is back on network TV with her own sitcom. Chronicling the adventures of Kat, a single 39-year-old woman with a love of felines that leads to her opening a cat café, Bialik also executive produces, along with her TBBT pal Jim Parsons and showrunner Darlene Hunt. Swoosie Kurtz adds her motherly style to the mix, along with Leslie Jordan, Cheyenne Jackson, and Kyla Pratt.
CALL YOUR MOTHER
ABC
If you loved The New Adventures of Old Christine, then be sure to tune into Kari Lizer's newest comedy, Call Your Mother. This time, she's got Kyra Sedgwick in the lead, as the mom who decides she needs to move closer to her grown kids, which leads to some unseen complications. Rachel Sennott and Joey Bragg co-star as her not-so-thrilled-to-have-her-so-close children.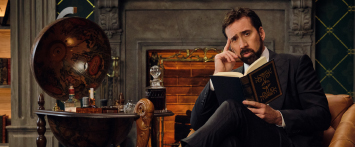 HISTORY OF SWEAR WORDS
Netflix
Think Funny or Die Meets Masterpiece Theater, and you'll be on the right track for this six-part comedy-history series hosted by Nicolas Cage. Every episode takes a deep dive into a single swear word, and since this is a Netflix original, those words will fly without censor. Expect lots of fun facts about "dirty" words that have been around forever—as well as segments from entertainers, pop-culture icons, and historians. Keep the kids out of the room!

MR. MAYOR
NBC
Ted Danson takes on the titular role in this new comedy from 30 Rock producer-writer collaborators Tina Fey and Robert Carlock. He's a rich businessman who decides to run for the job of mayor of Los Angeles. As the show's title suggests, he wins, only to discover there's a lot more to running a wild, wacky city than he thinks. Oscar-winner Holly Hunter co-stars as the thorn in his side.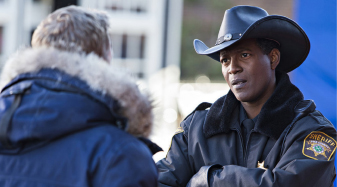 SUPERHEROES AND ALIENS
RESIDENT ALIEN
SyFy
This comedy-adventure-drama stars two of our favorite actors—Alan Tudyk (Santa Clarita Diet) and Corey Reynolds (The Closer)—in the tale of an alien who arrives on earth with a nefarious plan that does not bode well for humanity. The problem is, he finds out he has an affinity for our race, is good at solving the mysteries that happen around him and may not want to go through with his mission. Or go back home!

WANDAVISION
Disney+
Paul Bettany and Elizabeth Olsen co-star in this Marvel Universe series that melds sci-fi, old-fashioned black-and-white TV shows, and modern suburbia into a weird and wacky mélange. Sound strange? It is, yet all the while rooted on the MCU (Marvel Cinematic Universe), so who knows what superhero might turn up?

THE WATCH
BBC America
If Terry Pratchett's Discworld book series is a favorite, then you're going to want to tune in to The Watch, for this British series takes flight from his novels. The City Watch protects the world from evil in this wild tale filled with wizards, werewolves, trolls, and—naturally—a giant dragon. Watch for Richard Dormer, Lara Rossi, Adam Hugill, and Wendell Pierce in leading roles.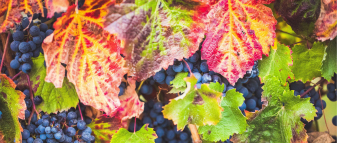 FUN STUFF
GEOGRAPHICAL DIGEST WINE EDUCATION SERIES
NatGeo/SOMMJournal
For something completely different, grab a bottle of wine and join National Geographic Books and The SOMM Journal as they take a global wine tasting journey across the world and invite you to join. Expand your wine knowledge with the January Exploration of Renowned Single Vineyards, like Cakebread, Delicato, and Ancient Peaks. View them live or later, on-demand and free, via GeoDigestClub.com SommJournal.com.

PAINTING WITH JOHN
HBO
Tap into your creative side with John Lurie, your guru-guide, as he paints watercolors and contemplates the world around him. Lurie is a musician-composer (Lounge Lizards, Get Shorty), actor (Oz), and popular painter, whose works are shown worldwide. In this part of performance art, part wry observation of life, part ironic comedy, Lurie reminds us that creativity and fun should be a part of our daily existence.