Even the most insular among us must venture outside occasionally, so it's nice to know there's a super-sanitizing weapon in our arsenal. A.I.R. Solo is a disinfecting mask that allows us to sanitize our facemasks while we wear them. Originally designed for travel, A.I.R. Solo is worn beneath any cloth mask and, via short-wave ultraviolet LED light, zaps pathogens, germs, live viruses, etc. In short, it's a literal lifesaver and my home away from home. CVS minus angst.
Info: theairdevice.com.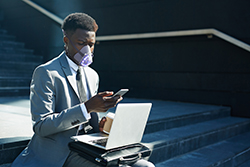 A tabletop that gives leftovers epicurean cachet is what Haand dinnerware is about. With perfect heft and porcelain good looks, the handcrafted five-piece Hestia Nesting Set goes from a 2.5 oz. ramekin to an 80 oz. fruit bowl. There are multiple colors to choose from, but my eye settled on "Piedmont," one of two sets that showcase a different color per bowl—think a stunning way to spice up a buffet.
Info: haand.us.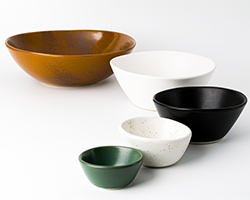 To steal from Monty Python: "And now for something completely different…" Moonglow Jewelry's belief that every moment has a moon. The site even helps you find the moon phase that matches a special date corresponding to several stunning pieces. My wedding anniversary led me to Lovers in the Locket necklace (two Swarovski crystals wrapped in a circle of rose gold). In short, expect to find a piece that unlocks a meaningful memory. Info: moonglow.com.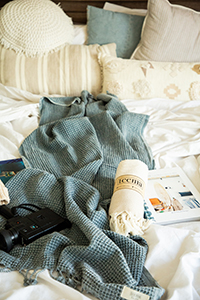 Even though Piccolina's Trailblazer Tees were originally created "For Little Ones Who Dream Big," their inspirational artistry now comes in adult sizes and if your nice list includes a mom, grandma, teacher, etc., you'll so want to explore this wearable portrait collection celebrating historic female visionaries like Harriet Tubman, Rosa Parks, Eleanor Roosevelt, Jane Goodall, Maya Angelou and Ruth Bader Ginsburg. Extra points if you go for mommy & me tees!
Info: piccolinakids.com.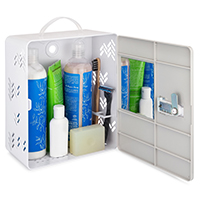 The Buzz: The Ricoh Theta SC2 360-degree camera is pegged to be a white-hot seller this holiday season. The Reasons: It's user-friendly (not just for pros and perfectionists), high-performance, high-res and adaptable. Also, it's sharable, with rapid wireless transfer. All this in a lithe, hand-held body with multi-functional display. The tech info is well laid out on the website and I urge you to check out Face Mode, Night View, and Lens-by-Lens Exposure. Info: theta360.com.