Mirror Lake Inn Resort And Spa
Luxury & Peace In The Adirondacks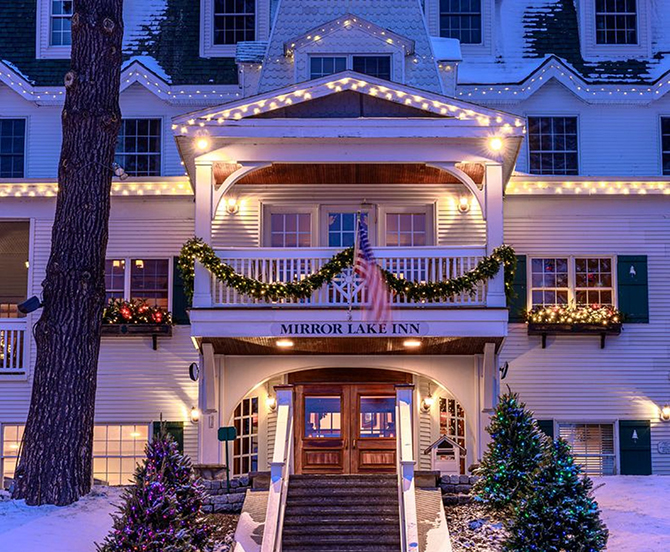 By Patricia Canole
With unlimited outdoor recreation, a quintessential Main Street, and a unique mix of places to eat, Lake Placid is the perfect location for a winter adventure or a relaxing escape. From tree-lined trails and snow-capped mountain views to tasty meals, we have your trip planned! 
One special year-round resort to stay at is Mirror Lake Inn Resort and Spa, the AAA Four Diamond property where for the past 36 years families and couples have enjoyed a welcome break from everyday life. The Inn is well-suited to anyone looking for an authentic place to unwind in an upscale, lodge-like environment and enjoy the vast outdoors.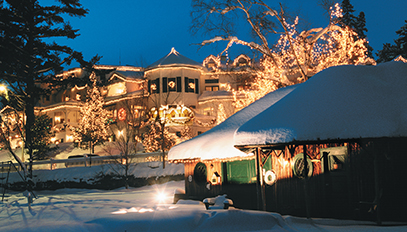 A LOOK BACK
It all started as a seasonal resort, attracting wealthy guests from around the state and eventually became a year-round destination. In 1924, Climena Alford, a native of Lake Placid, married William Rufus Wikoff of Massachusetts. Mr. Wikoff had achieved financial success with his concept of the "Fuller Brush Man," and soon after retired. The couple moved to Lake Placid, where Mr. Wikoff purchased an old estate and turned it into the Mir-a-Lac Inn; it quickly became known as a high-quality resort, attracting very wealthy clientele from all over—and especially New York City.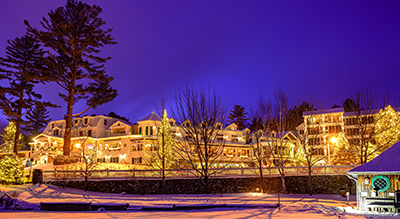 The Mir-a-lac Inn survived the Depression years. Then in 1932, the Inn was winterized for the Winter Olympics, and where the Norwegian Team rented the entire property. A year later, the Inn's name changed to the Mirror Lake Inn
The Mirror Lake Inn has always been known for sports-related innovations. After alpine skiing was introduced to the area, the Inn set up the first rope tow powered by electricity on Dream Hill. In the late 1940s, the first snowmaking machine ever seen in this area was purchased by the Inn to ensure proper ski conditions on Dream Hill.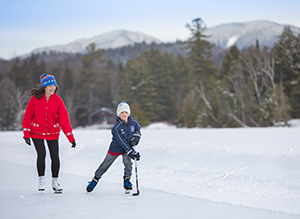 The Mirror Lake Inn was the first in Lake Placid to have a skating camp, housing many future world figure skating champions, such as Dick Button, Toller Cranston, Tab Hunter, Dorothy Ann Nelson, Pieter Kollen, and many others. Over the decades, Mirror Lake Inn has evolved with the addition of more cottages. In fact, the main section of the resort was rebuilt after an unfortunate fire in 1988. 
In 1976, a New Jersey business executive, an avid skier enamored with the Lake Placid-Adirondack region and its hearty and healthy lifestyle, scrapped his corporate life, and moved to the community. He was charged with managing the Inn, and if Mrs. Wikoff approved of his capabilities, Ed Weibrecht would become the new owner of the resort. The transition occurred a year later, and the rest, as they say is history.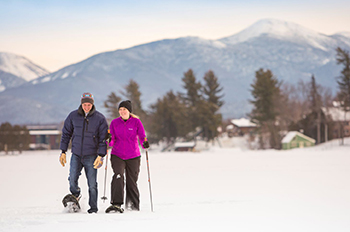 LOCATION IS EVERYTHING
Mirror Lake Inn welcomes guests with its recognizable cheerful white and dark green cottage exterior overlooking the lake that bears its name near downtown Lake Placid. Personal touches define the resort with a family vibe which attracts repeat guests and many locals. All 130 rooms and suites are nestled in three buildings and offer guests peaceful views of the lake with the background of the majestic Adirondack Mountains. 
The Inn is within steps of Lake Placid's Main Street with its myriad coffee shops, restaurants, and shops. This area, of course, known for hosting two Winter Olympics, has continued to thrive as visitors enjoy excellent skiing, snowshoeing, ice skating, and hockey (summer months are just as good with plenty of swimming and hiking adventures). Mirror Lake Inn is near the Olympic venues and other prime areas. Adirondack Park, the largest in the lower 48 states, has 3,000 lakes and miles of hiking trails to explore. For those who don't want to wander too far, a well-kept path around Mirror Lake offers a brisk 2.7-mile walk or jog which can be accessed from the entrance in front.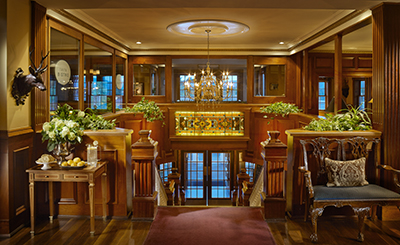 ONCE YOU ARRIVE
Enter the lobby with gleaming dark wood floors, chandeliers, and well-kept antique furnishings. There are fresh-baked chocolate chip cookies at the front desk where awards are proudly displayed of the owner's son, Andrew Weibrecht, who won two Olympic medals in Super G ski category. The extended lobby and library contain various nooks to explore. In the wintertime, roaring fireplaces provide ambiance for reading and playing chess. And since cell phones are prohibited in common areas, guests can count on a relaxed atmosphere, which is why many of them return year after year.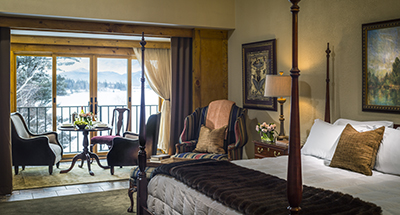 STAY & DINE
The luxurious accommodations have an Adirondack-feel featuring amenities that include mini-fridges, bathrobes, and CD players. Rooms include Classic, Family, Junior Suites, and Suites featuring beautiful views from balconies or large windows—all comfortably furnished.
The Mirror Lake Inn has always been known for having the finest upscale menu in town. The Wikoffs had their own vegetable garden and often bought only from local farmers, setting up special arrangements to ensure long harvest periods and freshly picked vegetables. Even today, in keeping with this tradition of freshness, Mirror Lake Inn harvests fresh herbs from its own garden and maintains relationships with local farmers. The farm-to-table concept here dates back many years. But one item, Adirondack Flapjacks served with hot maple syrup, is served year-round and helps guests fuel the start of their day.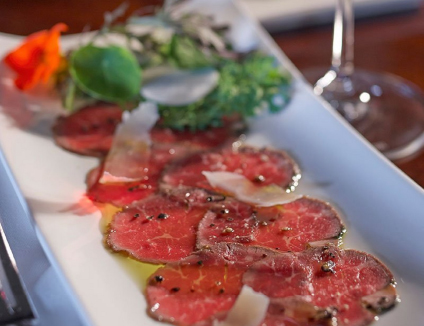 Diamond-rated the past 12 years, is Lake Placid's ultimate experience. Here you'll find fine dining at its best. For more casual, Lake Placid's quintessential après ski spot is the hip and friendly Cottage Cafe, where the only thing better than the drinks are the ski stories that can't be verified. Recently, when Whiteface Mountain replaced its gondola cabins with a brand-new fleet, the Olympic mountain announced that the originals would be available for sale. That's when Mirror Lake Inn purchased two such units and placed them at the Cottage Cafe. With these heated cabins now in play, diners will enjoy a unique experience in a socially distanced manner on the deck of the establishment. The cabins are perfect for families and parties of up to eight guests who can dine in 72-degree indoor comfort. On the opposite side of the restaurant, a new heated tent offers guests comfortable outdoor dining with full views of Mirror Lake and the Adirondack high peaks.
SPECIAL FEATURES
Standout features include the personal service from the family members and staff. For some relaxation time, book a 45-minute Salt Therapy. Although traditional massages and facials at The Spa are on hold due to COVID-19, this experience is sure to please. Guests enjoy the experience as they sit back, breathe deeply, and unwind. Micro-particles of pharmaceutical grade salt are dispersed into the air which will detoxify lungs, sinus passages, and skin. At The Salon, a menu of beauty essentials, including hair styling and nail care are always available.
Mirror Lake Inn Resort and Spa treats the needs of each guest as unique and accommodates in personalized ways. You'll find that the staff will never say no. This attitude, along with gracious service and attention to detail, is at the Inn's heart, making a stay here an unforgettable experience.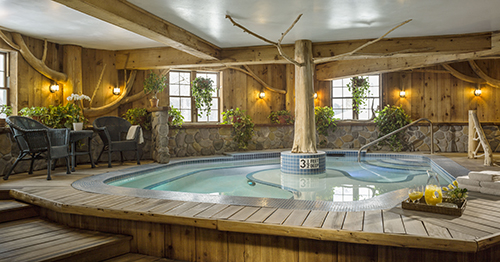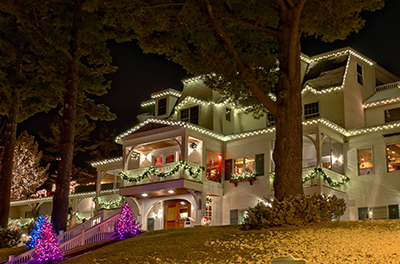 SAFETY IS THE NEW LUXURY
Mirror Lake Inn has always been known for its attention to cleanliness. Given the COVID-19 pandemic, its mantra has become Safety is The New Luxury. The resort led the way within the local lodging industry by integrating hospital-grade Ultraviolet C (UV-C) light disinfection and cleaning equipment, along with state-of-the-art electrostatic sprayers into their already extensive cleaning protocols. The Inn's $500,000 investment investment to keep everyone safe also includes ceiling fans that emit UVC light to kill viruses. Going a step further, the Inn also launched a new app allowing for remote check-in and check-out capabilities, upgraded their door locks to RFID technology allowing for keyless entry via smartphone, installed touchless hand sanitizers around the property and at all points of entry.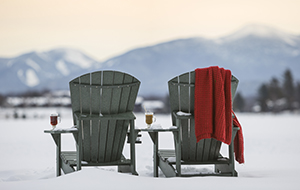 "We are fortunate that we are enjoying strong business and doing it while keeping our guests and staff safe and healthy," remarked Ed Weibrecht. "One of the reasons is that people perceive the Adirondacks as a safe place to visit, and in that, people are perceiving that the Mirror Lake Inn is the place to be.
"We have incredible protocols in place which I would say are second to none, and we can come as close as possible to guaranteeing a secure environment for our staff and our guests." This has been just the beginning. And as Weibrecht confirmed, "At the end of the day after all, it is our responsibility to keep our guests and staff protected as best as is practically possible."
For more information on Mirror Lake Inn Resort and Spa, visit mirrorlakeinn.com.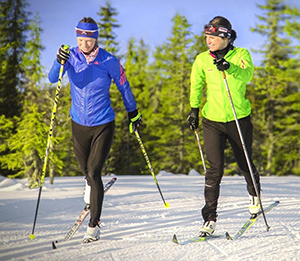 SKI WITH THE PROS

Mirror Lake Inn Resort and Spa in Lake Placid has debuted Ski with Andrew, an exclusive opportunity for hotel guests to cruise the trails of nearby Whiteface Mountain with Andrew Weibrecht, Olympic Silver and Bronze medalist and son of the resort owners. Andrew was inducted last spring into the U.S. Ski and Snowboard Hall of Fame and Museum.
"After I retired, it was great to be able to ski with our guests and their families," he said. "This season, we'll do it again on Whiteface Mountain and I'm looking forward to showing our skiers the trails and all the history and legacy from those past ski events."
There's more, however. After the Ski with Andrew launch, the Inn has expanded its offering to cross-country skiers with its Ski With Andrea opportunity. Cross-country skiers will stride local trails with Andrea Henkel Burke, champion of four Olympic medals in biathlon (two gold, one silver, one bronze) as well as eight World Championship titles. The sport of biathlon combines 22-calibre shooting with cross-country skiing. "I am very excited to meet with the cross-country ski fans from the Mirror Lake Inn," said Henkel Burke. "Cross-country skiing is such a fun, healthy sport for all levels. I am excited to meet guests, who have never been on skis before, as well as athletes!"