February is for love stories. So, pull up a chair for BroadwayHD's premier streaming for lovers everywhere. Available on your favorite streaming devices, including AppleTV, Roku, and Amazon Firestick. Head to BroadwayHD.com where you can sign up for a 7-day free trial.
Now, let's check out some of our BroadwayHD favorites! Cuddle up and enjoy! 
ERNEST SHACKLETON LOVES ME
A wildly inventive musical adventure, Ernest Shackleton Loves Me tells the story of a sleep-deprived single mom. She struggles to balance her family and career as a video game music composer. Late one night, while posting a dating video, she receives an unexpected response from the polar explorer Sir Ernest Shackleton, one of the most iconic leaders of the 20th century. Shipwrecked and stranded on an iceberg in the Antarctic, Shackleton reaches across space and time to share his heroic journey with her. Against all odds, they discover that their greatest inspiration lies within each other.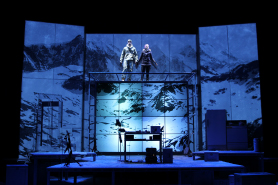 DADDY LONG LEGS
Based on the classic novel which inspired the 1955 movie starring Fred Astaire—this heartwarming Cinderella story about a witty and winsome young woman and her mysterious benefactor has charmed audiences of all ages from Los Angeles to London. Critics are cheering: Daddy Long Legs "is one of the most enthralling, entertaining and moving love stories on the American musical theater stage."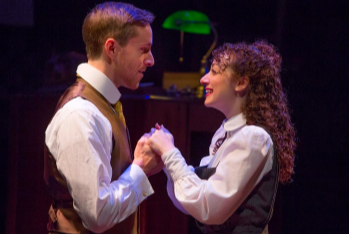 FROM HERE TO ETERNITY
Pearl Harbor, 1941. When the troubled Private Prewitt falls for the kind-hearted escort club girl Lorene and his platoon sergeant, Warden, embarks on a dangerous affair with his commanding officer's wife, Karen, the lives of both men are set on a course, they cannot control. From Here To Eternity, Sir Tim Rice's epic new musical is adapted from one of the greatest novels of the twentieth century, a gripping tale of illicit love and army life, which translates into a breath-taking, romantic, and excitingly original show.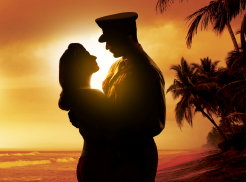 ROMEO & JULIET
Set in Verona, Italy, this is the tragic story of two star-crossed lovers. The Capulets and the Montagues have been engaged in an ancient feud that has been lost to time. However, when Romeo of the house of Montague and Juliet of the house of Capulet meet and fall in love, nothing can stop them from being together, not even death. Starring Orlando Bloom & Condola Rashad.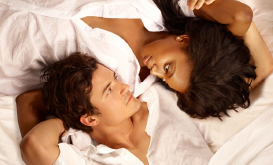 KISS ME, KATE
Taking its inspiration from Shakespeare, this hilarious romp recounts the backstage and on-stage antics of two feuding romances during an out-of-town tryout for a musical adaptation of The Taming of the Shrew. This Tony winner for "Best Revival" stars Brent Barrett, Rachel York, Nancy Anderson, and Michael Berresse as the squabbling couples whose offstage disputes entangle them with a pair of song-and-dance gangsters and a pompous U.S. Army General.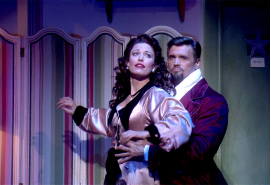 SHE LOVES ME
She Loves Me follows Amalia and Georg, two parfumerie clerks who aren't quite the best of friends. Constantly bumping heads while on the job, the sparring coworkers can't seem to find common ground. But little do they know the anonymous pen pals they have both been falling for happen to be each other! Will love blossom once their identities are finally revealed.?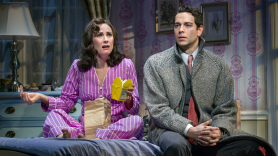 AN AMERICAN IN PARIS
This breathtakingly beautiful Tony Award-winning Broadway musical, inspired by the Oscar-winning MGM film, tells the impassioned story of discovering love in the City of Light. Jerry Mulligan is an American GI striving to make it as a painter in a city suddenly bursting with hope and possibility. Following a chance encounter with a beautiful young dancer named Lise, Paris's streets become the backdrop to a sensuous, modern romance of art, friendship, and love in the aftermath of war.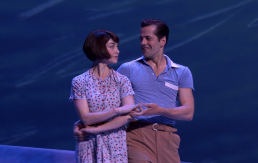 MISS SAIGON
The spectacular 25th Anniversary Gala Performance of this acclaimed new production of the global stage sensation was described as "the most thrilling, soaring and emotionally stirring musical with magnificent performances" by the Daily Telegraph and "the greatest musical of all time" by the Daily Mail. Starring Tony Award nominee Eva Noblezada, the epic love story tells the tragic tale of young bar girl Kim, orphaned by war, who falls in love with American GI Chris—but their lives are torn apart by the fall of Saigon.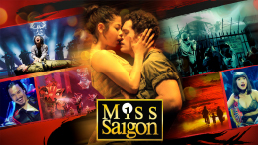 THE KING AND I
This gorgeous musical tells the story of the tempestuous relationship between the King of Siam (played by Tony Award nominee Ken Watanabe) and Anna (played by Tony Award winner Kelli O'Hara), a British schoolteacher whom he invites to teach his many wives and children. With one of the finest scores ever written, including "Whistle a Happy Tune," "Getting to Know You," and "Shall We Dance," and featuring a company of over 50 world-class performers, The King and I is a testament to the lavish heritage of gloriously romantic musical theater.