Shou Sugi Ban House
Serenity In The Hamptons
By Diana Roberts
The Hamptons has long been revered for its nearly 50 miles of pristine beaches, sprawling farms, vineyards, and magnificent estates. Now it can add one more honor: Home to a top-notch luxury destination spa and wellness retreat.
Opened in Water Mill in May 2019, Shou Sugi Ban House is settled on a private, three-acre sanctuary that encompasses thirteen, 400-square foot guest studios with floor-to-ceiling windows surrounding a saltwater pool. Each studio has a gas fireplace adjacent to a tokonoma—a raised alcove that's a traditional fixture in Japanese homes.
There's also The Main Barn with a demonstration kitchen, a Healing Arts Barn with a tea bar, a library, treatment spa with a hydrotherapy circuit, and organic vegetable and herb gardens from which the dining menus are sourced.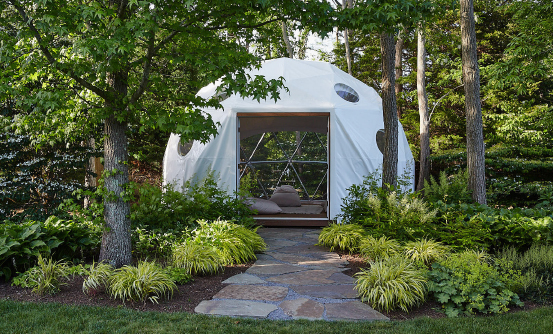 A NATURAL WORLD
Winding pathways, reflective pools, fountains, and a landscape inspired by the local dunes and Japanese garden allows you to connect with the natural world. There are more than 250 deciduous and evergreen trees and 20,000 grasses of five different varieties.
It's beautiful, for sure. But at the heart of Shou Sugi Ban House is its programming, which is intended to inspire a return to the "Simplicity of Self." You can choose from a customized stay. The team will curate a personalized itinerary for you, including spa treatments, wellness and fitness programming, meals, hikes, and one-on-one personal training for an additional cost. Or you can join in pre-organized specialty retreats with visiting and resident experts.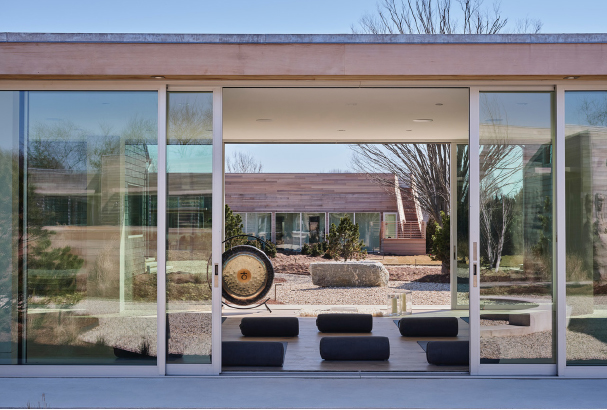 Shou Sugi Ban House's culinary philosophy is born from the belief that true health is grounded in nature, and food is medicine. Meals are designed by Chef Mads Refslund, a co-founder of Noma in Copenhagen, the four-time winner of the world's 50 Best Restaurants, and two-time Michelin star recipient. He has created balanced and hyper-seasonal menus that are inventive, plant-rich, and locally-sourced, along with a resident nutritionist.
If that's not enough, there's a tea menu with 25 different types of teas, including a custom Shou Sugi Ban House herbal blend created with Catskills-based company Tay Teas; hand-crafted teas from Southampton's Plain-T; and several green teas, including Matcha, Gyokuro, Sencha, and Bancha from Kyoto-based Ippodo Teas, which has been providing the highest quality Japanese green tea for nearly three centuries.
For more information on Shou Sugi Ban House, visit shousugibanhouse.com.