Aruba Magic
An Ideal Workcation In Paradise
By Rachel Rogers
Aruba wants you. The tiny island—part of the Dutch Caribbean—has opened its doors to travelers who want to spend the pandemic in paradise. And why not? With magnificent beaches, diverse culinary delights, an amazing landscape outside the hurricane belt, Aruba is the ideal place to do a "workation." Not only has the island implemented stringent sanitation protocols for businesses, but various hotels and villas are offering amazing deals, along with serious sanitizer. And you can bring your cat and dog, too! They don't call it "One Happy Island" for nothing.
The southwestern shore of the island is a seven-mile stretch of white sand beach, which includes the world-famous Palm Beach and Eagle Beach, where you can wind surf, snorkel, and jet ski. (You can also grab Açaí bowls and other delicious and healthy fare from Eduardo's Beach Shack on Palm Beach.) Arikok National Park, on the northeastern coast, is a desert-like ecological preserve with a variety of animal and plant life. It's also home to the California Lighthouse, and Natural Pool, which was formed by the rugged coast and rock formations. If you're more interested in indoor activities, you can stop by one of the many hotel casinos, which are still open (masks required). Aruba Ray's Comedy, at the Holiday Inn, brings world class comedians to the island.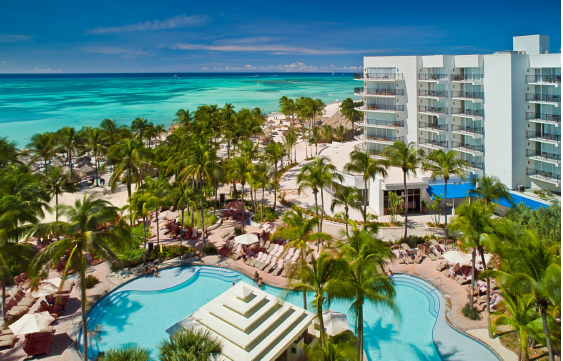 WHERE TO STAY
There are all sorts of accommodations on the island, from timeshares to bed and breakfasts to five-star hotels. Here are some favorites.
Aruba Marriott Resort & Stellaris Casino Situated on Palm Beach, the resort boasts modern room decor with an upscale feeling and beach chic ambiance. The eight-story complex has 414 rooms and 24 suites, each one with a 100-square-foot balcony overlooking the shimmering Caribbean Sea. The main free-form pool and its cascading waterfalls look directly out to the ocean and features a popular swim-up bar. There's also a casino and 6,500 square-foot Mandara Spa, the largest spa on the island. Within walking distance are the courts at Moomba Beach, which set the stage for a friendly or competitive game of beach tennis (a hybrid of tennis and beach volleyball.) Atardi is a pop-up restaurant right on the beach; you can dine with your toes in the sand. Try the Macadamian Crusted Grouper and the Red Snapper. You won't be sorry. Info: marriott.com.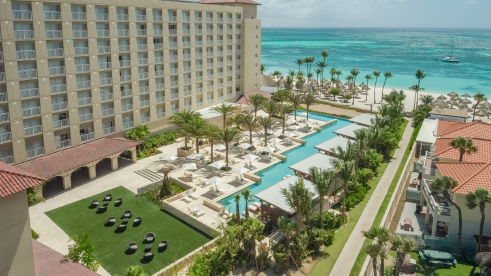 Hyatt Regency Aruba Resort and Spa Situated on 12 acres of luxe waterfront, here is the perfect getaway. The resort recently underwent a multimillion-dollar renovation, which includes Trankilo, a new adults-only pool with 10 private cabanas and the transformed ZoiA Spa. Indeed, they take wellness seriously here: The minute you step into the open-air lobby with its magical ocean views, you'll feel yourself starting to chill. "Given the times we are currently living, wellness and wellbeing are more important than ever," says Avery Shipley, the hotel's Wellness Wellbeing Ambassador.
To that end, the hotel is offering a range of classes, including morning and full moon yoga, Qigong, tennis, hiking, mountain biking and, of course, water sports. They also hold mixology classes, so you can finesse your cocktail-making skills. Info: hyatt.com.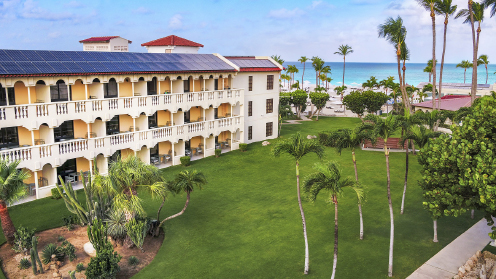 Bucuti & Tara Beach Resort
The resort's owner and CEO, Ewald Biemans, has a clear-cut vision for what the property is and what it is not. It's adult only. It's quiet. You won't hear "Margaritaville" anywhere. In fact, if a guest arrives and discovers the experience they're seeking is better suited for another property, Biemans will give the guest the keys to the resort car so they can find a different hotel that's a better fit for them.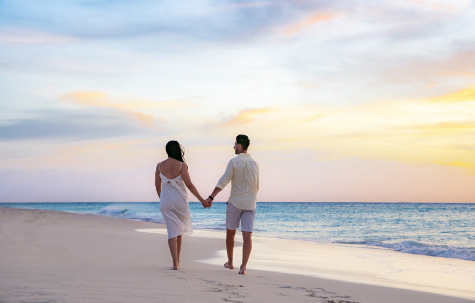 Bucuti & Tara has been voted TripAdvisor's #1 Resort in the Caribbean and Most Romantic Hotel in the World. Facilities include a beach bar with daily Happy Hour, daily Healthy Hour (with discounts on smoothies!), day spa, movies on the beach, gift shop, fitness center, a freshwater pool, car rental desk, multilingual concierge staff, and spacious beach with comfortable lounge chairs. Rates include free use of iPad, free Wi-Fi, and daily breakfast.
It's also the first and only carbon-neutral hotel in the Caribbean, and it's the first hotel in United Nations history to receive the coveted Global UN 2020 Climate Action Award for Carbon Neutral Now. The previous year's winner? Apple. Yes. That Apple.
Info: bucuti.com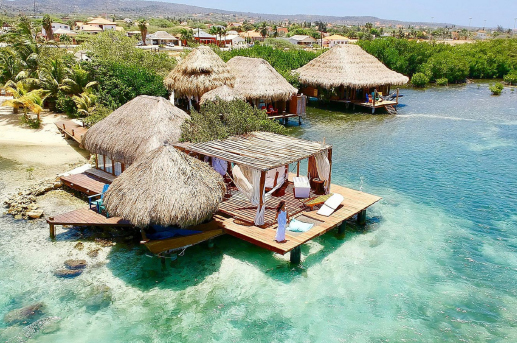 Aruba Ocean Villas Situated in the small town of Savaneta, you'll find the only overwater villas on the island. Perfect for a romantic getaway, it's tranquil and dreamy and an official partner of Aruba Tourism Authority's "Happily Ever After Guarantee." As part of the program, weddings and honeymoons booked for 2021 can be postponed for up to a year from the original date.
ts tranquil dreamy ambiance lures the rest of us to kick-back and relax. Spend your getaway sipping a cocktail in a hammock. Or, for the more adventurous, take the plunge and try your hand at windsurfing. There's also hiking, tennis, and plenty of fishing expeditions. Arrangements can be made through the concierge. Come sunset, take your appetite to The Old Man and The Sea for local and international fare. Info: arubaoceanvillas.com