The Lodge At Woodloch
Love In The Quiet Valley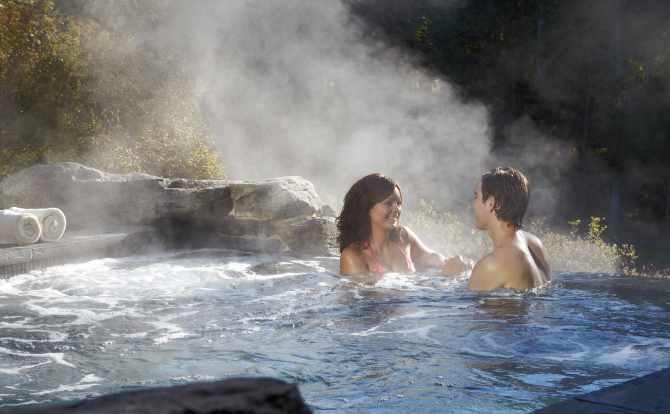 By Sandy Samuels
Can you remember the last time you sat by the fire listening to a live performer, even one singing behind a Plexiglass barrier? Marc Von Em, a talented vocalist, guitarist, and songwriter gave us the gift of "normalcy" by singing James Taylor, Harry Chapin, Nat King Cole, and a myriad of folk, rock and soulful songs, his way. It was wonderful, especially after a languid afternoon in and out of the sauna, steam, whirlpools, and swimming pool.
Couples have nuzzled in this land of love since the time of the Delaware Indians, who snuggled in one-room bark wigwams near the riverbanks; they named their home Poconos, which translates to "quiet valley between two mountains." The region's pristine Delaware River and its lakes, streams, ponds, woodlands, and hilltops lured future generations to the area, especially honeymooners. If they drove on country roads, as I did this January 2021, they might have seen polka-dotted snow patches, waterfalls frozen to rock faces, smoke rising from farmhouse chimneys, mega-stacks of split wood, and long, slate fences.
POCONO PERFECTION
When The Lodge at Woodloch first opened in 2006, I couldn't wait to visit because I knew that top spa consultants, Ginny and John Lopis, had influenced its conception and design. I was aware of their work at Canyon Ranch in Arizona, The Cloister at Sea Island in Georgia, and Doral Saturnia, in Miami, all of which were their former prestigious clients and some of my favorite spa destinations
For his part, my late husband was always eager for a romantic getaway and especially for one in northeastern Pennsylvania, where he had spent the happiest time of his youth at Camp Navajo, in nearby Honesdale. And a romantic retreat it was. We both appreciated the beauty of the place, the natural environment, the many roaring fireplaces, and co-ed whirlpools. He was unabashedly happy that there was a bar (an atypical spa amenity), and we both enjoyed the refined dining atmosphere.
Years later, and even alone, I found the calm, beautiful, and magical ambiance of Woodloch a welcome antidote to stay-at-home COVID- era life. 
On a secluded, 500-acre parcel amid a forest, the venue is adjacent to the privately-held, 1200-acre tract that's part of Woodloch Pines, the Kiesendahl family's ever-popular, 900-room, family resort. The timeless architecture of this sprawling, warm and detail-laden, self-contained hospitality and wellness complex reminds me of a contemporary Adirondack camp, with gorgeous woodwork, slate walls, coffered ceilings, and vaulted 17.5-foot-high window walls that integrate the dramatic woodland backdrop.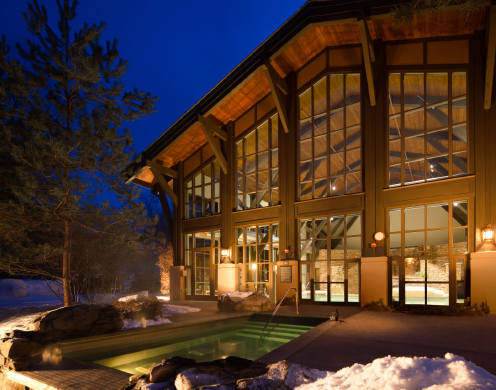 The entry to this mountain chalet is a garden foyer with an interactive centerpiece display featuring three oversized crystal "singing" bowls, which sit on a circular, sculpturally-carved wooden stand. (If you stroke the bowl, the sound waves "are tuned to energy centers in your body, called chakras, specifically the Root, Heart, and Third Eye chakras.") Straight ahead, they've added a spacious living room, the Chakra Lounge, with its various seating areas and stone-fronted fireplace.
On the left, there's the reception and the entrance to TREE Restaurant. The Maitre d' is stationed behind a plexiglass partition facing a comfy sofa and large armchairs in front of the enormous, oversized fireplace on a high slate wall that separates it from the intimate library, with its wooden bookcases. That space is now used for five socially distant dining tables, and my favorite table faces the window wall.
The hallway on the left continues towards a tri-level 58-room hotel, past a casual Garden Lounge with another fireplace, and a 9.5-foot-wide Gallery Hall, where the walls are studded with seasonal artwork. Art is integral to the Lodge; there's a full-time Artist in Residence, Debra McGiniss, several art instructors, and a newly expanded Art Studio under the new living room, with several classes daily, all designed to challenge and gratify intellectually curious guests.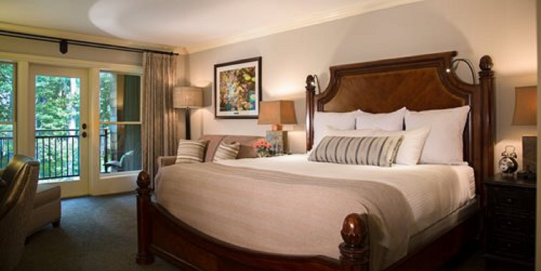 ROOMS WITH A VIEW
Accommodations are spacious, comfortable, and well thought out, with reading lights over the bed, plenty of drawers and shelves for storage, and a large LG-TV, with lots of cable channels and movies. The woodsy décor features forest-green, leaf-patterned carpet, wooden furniture, sculptural, raw edge tree plank that frames a mirror, an indoor contemporary Adirondack slotted chair with a twig frame. The armchair and hassock are placed to take advantage of the veranda's view and beyond, through the window walls. Bathrooms have marble floor tiles, a shower with a seat, a lighted mirror sits between double sinks on the granite counter, and there's a wooden bench below.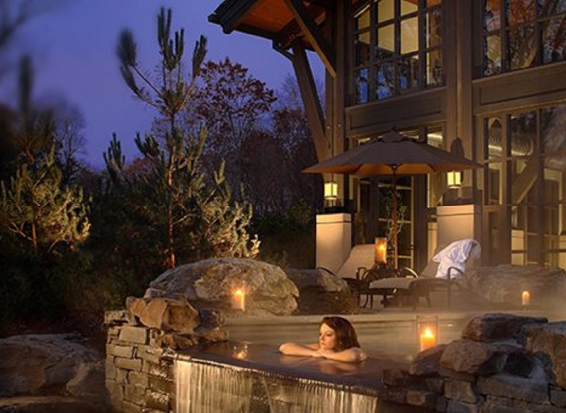 FIRST-CLASS SPA
The building's right-hand wing leads from the entry past the very well-stocked spa boutique and salon to spa reception and the entire 40,000 square foot spa complex. There are his/her spa facilities with spacious lounges, locker rooms (9 private shower areas in the ladies' locker room), sauna, steam, and whirlpool behind the reception desk. The wet facility leads to the exciting co-ed window-walled, multi-sensory indoor pool complex, the Aqua Garden, which features dramatic waterfalls that cascade from one whirlpool to another adjacent to the pool; the pool deck opens outside to a heated patio floor and another whirlpool. Fitness facilities are mostly on an upper level, with a 3500-square foot cardio-weight space, spinning and rowing studios, and more. The lower- level houses 27-cabins for customized treatments: facials, mud baths, Native Sage Stone Massage, and Lavender Garden Dream. Christine (who wore a face shield over her mask) was the practitioner for my much-needed, long-missed facial. My skin appreciated an exfoliation with the HydraFacial machine and sucked in all the super serums, antioxidants, and hyaluronic acid applied during the service. The myriad services on the spa menu include massages for couples.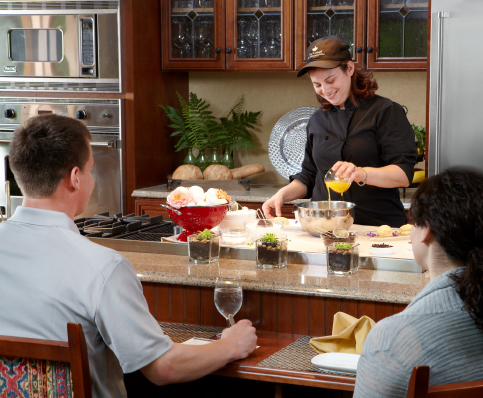 NATURE'S BOUNTY
Outdoors, there are many activities—and relaxation spaces—within the woodland setting around a private 15-acre lake. I opted to explore as much as I could of the three gardens, five-miles of well-marked trails, a labyrinth, an orchard and apiary, and Blackmore Farm, which raises some of the produce served. There are organized classes, walks, hikes, plus bikes and kayaks. (Tennis and golf are available at the nearby country club.)
My stay started with a Cooking Class shortly after I arrived. I went to the Demo Kitchen, where I learned some new techniques for making Clams Casino, Oysters Rockefeller, and Mussels Marinière from Brooks, the Demonstration Chef. I missed the nutritionist's presentation of healthy dishes because I decided to take advantage of the indoor pool complex, where I also took an Aqua-Jog class.
One of the most significant advantages of staying at a spa is the option to eat healthfully. Here, at TREE Restaurant, it's fine dining with beautifully executed, four-course meals served by a long-experienced and loyal staff; at dinner, they are presented at a table with Frette napkins and tablecloths. The choices feature organic, local, farm-raised, and "best quality" ingredients; the options also include many gluten-free, vegetarian, and vegan items. But, be assured, this is not deprivation dining; you need to choose carefully and order wisely, if you want low-calorie meals.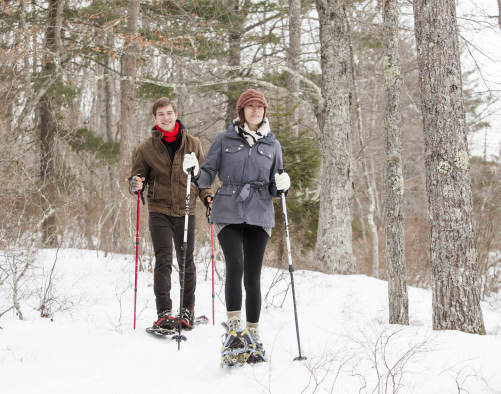 Along with freshly made juices, grilled fish, chicken and salads, and wonderfully prepared vegetables, heartier items and specialties are also served at every meal. I ordered a Korean Steak Bowl with tender top cap beef, for one lunch, and atoned with a grilled chicken breast, at another. For dinner, I was amazed at the loin pork chop's size and tenderness, with a demi-glace sauce swooshed on the plate. For my last dinner the classic 10 oz. Strip steak was a perfect choice. I even opted for an Open Face Crab Benedict for breakfast, which might have been a no-no, had I not ordered the Hollandaise on the side. I don't know how fattening the brownies, cheesecake, and crème brûlée are, but I can assure you they were tasty. I noticed a TREEhouse Bloody Mary, with organic vodka and a French Mimosa on the menu even at breakfast.
I never saw many people while I was there (I was told there were 52 guests), but at dinner, there were mostly couples at the ten tables in the large dining room and a few in the library, the evening before. 
The Lodge at Woodloch is undoubtedly an idyllic choice for a Valentine's Day retreat; it's also a delightful year-round destination. Enjoy!
For more information on The Lodge at Woodloch, visit thelodgeatwoodloch.com.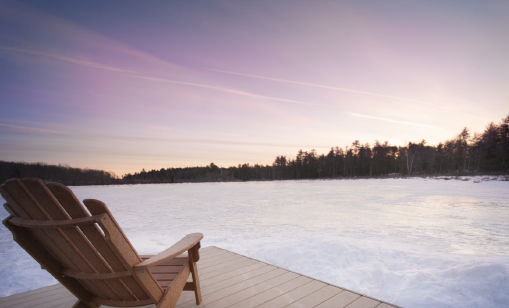 PROTOCOLS FOR COVID-19 ERA

The Lodge at Woodloch follows all protocols, including temperature check to enter the property, masks worn on-site (except in water facilities), and social distancing. Plexiglass barriers are located at reception, for entertainment, and concierge desks. The entire staff has been trained in all protocols and practices and enhanced housekeeping sanitation. In addition to additional hand sanitizer stations throughout the property, upgraded filtration and ionization systems have been added.
Most importantly, no one enters the room once it is occupied. Towels and room service are delivered to a table outside the door. It's best to check the website for regular updates.