ON THE SMALL SCREEN
By Jenny Peters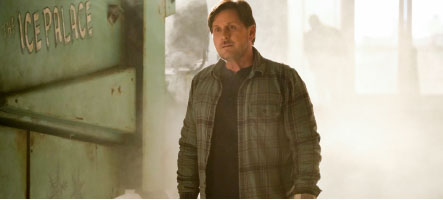 KEEPING KIDS HAPPY
THE MIGHTY DUCKS: GAME CHANGERS
Disney+
Almost thirty years ago, The Mighty Ducks entered the world's consciousness as Gordon Bombay (Emilio Estevez), a selfish lawyer who learned a lot when forced to coach a kids' hockey team. Two sequels followed in the 90s and now Estevez is back again, with this series that pairs him with Lauren Graham and a whole new team of misfits, in a show created for kids who have no awareness of the origin, as everything old is new again on TV.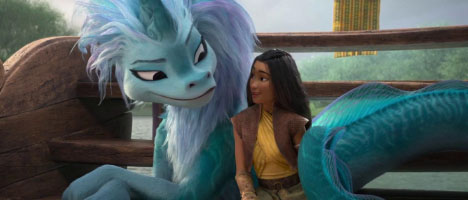 RAYA AND THE LAST DRAGON
Disney+
Expected to be a theater blockbuster, Raya and the Last Dragon is Disney's latest big-budget animated feature to head to the small screen. The tale of an alternative world where dragons and monsters dwell, this Asian-influenced, visually lovely story stars the voices of Kelly Marie Tran, Sandra Oh, Gemma Chan, Daniel Dae Kim, and Awkwafina. You'll pay $29.95 on Disney+ for unlimited access to this animated adventure.

WAFFLES + MOCHI
Netflix
Michelle Obama stars (and produces) this new children's series that's all about good food from around the world. Waffles and Mochi are a puppet duo who join real-life humans in their quest to find out how to cook and eat flavorful, healthy dishes. It's a little bit animated, a little bit live, and all-around a fun, delicious way to help children learn to enjoy yummy food from many cultures.

YES DAY
Netflix
Jennifer Garner and Edgar Ramirez play the beleaguered parents of three rambunctious children, who give their kids 24 hours to run the family. It's every parent's worst nightmare and a fun way for your whole brood to watch the same thing. The only problem is it will give your kids some ideas for their own Yes Day.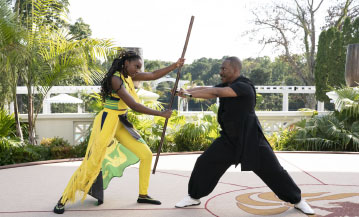 HELPING EVERYONE LAUGH A LITTLE
COMING 2 AMERICA
Amazon Prime Video
They're back! It only took 33 years for Eddie Murphy, Arsenio Hall, Garcelle Beauvais, and James Earl Jones to return to the land of Zamunda—and back to the USA as well. Add in Leslie Jones, Tracy Morgan, and a host of other funny people. This long-awaited sequel, helmed by Craig Brewer (of the hilarious Murphy comedy Dolomite Is My Name), is poised to become one of 2021's favorite reboots of the stay-at-home world.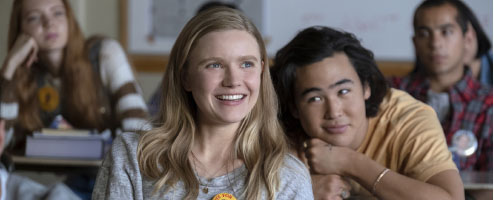 MOXIE
Netflix
Amy Poehler produces, directs, and stars in Moxie, a series devoted to a shy teenage girl's angst. Hadley Robinson stars as Vivian, the girl whose mom (Poehler) inspires her to stand against mean-teen culture. She's got Moxie, an underground magazine she publishes to fight the status quo, in this show based on the popular novel of the same name.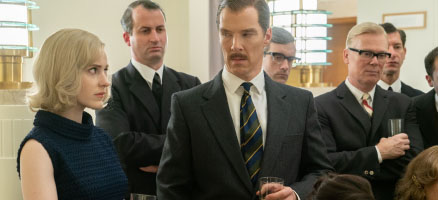 REVISITING THE PAST VIA REAL-LIFE THRILLERS
THE COURIER
Lionsgate/On-Demand
Powerhouse acting duo Benedict Cumberbatch and Rachel Brosnahan share the screen in this fact-based story of 1960s international spy intrigue amid the Cuban Missile Crisis. Brosnahan is CIA, Cumberbatch a British businessman pulled into the operation designed to stave off a nuclear war between the USA and the USSR. Happily, they succeeded, as recounted in this taut tale of the world on the line.

SIX MINUTES TO MIDNIGHT
IFC/On-Demand
It's 1939 on the southern coast of England, as this true story unspools. At a finishing school for girls—including the offspring of Nazi bigwigs—a tense murder mystery unfolds that entwines the headmistress, teachers, and students into a dangerous web of deceit and danger. Eddie Izzard produced, co-wrote, and stars in this fascinating thriller that also features Judi Dench, Jim Broadbent, and Carla Juri.