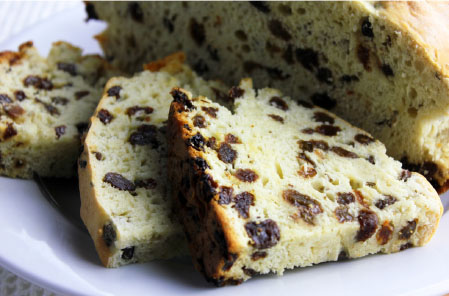 Great Bites
Irish Soda Bread
By Sean-Patrick Hillman
Irish Soda Bread is part of my family's tradition in celebrating St. Patrick's Day. I could never imagine March 17th without both Irish Soda Bread and a right pint of Guinness. So, I thought for my last Great Bites column, I would pass along a favored Irish Soda Bread recipe that will help you celebrate all-things Emerald Isle!
Ingredients
4 to 4 1/2 cups flour
1 tablespoon of sugar
1 teaspoon of salt
1 teaspoon of baking soda
4 tablespoons of butter
1 cup raisins
1 large egg lightly beaten
1 3/4 cups buttermilk
Preperation
• Preheat oven to 425-degrees.
• Whisk together flour, sugar, salt, baking soda into a large mixing bowl.
• Work the butter into the flour mix using your fingers or a wooden spoon until it thickens. Then add raisins.
• Using a large spoon, dig a well in the center of the flour mix. Add beaten egg and buttermilk. Stir with a wooden spoon until all liquid ingredients are absorbed.
• Turn the dough out onto a floured surface and knead for a few quick turns just to even out the dough. Note: Do not overwork the dough. Now form into a mound.
• Transfer the dough to a large baking sheet. Score the mound with a cross or an X using a serrated or bread knife. This will help the dough receive enough heat internally to bake properly and evenly.
• Bake for about 35-45 minutes until bread is golden and the bottom sounds hollow when tapped. You can easily check for doneness by inserting a thin skewer into the center. If it comes out clean, your Irish Soda Bread is done!
• Let cool a few minutes.
Enjoy Irish Soda Bread with a pint of Guinness, a glass of Irish Mist, or an Irish Coffee. Sláinte!
As this will be my last Great Bites column, visit me at my new online bakery at HillBites.com starting March 15th! Thank you for the last year of culinary adventure.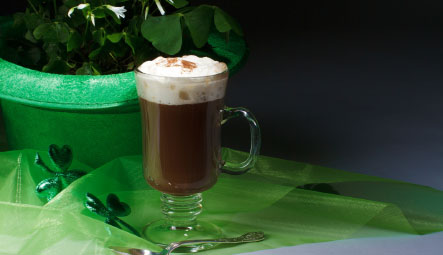 Great Drinks
Irish Coffee
By Patricia Canole
Along with corned beef and cabbage, soda bread (see recipe this page), the Irish are also well-known for their tea. I remember my Irish-born mother setting the table for her weekly gatherings with friends. Tea and biscuits were always welcome and enjoyed.
But she liked her Irish Coffee, too! There's nothing more quintessentially Irish than a perfect Irish Coffee. Whether it's a birthday, anniversary, or a St. Patrick's Day, this will make the occasion extra special.
The recipe is not complicated. It requires four ingredients: The combination of a smooth Irish whiskey, rich coffee sweetened and combined with whipped cream is a delight.
Despite some common shortcuts, authentic Irish coffee is not as simple as spiking coffee with a shot of whiskey. Instead, it's a carefully constructed coffee drink that should be prepared with the care of any latte or cappuccino. That said, it is relatively easy.
Choose a great Irish whiskey Then follow the recipe, and you'll discover why this classic is considered one of the best cocktails. You'll soon want to share with everyone you know.
Ingredients
1 to 2 teaspoons brown sugar (to taste)
4 ounces coffee (strong, rich, hot)
1 1/2 ounces Irish whiskey
1 ounce of heavy cream (lightly whipped)
Preperation
Gather ingredients. Place brown sugar into a warm Irish coffee glass, mug, or other heat-proof glass. Add coffee and Irish whiskey. Stir until the sugar is dissolved. Float the whipped heavy cream on top. Do not stir. Rather, drink the Irish coffee through the cream. Enjoy!
SAVVY TIPS
• Start with a great coffee. To experience an authentic Irish Coffee, you want a rich, robust blend: medium-to-dark roasted will work best.
• Don't forget to preheat your glass. It keeps the drink warm and helps combine the ingredients.
• Always use freshly whipped cream. Begin with heavy whipping cream and vigorously whip it with a whisk or fork until it is light and fluffy.