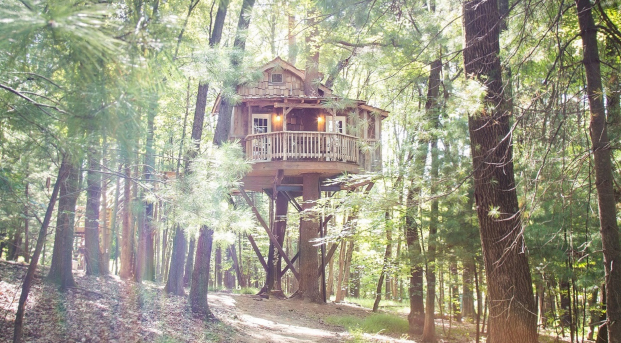 WANDER WITH WONDER
Reconnect & Rejuvenate
By Melanie Carden
Wanderlust isn't a mood. It's a lifestyle with a passion to explore the wonders of the world, immerse ourselves in new cultures, and give wings to our curious whims. We long to disconnect from the grid—and reconnect with our intuitive sense of adventure.
Some may want to hike mountains—others to sip their morning coffee while watching the morning mist dissipate through the forest leaves. Wanderlust—once loosely associated with hippie culture—is quickly becoming a game-changer in the travel industry. Just as people are shifting to the preference for open-air shopping experiences, some travelers opt to ditch the square, homogenized rooms of traditional hotels searching for more. The trend of unique travel experiences such as tiny houses, yurts, geodomes, and safari-style glamping offers travelers a union of simplicity and the great outdoors—with touches of convenience and even luxury.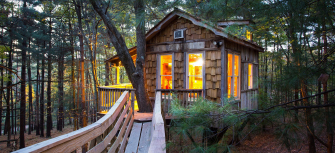 TREEHOUSE DREAMS
The Mohicans Treehouse Hotel is a 77-acre opportunity to live out your childhood tree fort dreams. With a Midwest location, it offers six lavish ground cabins and nine state-of-art treehouses—including The Silver Bullet treehouse made from a vintage 32-foot Airstream trailer. Two of the treehouses were designed by Pete Nelson, star of Discovery Channel's hit series Treehouse Masters. The property welcomes dogs and has a no-fireworks policy. If these lush treehouses are good enough for the rugged Matthew McConaughey, they're an absolute yes for me. 
Info: themohicans.net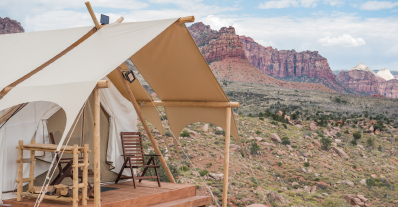 STAR GAZING
Here's the new benchmark in glamping. Immerse yourself in the grandeur of the National Parks with Under Canvas's safari-style tents, king-size beds, West Elm furnishings, and wood-burning stoves. Locations include Acadia, Lake Powell-Grand Staircase, Grand Canyon, Moab, Yellowstone, Glacier, Zion, Great Smoky Mountains, and Mt. Rushmore.


Make grub over your firepit or visit the onsite restaurant and bar available at most locations. Each works in tandem with nature, offering locally sourced produce, hot breakfasts, bottomless coffee, charcuterie boards, salads, and fresh fish. You might read a book and enjoy the tranquility—but if you're looking for more, each property has an Adventure Concierge to help coordinate curated excursions.
Info: undercanvas.com
LOVE OF LAND
Explore the beauty of Bar Harbor, Maine, and its surroundings at Terramor ("Love of Land"). Here, the folks are dedicated to that mantra, offering complimentary gear such as binoculars, telescopes, walking sticks, and more. Visit the restaurant and bar, take a dip in the pool, or head out on the trails—then retreat to your lux safari-style tent. Accommodations include electricity and Wi-Fi along with overhead fans, Pendleton blankets, and screened porches. The resort is dog-friendly and has a private, fenced-in park where pups can stretch their legs without a leash. Info: terramoroutdoorresort.com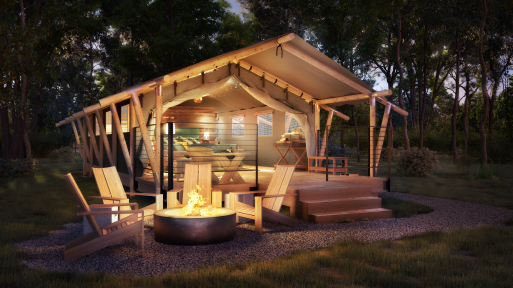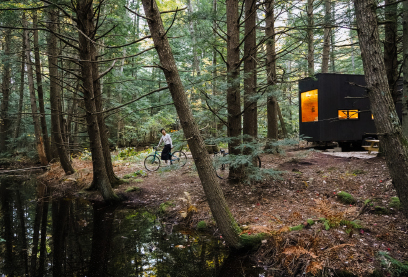 UNPLUGGED
Getaway builds collections of tiny cabins within a two-hour drive of major cities. The peaceful retreats capture nature and feature a respite from our tech-tethered lives. Absolute simplicity is the gift offered here. Getaway's custom-built tiny cabins come with everything you need for a simple escape to nature: a comfy queen bed or bunks, linens, a two-burner stove, mini-fridge, hot shower, air-conditioning, an outdoor fire pit, and a mini-library. Info: getaway.house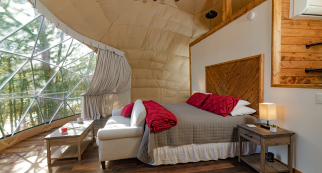 CABINS, YURTS, AND GEODOMES
Hocking Hills is about to have its moment of cultural arrival. Boasting 10,000 acres of unexplored forest in Ohio with spectacular hiking trails, zipline canopy tours, rappelling, kayaking, and other outdoor pursuits—it's an adventurer's delight. Located within easy reach are plenty of wanderlust-worthy options ranging from tiny houses and cabins to geodomes and yurts. The Inn & Spa at Cedar Falls offers luxury cabins, yurts, geodomes, and cottages. Want to check out the tiny house buzz? The Box Hop offers chic, upscale minimalist options. Whether you visit Hocking Hill Treehouse Cabins, Canopy Ridge Cabins, or the Hocking Hills Caboose (that right, a converted railroad car), you're in for a unique adventure.  Info: explorehockinghills.com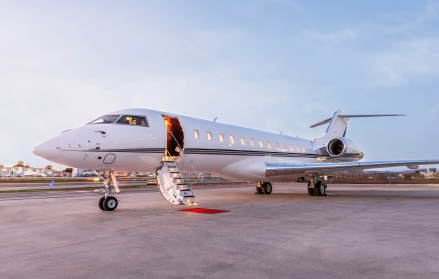 FLIGHTS OF VINO
Suppose you'd rather enjoy the outdoors in a vineyard. In that case, Clay Lacy Aviation, an award-winning leader in private luxury jet travel, is partnering with Ross Wine Tours to deliver luxury wine excursions. The company's nationwide fleet includes aircraft located in New York and along the East Coast. They're offering custom-tailored wine voyages in the Southern and Northern Hemispheres. To explore wine itineraries or create one of your own in consultation with Ross Wine Tours, contact David Lincoln Ross (rosswinetours.com). Once your itinerary is confirmed, Ross Wine Tours will coordinate travel arrangements with Clay Lacy Aviation for a safe, secure, and seamless travel experience. Visit the press page on their website for details. Info: claylacy.com