In the burbs bergenPAC, Minutes From Broadway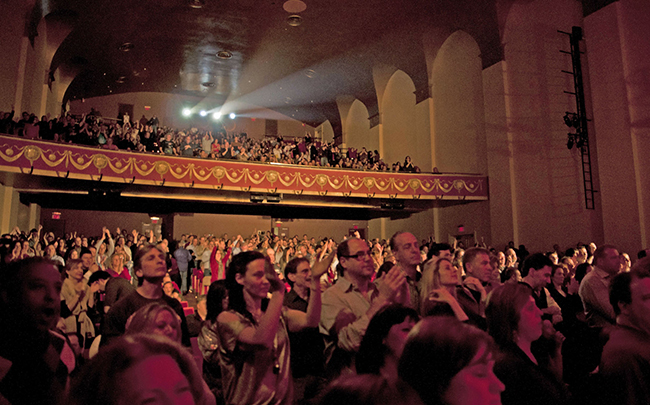 By Bob & Sandy Nesoff
There's little dispute about the fact that New York, and Manhattan in particular, are the center of the world when it comes to dining and entertainment. But it's far from the whole enchilada.
The outer boroughs and the suburbs, in recent years, have grown tremendously in fine dining and entertainment that's still within easy reach of Times Square.
The Bergen Performing Arts Center (bergenPAC) in Englewood is a 10-minute drive from the George Washington Bridge and easily reachable by bus and train. The run over the GWB is a direct line on State Route 4 to the Grand Avenue exit and then three or four minutes north.
And parking is no problem. How's that for an enticement? You need more? OK. How about recent shows featuring Three Dog Night, Satisfaction and So Good For The Soul?
Still not enough? Then what do you think about the likes of Jay Leno and Kenny Rogers?
OK, so those shows have already played. Is there anything of interest upcoming that'll make me want to leave the comfy confines of The Big Apple?
There certainly is. The hysterical comedy troupe originally formed by congressional staffers to mock the political process, The Capitol Steps will be here on February 6. Joan Baez comes in on March 3, Howie Mandel arrives March 12, Celtic Fire on March 17 and Tracy Morgan on April 2. There's a lot more in between, but you'll have to see for yourself.
The building housing bergenPAC first opened in 1926 as a movie theater, the Englewood Plaza Theater. It was purchased by United Artists in 1967 and was an active theater until it closed in 1973.
A group led by John Harms brought it back to life in 1976 with a performance by Russian pianist Lazar Berman. The theater was later named for Harms, an organist and teacher, who died in 1981. Harms was a one-man army keeping the cultural bastion alive, booking performers, renting the space, writing press releases and on occasion, helping to clean the theater. Harms' dream of a concert hall came into being in the early 1990s. Two major renovations turned the former movie theater into a modern concert hall and media facility.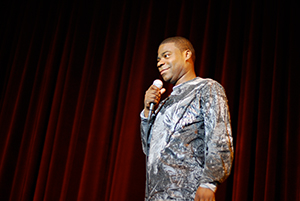 Our Broadway columnist, Jim Kierstead, in a recent column, talked about the various types of theater, from profit to non-profit. He detailed some of the trials and tribulations faced by non-profits. As with most any non-profit cultural organization, financial problems continued to plague the operation. It closed once again. Until, that is, 2004 when a group led by Frank Huttle III, later to become the city's mayor, got it back on its feet with the goal of bringing in some of the world's finest performing artists.
bergenPAC was founded with the intent of providing theatergoers with a varied experience that included comedians, singers, concerts and cultural events.
A public/private partnership was formed that could bring together patrons of the performing arts and donors-big and small. The institution was awarded a 501(c)3 designation by the IRS, allowing donors to make tax deductible contributions. As with most non-profit cultural groups, the donations normally outdid the sale of tickets to the various shows.
Branching out, bergenPAC became a home for recognized home recordings through a partnership with Bennett Studios, a state-of-the-art facility with whom the theater was fiber-optically linked.
This vintage acoustic hall became home to a media production system that was unique and unparalleled, one of the best in the Northeast. The former Bennett Studio, at One Depot Square, across the street from bergenPAC, now hosts its performing arts school that provides students with hands-on arts training by industry professionals, permitting them to gain real world experience while, at the same time, enhancing their academic achievement.
Since its inception, bergenPAC has become the busiest not-for-profit performing arts center in Northern New Jersey. It is home to literally hundreds of world class performances at affordable prices and reached an annual audience of more than 250,000.
bergenPAC embraces the spectrum of arts from rock to classical to dance to comedy. There are nearly 150 events each year representing all of those genres.
The Performing Arts School is a major effort of the theater. Its programs are open to all school districts and those with special needs. Programs are geared to all ages, literally from infant to adult, providing an arts education to students from the age of three months to 21 years old. The PAS receives a major portion of its annual budget from donations by concerned supporters of the arts.
For those coming in from New York, there is the opportunity to make a full evening out of it. There are many restaurants on Palisades Avenue, a walk of only a minute or two. There are, as well, fine eateries on Van Brunt Street, such as the Station Café across from the theater. Parking is available for hundreds of cars and, believe it or not, at no charge.
For information on upcoming shows, to purchase tickets or consider a donation, check out bergenPAC.org or call (201) 227-1030.
bergenPAC
380 North Van Brunt St.
Englewood, NJ