De-stress from Holiday Madness in the Phoenix-Scottsdale Area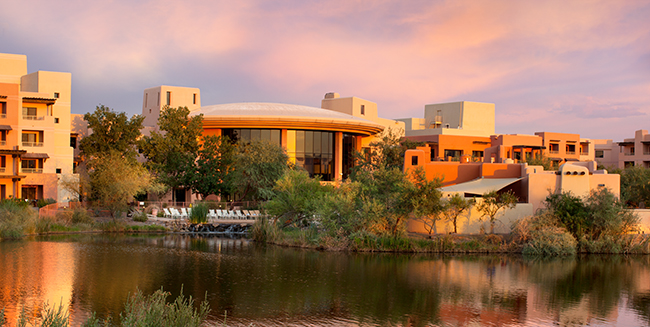 By Jodie Jacobs
Photos courtesy of the Scottsdale Convention & Visitors Bureau
After all the hustle and hassle of holiday shopping and keeping everyone else happy during December, you deserve a stress-less vacation.
Stress in Arizona, if you can call it that, is about trying to fit in all the area's terrific sights, from Frank Lloyd Wright's Taliesin West and a fabulous botanic garden, to a museum of exceptional American Indian art and artifacts and really fine art galleries.
But topping the list is choosing a place to unpack the bags and wind down that will turn the trip into a real vacation instead of a mere escape.
There are enough good options to confuse even veteran travelers, but here are two great resorts that may be off your radar, one in Scottsdale, the other just outside Phoenix. They are the Omni Scottsdale Resort and Spa at Montelucia in Scottsdale's Paradise Valley and Wild Horse Pass Resort on Indian land south of the Phoenix Sky Harbor Airport.
Montelucia
Kick back in spacious rooms, have a glass of wine on your patio while looking out at Camelback Mountain, sign up for a wonderful treatment at Joya, the hotel's spa, and know that the resort is an easy drive over to Wright's Taliesin West.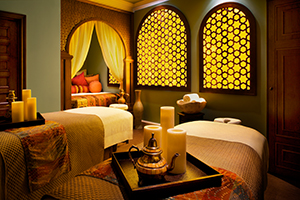 Two elegant, historic properties nearby are also worth a stop: the Wrigley Mansion (tour reservations usually necessary) and the Wright inspired Arizona Biltmore.
Back at Montelucia after a day sightseeing, a soak in your sunken tub or a strong shower from the dual shower heads in your oversized bath space, revives the body for an evening on site or out.
Relax with a drink and tapas in the MBar before dinner in Prado, the resort's fine dining restaurant. The area also has a wide culinary choice of good steak, seafood and Mexican restaurants.
Next day, repeat. Add into the schedule these must-dos: browse the art gallery scene in Old Scottsdale, visit the exceptional Native American exhibits at the Heard Museum downtown Phoenix and stroll the Phoenix's famed Desert Botanic Garden. Each attraction warrants at least half a day. Tip: build in time to capture and share on social media the life-sized bronze sculptures outside the art galleries and the Chihuly and nature made sculptures at the botanic garden.
Just remember, this is a vacation, so be sure to fit in some spa time at Joya. Considered as one of the best spas in the area, Joya is on the Montelucia property. But everyone else knows its reputation so you might want to book before you go or as soon as you arrive and then fit the sightseeing around it.
Don't try to squeeze the spa time in between things. Think of it as integral to the getaway from cold and snow so worth half a day. Pamper yourself with time in the steam room, Jacuzzi and a massage, but be sure to have a pedicure in the spa's zero gravity pedicure chair. You won't want to get out of it. Then treat yourself to a gourmet lunch on the Joya Terrace. The menu notations make it easy to watch the carbs or calories.
Being good at lunch means you can indulge at breakfast. Prado does a wonderful French toast. However, if you like to choose your breakfast ingredients, do the "you build-it" omelet. If looking for something small or quick, stop at the resort's Crave Café for coffee and pastry. The Café also does wine tastings in the afternoon.
Omni Scottsdale Resort and Spa at Montelucia
4949 E. Lincoln Drive,
Scottsdale, AZ 85253
(480) 627-3200
omnihotels.com/hotels/scottsdale-montelucia
Sheraton Wild Horse Pass Resort and Spa
Or treat yourself to a unique, upscale Native American experience at Wild Horse Pass outside Phoenix.
Sitting low into the sandy landscape of the Gila River Indian Reservation, next to the South Mountains, is the Sheraton Wild Horse Pass Resort & Spa. . It has one of Arizona's best restaurants, amazing art, the fabulous Chandler Spa and a cultural concierge who will be delighted to take you on a tour of the hotel's American Indian treasures.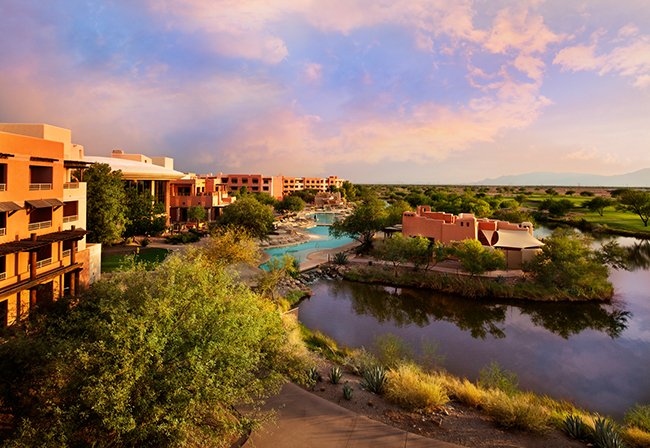 You know you have arrived somewhere special when walking into the lobby you hear and see the words "Skek Thash." That's Pima for Good Day. Then you spy a huge circle of Native American murals covering the ceiling of what turns out to be a two-story lobby. U.S. atlas maps identify the area as a reservation, but the people here explain you are in the Gila River Indian Community of the Pima Tribe known for its basketry and the Maricopa Tribe known for its pottery. The Sheraton hotel chain built and operates the resort and its spa with guidance from the tribal elders. A portion of the profits goes to the tribes.
You see more murals behind the reception desk but also walk over to rocks in the lobby. They are etched with symbols copied from drawings on boulders in the nearby mountains.
Native American art, symbols and cultural artifacts decorate walls and cases throughout the resort. Indeed, make an appointment for a resort art and architecture (window design and placement is deliberate) tour with Ginger Sunbird Martin, Wild Horse Pass's cultural concierge.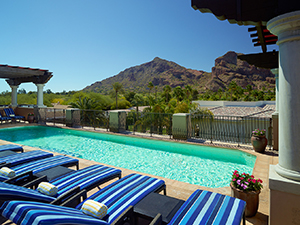 A stunning pool with an island refreshment oasis beckons outside, but you might want to book golf reservations before settling into a deck chair. The resort's Whirlwind Golf Club features Devil's Claw and Cattail, two courses developed by Gary Panks and managed by Troon Golf. The PGA Nationwide Insurance Tour's Gila River Golf Classic is held at Whirlwind every October. Tee times should be arranged ahead. The Golf Club also has the Bird Golf Academy to learn or improve the game.
If you want to explore the area on horseback check trail ride times at Koli Equestrian Center. BTW, there really are wild horses in the area. Also, check at the reception desk for hours of Rawhide, a "Wild West" style park that also has Native American memorabilia. You can walk or take a complimentary (no reservations necessary) boat ride to Rawhide.
Sign up for a treatment, salon service or personal trainer at Aji, the resort's spa. It also has its own café and relaxing pool.
Then reserve a table in Kai (Pima for seed), the resort's and Arizona's only AAA Five Diamond and Forbes Five Star restaurant. Dress code is nice resort wear, not jeans or shorts. The resort's casual Ko'Sin (Pima for kitchen) Restaurant is excellent. However dine at the multi-award winning Kai at least once for an extraordinary experience that is Chef de Cuisine, Ryan Swanson's tribute to Native cuisine and local ingredients. The presentations are so good you will want to photograph and tweet them.
Remember to watch the sunset over the South Mountains before dinner. You will want to capture and tweet that, too. Walk off dinner exploring the resort's trails next to the golf courses.
You may not want to leave the property, but assuming you rented a car at the airport to get here, you can also drive over to the famed Phoenix Botanic Garden, the Heard Museum, also in Phoenix or go over to Old Scottsdale and the Wright complex.
But when you leave Wild Horse Pass, you will want to say "Move Sape" (Pima for Thank You).
Tip: don't confuse the Sheraton property with the taller Wild Horse Casino-Hotel property that you would pass on the way to the resort.
Wild Horse Pass Resort & Spa
5594 W. Wild Horse Pass Blvd.
Chandler, AZ 85226
800-325-3535
www.wildhorsepassresort.com