A Perfect Way To Embrace Winter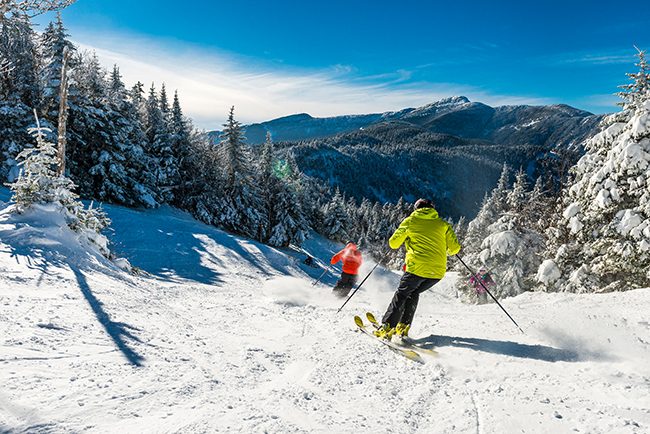 By Stephanie and Jeff Sylva
It's winter in the Big Apple, and you don't care what Billy Joel may have said about "a New York state of mind." But instead of vegging out on a beach somewhere, why not ignite or rekindle your love for the mountains?
Vermont and its Green Mountains are a perfect destination to experience all the beauty and enjoyment that winter in the Northeast can offer. We think a perfect way to embrace winter's beauty is to enjoy a great winter vacation at Smugglers' Notch Resort in Vermont, Ski Magazine's #1 Overall Resort in the Eastern U.S and #1 Kid-Friendly Resort in the East.
Smugglers' Notch Resort has long been recognized for its family vacations. Actually, for 15 years Smuggs has been rated #1 for its family programs by Ski Magazine. But with an average snowfall of 300 inches and 78 trails over three interconnected mountains - from gentle cruisers for beginners to the East's only triple black-diamond, "The Black Hole" - Smuggs also has a reputation as one of the top ski destinations in the East. Acres of glades and Smuggs' six terrain parks invite skiers and riders to explore and challenge themselves.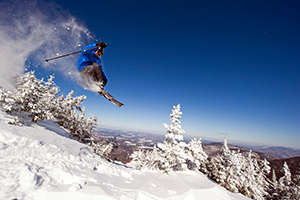 Not just a ski school – but a university
We have skied at Smugglers' Notch a few times in the past and loved the variety of trails. As a matter of fact, we first learned to ski here (many years ago) and can attest to the quality of Smugglers' ski school – Snow Sports University. Our daughter Jen, at the age of six, was introduced to skiing here; and the Smuggs' instructors had her ripping the trails on Morse Mountain by the second day. Smuggs' Snow Sports University has six age-specific programs for kids, beginning with "Little Rascals on the Snow," a program for kids 2 ½ to 3 years old, and ending with the "Mountain Explorers" for ages 16-20.
Vacation packages for a total experience
If you're looking for a winter vacation experience that includes more than skiing and riding, then Smugglers' Notch has some great choices. With four Club Smugglers' Packages, you will have no trouble finding the right mix of skiing and riding, accommodations, instruction, amenities, and activities.
But what if you or some members of your family don't ski or snowboard? Then one of Smuggs' packages, the Winter Experience Program, is perfect for you. With a wide variety of outdoor winter adventures, together with a slew of indoor activities, Smuggs' Winter Experience Program offers guests a unique opportunity to truly enjoy all that winter offers in the pristine Vermont countryside of Smugglers' Notch. During our last visit we chose not to ski at all. We wanted to experience Vermont's great outdoors with the many winter adventures that Smuggs' offers.
Wide array of winter adventures
The Winter Experience Program includes a litany of activities such as daily group snowshoe lessons and guided treks, daily cross-country skiing group lessons (equipment included for both), use of snowshoe and cross-country trails, daily guided winter walks, evening snow tubing, skating on a natural outdoor rink (skates included), and airboarding, which involves a fast and fun ride on something similar to an inflatable sled or boogie board.
We experienced one of the daily morning winter walks and a few of the snowshoe treks (YakTrax-studded stretch soles to grip ice and snow- or snowshoes are provided). One of the guided treks we enjoyed was the Soup & Snowshoes Trek, which is a mid-day trek to a cozy cabin, Zeke's Place, for some hot chocolate and fresh, hearty soup by a warming fire. A number of other guided snowshoe treks, many of which are family-oriented, are offered.
Some of the indoor activities included in the winter program are use of the indoor heated pool & hot tubs, use of two Teen Centers, the FunZone Family Entertainment Center, nightly family & adult entertainment, the Monday Family Social & Bonfire, the daily bonfire with hot chocolate, the Thursday afternoon Winter Carnival and Thursday evening Torchlight Parade & Fireworks.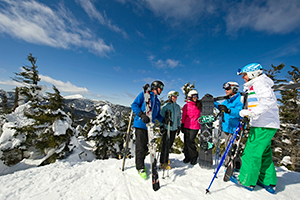 A number of unique and interesting classes are also included. The Smuggs Mug Snowman Painting Class gave us a chance to hone our artistic skills (or not); and we also enjoyed two workshops under the expert guidance of Kelley Robie of Horsetail Herbs, where we put together some very interesting concoctions of herbs, spices, cocoa, and spirits. Many of these same amenities and activities are included in all of the Club Smugglers' Packages.
Great flexibility of choices
One thing that makes Smuggs' Winter Experience Program, or any of their ski or ride programs for that matter, so attractive is how flexible the programs are. For instance if some members of your group want to ski or ride and some don't, you can select individual packages that will work for each person's interest.
We even met a group of young people who skied hard on Monday, Wednesday, and Friday, and then immersed themselves in the Winter Experience Program on Tuesday and Thursday. This allowed them to fully experience all that the Resort has to offer. When booking your Smuggs' vacation be sure to speak with one of their vacation planners, as they will be able to set you up in the just the right kind of accommodations and activity package(s) that will be optimal for your family or group.
Longer stays – more choices
There is so much to choose from that your days are packed with indoor and outdoor adventure, all included in the package price. Additionally, each person participating 2-4 days in the Winter Experience Program may choose one "select" complimentary activity, or those participating five or more days, may choose two of these activities from an impressive list of choices.
How about a night-time snowmobile tour of the Notch? We did this and loved cruising the dark woods at night through the serpentine trails at Smugglers' Notch, stopping at the Notch to learn some of its interesting history from our guides. A very popular activity (it books up very quickly) is the Snowshoe Adventure Dinner. It begins with a ride up the Sterling ski lift to the cozy, candle-lit Top of the Notch cabin. After a brief orientation, snowshoes are donned for an invigorating 30-minute trek through the woods to Sterling Pond. This is followed by a delicious, four-course candlelight dinner (it's BYOB) prepared by the Hearth & Candle Restaurant. The dinner is worked off with a trek down the Rumrunner trail to the awaiting shuttle for the trip back to The Village.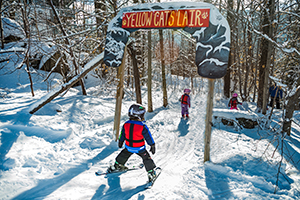 Other "select choices" for extended-stay packages include an Evening Specialty Snowshoe Trek; the ArborTrek Zip Line Canopy Tour, which includes eight zip lines, two bridges, two rappels, and is fully-guided; and the Cat Trax Express Trip, a trip on the 12-passenger snowcat during the early evening, or a "cat's-eye" view of the fireworks display on Thursday evening. Intermediate and expert skiers will be stoked with the Cat Trax Upper Mountain Fresh tracks tour – bring your equipment to make an early morning, fresh tracks run down.
The "select choices" don't end there – choose from a 50-minute Swedish massage; the Children's FunFeast; Mini-snowmobile Track Ride; a Kids' Night Out; a Family Photo Session; or, if you get the bug to learn to ski or ride, a One-day Learn to Ski or Snowboard Package.
Lodging options for every preference
From studios to five-bedroom townhouses, from slope-side to wooded seclusion, the choices of accommodations are endless. Each condominium is a short-walk or in-resort shuttle ride to everything the Resort has to offer. All accommodations have fully-equipped kitchens, cable TV, patios, outdoor barbeque grills (for warmer weather), and plenty of family gathering spots.
Having the fully-equipped kitchen is great; but you will also have some great choices for dining - from casual, like Morse Mountain Grille & Pub and Riga-Bello's Pizzeria, to the more gourmet-inspired Hearth & Candle – great for quiet, romantic dinners as well as family gatherings.
Call 1.800.451.8752 to speak with a Smugglers' Notch vacation planner or visit smuggs.com for all the details, and begin to embrace winter.
All photos courtesy of Smugglers' Notch Resort.