It's Déjà Vu All Over Again - Groundhog Day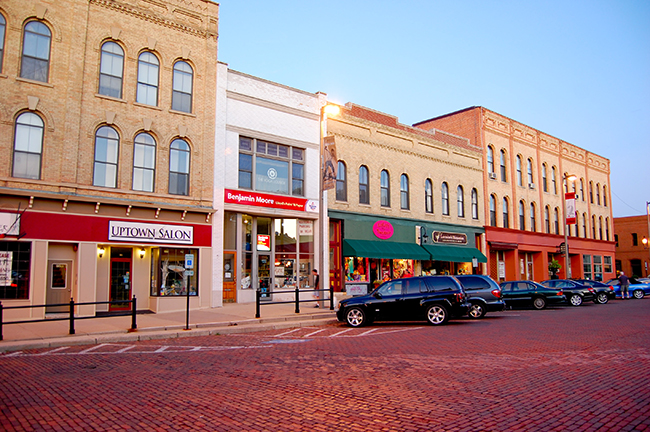 By Dale Reynolds
Groundhog Day is coming up on February 2 and for actor Bill Murray and a small Illinois town it will happen again and again. Arguably the most famous groundhog in the world is Punxatawny Phil, the prognosticating rodent who, if he sees his shadow, will retreat to his den forecasting six more weeks of winter. This year he could be forgiven for hiding out, what with the record low temperatures and all.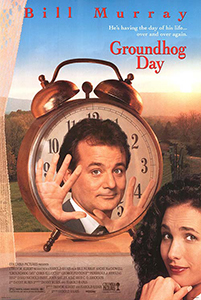 In 1993 comedian Bill Murray, playing Pennsylvania weatherman (aptly named) Phil, who has designs on greater glory, is assigned to cover the possible emergence of the rodent. On camera Phil is quite a nice guy, but off camera he is a commitment-phobe and not quite so nice.
His girlfriend is long suffering, but hangs in for a while. Phil is suddenly condemned to live the day over and over again until he gets it right. Disaster after disaster strikes, but each morning, it is Groundhog Day all over again.
Now, if you were to film a movie about Punxatawny Phil and a Pennsylvania weatherman, where would you do it? In Illinois, of course.
Movie directors and producers have always had a penchant for changing history and historical locales. The famed "Longest Day," Darry F. Zanuck's depiction of the Normandy Invasion, was filmed in other locations along the French coast because Zanuck didn't think the actual beaches looked right.
Since 1887 Punxatawny Phil has held court in... Punxatawny, PA. That wasn't good enough for the producers of the flick, Groundhog Day. They decided that Punxatawny, PA just didn't look right.
The film's producers weren't satisfied with local scenery and so discovered the rural charm of Woodstock, Illinois. And since that day Woodstock has made more than a cottage industry out of the fact that the film was shot in the town and Bill Murray and other actors trod the local streets.
There are plaques throughout the town commemorating spots where Murray stepped in a puddle at 108 Cass Street; the Woodstock Moose lodge at 406 Clay Street, Gobbler's Knob in Woodstock Square Park where the movie Phil lived and about a dozen other locales. That, however, is not even called "Gobbler's Knob." That's in the real Punxatawny.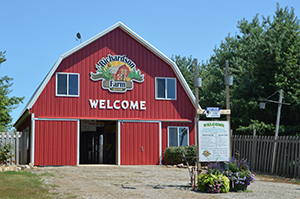 At the far end of the square is the Woodstock Opera House built in 1889 as a venue for the fire department, library, council chambers and auditorium. Today it hosts performances by major artists and has featured names such as country singer Lee Greenwood.
Step out of the Opera House and down concrete steps to the street and you might just find an oversized Punxatawny Phil waiting to greet you. Courtesy of the local Chamber of Commerce a grown man in a fuzzy brown costume and something on his head with buck teeth, is there to make sure you know that the groundhog is somewhat akin to a national treasure here.
The town is Groundhog Day every day, all the time. But it is fun for both residents and visitors.
Lest you think Woodstock is some sort of Rube town, guess again. It may be the quintessential country town, but it is no slouch when it comes to amenities. Take for example La Petite Creperie, a quaint little French café serving great dishes. In warm weather it is a fantastic spot to have a cappuccino, a bite to eat and to simply people watch in Woodstock Square... and who knows, you might even get to see a giant groundhog wandering by. www.woodstockil.gov
After taking in the sights of Woodstock head out for the drive to Spring Grove and the Richardson Adventure Farm and Corn Maze, which lays claim to being the biggest in the world.
While such mazes proliferate throughout the country-perhaps as an outgrowth of the infamous Crop Circles, this one is unique and different. It is designed with a different set of blind alleys and traps each year by a computer programmer who comes in and directs the planting.
No one has been lost yet and Jack Nicholson hasn't suddenly popped up saying "Heeerze Johnny," but the maze is a fun challenge for the entire family.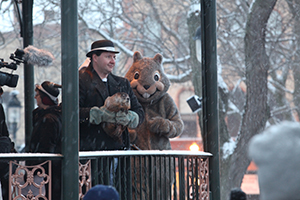 There are animals and rides at Richardson's but one activity stands out above all others-the zip line. There are zip lines and then there are zip lines. This one ranks at the head of the class.
The platform is some six-stories above ground and you walk up step, by step. That gives your adrenaline an opportunity to start pumping. Then you stand and watch as the people ahead of you are strapped into their safety harnesses and then, much like D-Day paratroopers, step off into thin air more than 60 feet above ground.
Yes, people do freeze and perhaps some even decline the honor. But they are missing out on one heck of a ride. The harness is secure, the ride is safe and the thrills are terrific.
www.richardsonadventurefarm.com
Visitors to this end of the country have discovered that Illinois gave us more than just Abe Lincoln.