Emeril's Essence Kick It Up a Notch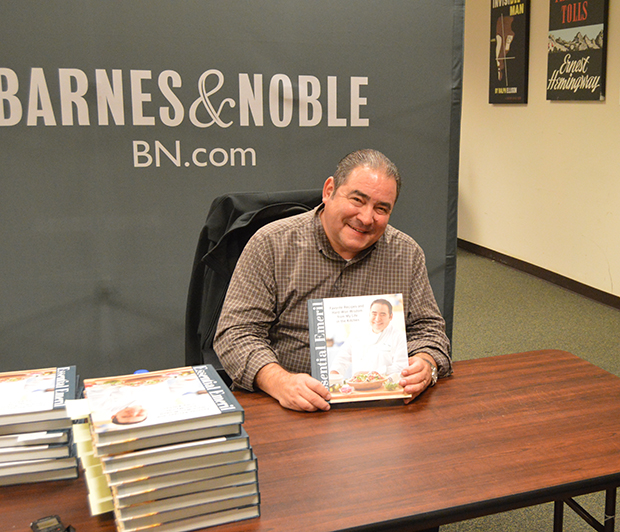 By Ross Warren
Sitting at a table in the Paramus, NJ Barnes & Noble with a stack of cookbooks in front of him, Emeril John Lagasse seems the antithesis of his TV persona. On the set he challenges the camera with his signature "BAM!" and "Let's kick it up a notch."
At the table as devoted fans line up awaiting the opportunity to have him sign his latest cookbook, "Essential Emeril" and exchange a few words with one of the most famous chefs in the country... and arguably, one of the most recognizable faces anywhere.
Off camera his exuberant personality transforms and Emeril becomes polite to the extreme and very soft spoken. No Bam, no kick it up, but a personable man who takes the time to honor the requests of those who have made the trip from New York and North Jersey to get an autographed copy of his cookbook.
Emeril is quick to credit those who have inspired him, pointing to the famous Brennan family in New Orleans, owners of the famed restaurant that bears their name. He also points to a surprising chef, Julia Child, whom he says had a big impact on his life and career.
"I grew up watching Julia on television and was impressed by what she was doing," he says. "Later, when I met her, we became close friends. But if I had to pick the most influence on my life, it would have to be the Brennans."
In 2008 Emeril's talents went, BAM!, really sky-high. He was chosen to contribute recipes for meals provided to the crew of the International Space Station. NASA was making an effort to improve the quality of food the astronauts were eating and it was hoped that his spicier cuisine would offset the reported tendency of microgravity to deaden the flavor of the food.
That's "kicking it up a notch... and a lot more."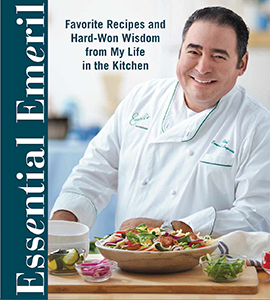 The book signing at Barnes & Noble was Emeril's 18th book and took more than two years to compile, develop recipes and then eat them.
"What's the point of developing all of this delicious food if you can't enjoy it?"
A winner of the very prestigious James Beard Award, Lagasse likes to keep it simple.
"People like to try the recipes they see on television or read in my books. If you make them complicated, they'll give up or prepare a meal that is less than enjoyable."
Away from his TV kitchen he cooks most all the meals at home.
"My wife is a good cook, but she says 'why?' We also have a young woman working for us as sort of a nanny. I've taught her how to cook and I know that while I'm away, such as here, I know that my family will be well fed and taken care of."
Emeril had nothing handed to him and literally worked his way up from the bottom. At 10-years-old he took a job washing pots and pans at a bakery in his hometown of Fall River, MA. Then at 14 he attended a Culinary Arts Program at Diman Regional Avocational Technical High School where he learned the basics of what was to become his profession.
A percussionist in school, he enjoyed music and was awarded a scholarship to the New England Conservatory of Music, but he, instead, chose to attend Johnson and Wales, what was to become one of the top rated culinary schools in the country. Lagasse was in one of the early classes at Johnson and Wales, but it whetted his appetite to cook.
Forsaking the music scholarship, Emeril took a job at a restaurant, Venus de Milo, to pay his way through the school.
His natural talent came to the fore and he rose quickly. In 1985 he was named to succeed the legendary Cajun chef, Paul Prudhomme at New Orleans top restaurant, the Commander's Palace. New Orleans became his home base and to this day he has several restaurants located there.
With Thanksgiving on the horizon he offers some accompaniments to turkey.
"A savory bread pudding makes a great side dish. I also like vegetable soup. And why not try beignets for dessert?"
Beignets, brought to New Orleans by the Acadians, has come to its modern form as a square piece of fried dough covered in powdered white sugar and served in portions of three. But three is never enough and people have been known to gorge themselves on beignets.
"That's enough to cap any meal."
Emeril looks up as the line begins to move toward his table, a black Sharpie in his hand. He smiles at the young man handing him a book and asks for his name so that it can be personalized.
Bam! He's made a friend for life.