Super Chef & Everyone's Italian Nonna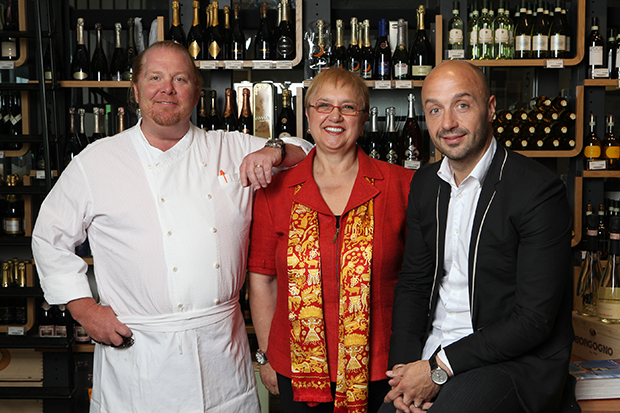 By Bob & Sandy Nesoff
Sitting down to lunch with Lidia Bastianich in a crowded room has the feeling of a private meal with her at home. Lidia exudes warmth, a wonderful personality and makes guests feel right at home. And to top it off, she's one heck of a chef.
At 68-years-old she has the energy of someone half her age. She is the owner of several restaurants, including Felidia and Eataly; the latter with another celebrity chef, Mario Batali of TV's The Chew.
On a recent day Lidia greeted guests to a private luncheon at Felidia, organized to welcome Angelo Gaja, a vintner from Italy who produces an amazing variety of quality wines. She greeted the nearly two dozen guests as if each and everyone was a personal friend of long standing. Everyone immediately felt at home.
Most of the guests were highly knowledgeable wine merchants who listened raptly as Gaja described the wine pairings set out with each dish. The whites were amazing and one person, who was not a fan of red wines, commented that Gaja's product was both smooth and delicious.
"One of the highlights recently was the opportunity to cook several meals for His Holiness, Pope Francis, during his visit to New York. We prepared baked goods, fruit, frittatas, yogurt and crepes for him."
That's pretty high society for a girl born in Marshal Tito's Communist regime in what today is Croatia. The city changed hands from Italian to Yugoslav and the Croat.
"My father saw what was coming and wanted to get us out. He sent us supposedly to visit relatives in Trieste while he remained behind. The Communists refused to let an entire family leave. They felt that by keeping at least one member behind, there was little chance they would defect to The West."
"Almost immediately after we were out of the country, he slipped out in the middle of the night and joined us."
Lidia's early years were the antithesis of her life today. The family, along with many others fleeing the communists, ended up in the Risiera di San Sabba refugee camp. The camp was an abandoned rice factory partially destroyed toward the end of the war and had been converted by the Nazis to a concentration camp.
While in the camp her mother was hired as a cook for a wealthy family and her father became their chauffeur. They remained in the camp for two years until their application to migrate to the United States was granted.
Lidia was 12-years-old at the time. They moved to North Bergen, NJ and later to Queens, where she lives to this day.
"We were helped by Catholic Relief Services. We came to New York knowing no one. But they found a home for us and got a job for my father. And here I am today, the perfect example that if you give somebody a chance, particularly in the United States, they can find their way."
Lidia must have been a celebrity magnet. At age 14, the earliest age for a work permit in New York, she was employed at a bakery in Astoria owned by actor Christopher Walken's father. After high school graduation she moved on to work full-time at an Upper West Side pizzeria.
Lidia had settled into the American way of life and had become a typical teenager. At her own sweet sixteen she was introduced to a fellow émigré from Croatia, Felice (Felix) Bastianich, also a restaurant worker. They were married in 1966 and two years later Lidia gave birth to her son, Joe. Four years later, daughter Tanya, was born. Both, years later, decided to become involved in the restaurants.
"We opened a restaurant, Buonavia (Good Road) in Forest Hills and I was the hostess. We developed our offerings by copying the menus of some of the best Italian restaurants in New York. Then my parents went out and hired the best Italian-American chef they could find." After Tanya was born, Lidia began to train as a chef at Buonavia and was named assistant chef for the restaurant.
"We did so well that we opened a second restaurant, also in Queens, Villa Secondo."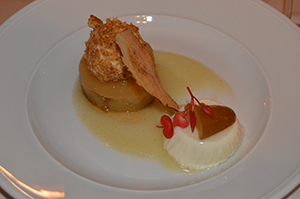 "The restaurant became so popular that we came to the attention of some of the major food critics in New York. I started to give cooking demonstrations."And that may have been the catalyst for her later career as a television chef.
"My father passed away in 1981 and we sold the two Queens restaurants. Then we bought a small brownstone in Manhattan that already had a restaurant located there."
The couple named the eatery Felidia, a contraction of Felice and Lidia. Although they later parted ways, the restaurant is still a reminder of the couple that started Felidia. The restaurant was an instant hit and received a coveted three-star rating from the very critical New York Times.
Lidia and Felice wanted their children to have a solid education and made sure both went to college. Joseph had a very successful Wall Street career as a bond trader and Tanya, a summa cum laude graduate of Georgetown University, earned a Ph.D. Joe, who had worked for his parents, convinced them to become partners in Becco (Italian for peck or nibble), which was opening in Manhattan's theater district. Much like Felidia, Becco was an instant success and led to the opening of other restaurants in Kansas and Pittsburgh.
By now her star was rising and her name was known as an excellent restaurateur and hostess as well as a chef. Julia Child, the world famous French chef, who also served with the famed OSS (Office of Strategic Services-the forerunner of the current CIA) during World War II and was now a TV personality, invited Lidia to tape a segment of her show.
Child's show, "Cooking With Master Chefs," was on PBS and invited some of the top chefs to make an appearance. That appearance gave Lidia the confidence to expand her horizons. Unfortunately It came at a price. Felice and Lidia had serious disagreements over the pace of expansion and they split. Felice gave his shares over to Joe and Tanya. He passed away in 2010.
In the last decade of the 1990s Lidia's restaurants had grown into a family owned and operated business.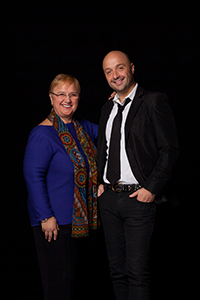 "My mother had a big garden behind the home with a great variety of vegetables. I was able to pick totally fresh produce there and used them in developing recipes."
Meanwhile, Joe had expanded his horizons and became a wine expert and was the head sommelier of their growing restaurant empire.
"While Wall Street was certainly a valuable experience, it became clear to me early on that a career in finance was not going to be fulfilling," commented Joe. "I knew what the odds of success were in food and wine, but you can't put a price on getting up every morning, happy to be going to work."
"I've always loved wine," he said. "I started working with the wines at my parent's first restaurant when I was just 14. My mother used to call me a 'born taster.' The fact that we spent our summers in Italy visiting some of the best wineries in the country was a plus."
"Working with the family was great. My sister and I even wrote a book together last year: 'Healthy Pasta, The Sexy, Skinny, Smart Way To Eat Your Favorite Food.' We worked very well together as have Lidia and I over the years."
Joe recommends an affordable white wine, Villa Sparina Gavi di Gavi from Piemonte.
"It's easy drinking and available on a national level. For a red, I really like Fontodi Chianti Classico. If I was to splurge, I would have Cascina Francia Barolo."
The family thing must be working out well as Joe is a frequent guest on Lidia's PBS program.
Joe expanded his own horizons a bit by combining with Lidia and his friend, Batali, to open Eataly, a massive 42,500 square-foot restaurant in the Flatiron District at 200 Fifth Avenue. As usual, it was a resounding success, so much so that there are branches in Chicago and Sao Paulo, Brazil.
Tanya put her Ph.D. in Italian Art History to use, opening a travel agency with Lidia, Esperienze Italiane. As with everything else they do, friends and family are all involved. Lidia, Tanya and Shelly Burgess Nicotra, executive producer of Lidia's TV series, offer tours throughout Italy. Tanya's husband, Corrado Manuali is the restaurant group's chief legal counsel.
Lidia has become somewhat of a conglomerate. In 2010 she offered an exclusive line of commercial cookware and serving ware on the QVC channel. She is also the author of 13 books.
Lidia has served as a celebrity judge on MasterChef USA. Joe later served as a MasterChef judge as well. There are a number of Lidia Bastianich television specials and now she has her own television production company, "Tavola Productions."
She still lives in Queens with her mother, Erminia Motika Bastianich. Her mother's kitchen was the stage setting for all four of Lidia's television series. "Grandma" Erminia often steps in as sous chef in some of the TV episodes.
Tanya and Corrado live only a few blocks away with their two children. Tanya is involved as well, serving as owner and executive producer of Tavola Productions, producing Lidia's shows. She is involved, as well, in the daily activities of the family's restaurants.
"Food for me," Lidia said, "was a connecting link to my grandmother, my childhood and my past."
Always family and friend oriented, Lidia ends each episode of her show with an invitation for her audience to join her family for a meal: "Tutti a tavola a mangieri-Everyone to the table to eat."
______________________________________________________________________________________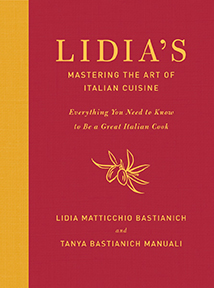 Orecchiette with Clams and Zucchini
Orecchiette con Vongole e Zucchine
SERVES: 6 People
1 teaspoon kosher salt, plus more for the pot
¼ cup extra-virgin olive oil, plus more for driz­zling
4 garlic cloves, thinly sliced
3 medium zucchini, cut into ¼-inch-thick half-moons (about 1 pound)
¼ teaspoon crushed red pepper flakes
½ cup dry white wine
24 littleneck clams, scrubbed
1 bunch scallions, trimmed and chopped (about 1 cup)
1 pound orecchiette
½ cup chopped fresh Italian parsley
Bring a large pot of salted water to a boil for the pasta. Heat a large Dutch oven over medium-high heat. Add the olive oil. When the oil is hot, add the garlic. Cook until the garlic is light golden, about 2 minutes. Add the zucchini, and season with the salt and crushed red pepper. Cook until the zucchini just begins to wilt, about 4 minutes.
Add the white wine and bring to a simmer. Add the clams and scallions, stir, and cover the pot. Begin cooking the pasta in the boiling water. Cook the clams until they all open, about 5 to 6 minutes, discarding any that do not open. Uncover, and increase the heat to high to reduce and concentrate the sauce while the pasta finishes cooking.
When the sauce is ready and the pasta is al dente, remove the pasta with a spider and trans­fer directly to the sauce. Add the parsley and a drizzle of olive oil. Toss to coat the pasta in the sauce, adding a splash of pasta water if it seems dry. Serve immediately.
If you happen to get your hands on some zuc­chini blossoms, you can chop them coarsely and add along with scallions.
____________________________________________________________________________________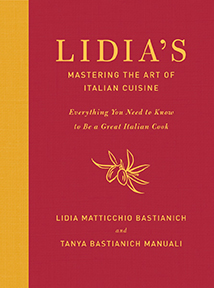 Grilled Shrimp with Arugula Sauce
Gamberoni Scottati con Salsa di Rucola
SERVES: 4 People
32 extra-large shrimp in the shell (about 2 pounds)
8 sprigs fresh thyme
¾ cup extra-virgin olive oil
6 garlic cloves, crushed and peeled
¾ teaspoon kosher salt
¼ teaspoon crushed red pepper flakes
1 large bunch arugula, stems removed, washed and dried well (about 3 cups)
Split the shrimp down the back with a paring knife, and devein. Cut almost all the way through the shrimp to butterfly them open, but leave the shells on.
Toss the shrimp in a large bowl with the thyme, ¼ cup of the olive oil, four of the crushed garlic cloves, ¼ teaspoon of the salt, and the crushed red pepper. Marinate in the refrigerator for 1 hour.
Meanwhile, in a food processor, combine the arugula, remaining two garlic cloves, and remain­ing ½ teaspoon salt. With the machine running, drizzle in the remaining ½ cup olive oil to make a smooth, thick sauce. Pour into a bowl, and set aside.
When you are ready to cook the shrimp, heat a large nonstick skillet over high heat. Remove the shrimp from marinade, and add in batches, but­terflied side down, until they are cooked through and just begin to pull away from the shell, about 2 to 3 minutes per batch. Add the shrimp to a large bowl, and repeat with the remaining shrimp.
When all of the shrimp are cooked, add about half of the sauce to the bowl with the shrimp and toss well. Mound the shrimp on a serving platter, and serve with the remaining sauce on the side for dipping.