Grapevine: Creating Christmas Memories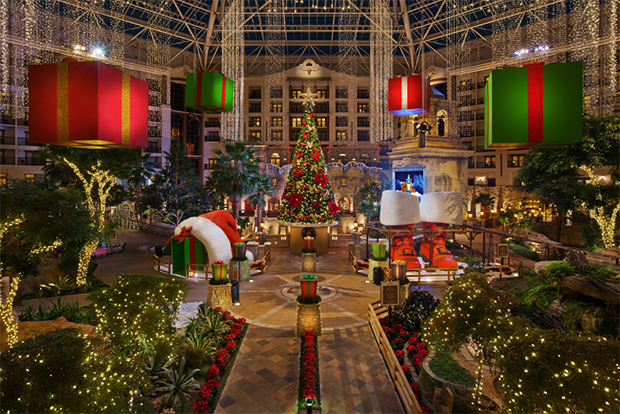 By Sandy Nesoff
Texas has always been a magical destination for many people. The romance of cowboys and cattle drives, American Indians and Mexicans, the Old West and modern skyscrapers all come together to form the fabric of the Lone Star State.
Some areas have lost that mystique. Houston and Dallas have become major urban centers with little of their historic panachè remaining. With all of the modernization there are still a few pockets today of what Texas was.
Grapevine, Amarillo and Fort Worth come immediately to mind. But while they exude the Old West all year round, Grapevine has become a major holiday destination.
Not all that many years ago Grapevine was a true Old West town. Then along came the Gaylord Corporation and built a mega mall and the town began to transform. But with the transformation, it somehow, magically, managed to retain its flavor. The vintage railroad that runs to Fort Worth, the lineup of craft shops next to it and the little cafes and bars that still dot the town, all add to the flavor.
Grapevine truly shines at Christmastime. The streets are lit up rivaling New York's Broadway and everyone participates. Grapevine has garnered the sobriquet "The Christmas Capital of Texas."
With more than 1,400 events in over 40 days, Grapevine's sophisticated and charming Christmas setting makes the city a must-visit destination.
One of the must-see attractions in Grapevine, especially during the Christmas season, is the Vetro Glassworks, across from the Vintage Railroad Station. Here you can purchase amazing works of handblown glass. There are tree ornaments (some people even have the opportunity to make their own Christmas ball ornaments) and beautiful jewelry. There are objects d'art that are meticulously blown while visitors watch. Most of the glass is of museum quality.
Other Christmas options include: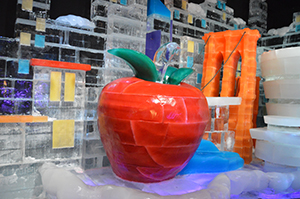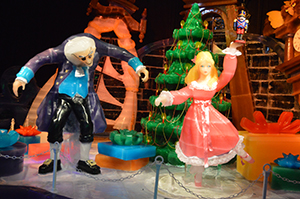 1. Celebrate the Season at Gaylord Texan Resort's Lone Star Christmas Featuring ICE! and Santa's Wild Workshop Snowtubing – Until January 3, 2016, Gaylord Texan Resort's 12th annual Lone Star Christmas event will offer a variety of holiday activities, live entertainment, and grand displays to celebrate the season, including 2 million holiday lights, 2 million pounds of real Texas snow, a 54-foot-tall Christmas tree, magical miniature train sets, 25-foot-tall Nutcrackers, 2,300 decorated wreaths, 5,600 feet of garland and 15,000 festive ornaments. ICE! featuring Christmas Around the World, created with two million pounds of ice that is hand-carved by a team of forty remarkably talented master ice artisans from Harbin, China.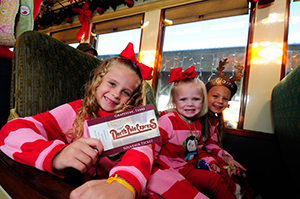 2. Ride to the North Pole – Ride the rails aboard Grapevine's North Pole Express! Board the beautifully decorated Grapevine Vintage Railroad's Victorian rail coaches and begin your journey to the North Pole. Elves will welcome the guests and sing traditional Christmas songs. As the train arrives at Reindeer Ridge, a special guest arrives for a magical moment.
3. Pack for a Howlin' Good Time at Great Wolf Lodge – The entire family will howl with delight with a visit to the Northwoods in Grapevine at the Great Wolf Lodge! During Snowland!, guests at this family-friendly resort will experience the 84-degree indoor waterpark, the largest in Texas, a life-size Gingerbread House and daily Polar Wolf Walks.
4. Sip Sweet Chocolate Holiday Cheer – Sip some seasonal fun at Dr. Sue's Chocolate this Christmas. These unique offerings include Old Fashioned, Peppermint and Mexican Hot Chocolate to tempt your taste buds. 417 S. Main St. From 2 p.m. - 6 p.m. Until December 23. $4 per person.
5. Make Your List and Check It Twice – Shop for all those on your list who are naughty and nice. With shopping options for every taste and budget, you'll be sure to find a little something for yourself too.
• Hop in your sleigh and visit Historic Downtown Grapevine's more than 80 locally-owned shops, boutiques, jewelry stores, winery tasting rooms, home décor, collectibles and more. Stores such as Good Things For All Seasons, Crowned by Grace, Chic Boutique, Merry's Christmas and Clowns, Bermuda Gold & Silver, Grapevine Olive Oil Company and Ooh La La.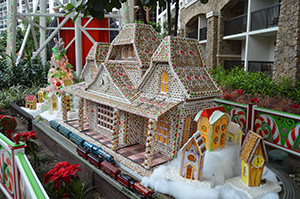 • On your mark, get set, go. Grapevine Mills offers even the most dedicated shopper a holiday paradise. The 1.7 million square feet of shopping euphoria includes spots such as Coach Factory, Disney Outlet, Express, J. Crew, Gap, Gymboree, Saks Fifth Avenue Off 5th, Neiman Marcus Last Call and many more. Caring Santa (Available for children with disabilities who prefer a calm and less crowded Santa experience), Sunday, December 6, 9:30 a.m. – 11 a.m,; Breakfast with Santa at Rainforest Café, December 12, 13, 19 and 20, 8 a.m. – 10 a.m., (reservations required 972-539-5001) and Pet Photos with Santa, Sunday, December 13, 7 p.m. - 8 p.m.
• Get in touch with your love of the outdoors this holiday season at Grapevine's Bass Pro Shops Outdoor World. Located across the street from Grapevine Mills, you can also see special Christmas visitors throughout the season on weekends.
• And shopping traditionalists will love Grapevine Towne Center, home to brands such as Target, Cost Plus World Market, Haltom's Jewelers and more.
6. Build Some Holiday Fun at LEGOLAND® Discovery Center and Dive Into Action at SEA LIFE Grapevine Aquarium - Test your skills by helping the Master Model Builder create a  Winter Wonderland on the holiday Big Build.  Plus, dive into action with the Octonauts, the team of undersea adventure heroes from the hit animated TV show. The Octonauts adventure at SEA LIFE Grapevine happens daily through December 20.
7. Sample Holiday Cheer Aboard the Christmas Wine Trains – Hop aboard the Grapevine Vintage Railroad's Christmas Wine Trains. Each train features a Grapevine urban winery. Hors d'ouevres will also be served.
8. On December 3, board the all-new Historic Fort Worth Stockyards Christmas Wine Train. This new excursion features the western flair of the Fort Worth Stockyards combined with the holiday backdrop of Grapevine's Christmas Wine Train. This celebratory event is perfect for you and your sweetheart, best friends or co-workers to enjoy a celebratory night of Christmas fun.
9. Hear the Sounds of the Season at the Palace Theatre – Don't miss all your traditional musical favorites at Grapevine's Historic Palace Theatre! All ages will love sharing in all the seasonal fun at this beloved venue.
• Main Street LIVE – Main Street LIVE'S high-energy "Christmas Spectacular" show sets the perfect tone for the Christmas season with all your favorite Christmas songs. Matinees start at 3 p.m. and evening shows start at 7 p.m. Tickets are $25. Group discounts are available. December 5, 12, and 19.
• "A Merry Little Christmas Show" – Crooner, Ricki Derek is bringing his one-of-a-kind show, A Merry Little Christmas, to the Palace Theatre stage for the second time.  Tickets start at $25. December 18 at 8 p.m.
10. Christmas on the Grape Vine Prairie – Experience a Texas heritage Christmas at Nash Farm's Victorian Christmas. Guests will learn about the root of many current holiday traditions, as well as make a Victorian ornament to hang on their tree at home. Docents guide guests through the farmhouse and the farm.
11. Sparkle at the Settlement to City Museums – Bring the entire family to Grapevine's Settlement to City Museums' Christmas SPARKLE and enjoy glitter and glam family Christmas crafts and activities, including painting, making cotton wreaths, printing on the 1881 printing press and more. Don't miss the ornament scavenger hunt. December 8 – January 3, 2016. Tuesdays – Saturdays, 10 a.m. – 4 p.m. and Sundays, 11 a.m. – 4 p.m.
12. Watch Christmas Parades on Land and Water – Whether you're a fan of parades on land or water, Grapevine is the place to be this holiday season.
• On December 3 at 7 p.m., see more than 100 lighted floats and marching bands in the Parade of Lights. This annual tradition welcomes thousands of visitors each year so come early to claim your spot along Main Street. Free.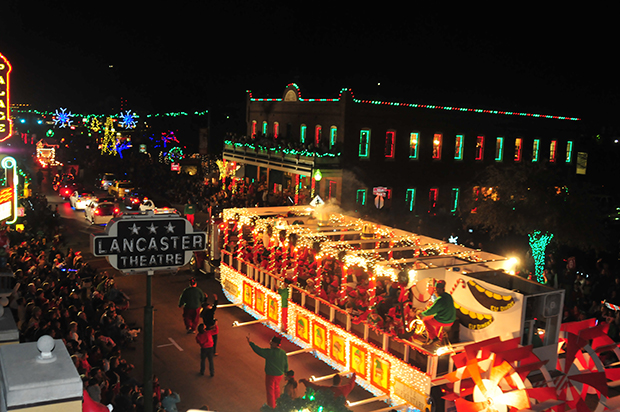 • And for water parade fun, see the beautiful Twinkle Light Boat Parade with watercrafts decorated in all of the finest sparkling lights to celebrate the season, beginning at Twin Coves Marina and picking up entries at each marina including Scott's Landing and Silver Lake. The parade is visible from the shores of Lake Grapevine and the Glass Cactus Nightclub at Gaylord Texan Resort. December 5, 6 p.m. - 9 p.m. Free.
13. See the Magic of Christmas Light Show – Bright lights and exciting music showcases the magic of Christmas at the newly enhanced Magic of Christmas Light Show through January 3, this nightly light show runs from 6 p.m. – 11 p.m. and features a all-newly enhanced singing tree, beautiful lights and fun for the whole family. Bleacher seats are provided for extended viewing. Main Street and Dallas Road.
14. Warm Up to "A Cold Hearted Christmas" – At the Texas Star Dinner Theater, it's just before Christmas and all about town, E.B. Neazer Enterprises is shutting everyone down! That's right cowboy, it's wilder than a herd of loco longhorns around here as that ol' Neazer plans on putting the town "on ice" just before Christmas Eve. What will become of Sister Mary Agnostic and her poor sweet orphans? Is Miss Sarah Ann Dippity, the local madam, going to take this lying down? Will Bob Scratchit find himself chippn' in with the fellows at the ice house for a new career?  Help Marshal Jim Courtright find out who's been naughty and who's been nice. Tickets $59. December 3, 4, 5, 6, 10, 11, 12, 13, 17, 18, 19, 20, 26 and 27.
For additional information, contact the Grapevine Convention & Visitors Bureau at 800-457-6338 or 817-410-3185 or visit: www.GrapevineTexasUSA.com/Christmas