Side Show Inspired A Career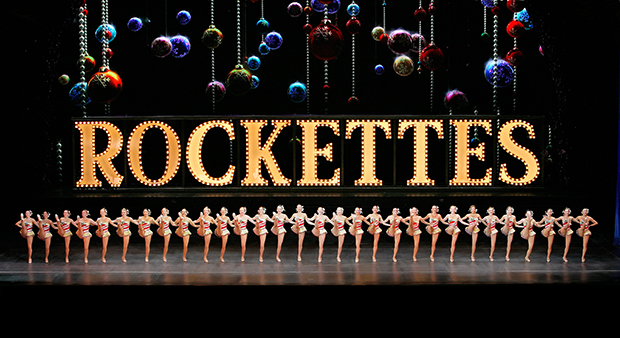 By Jim Kierstead
Ok... now I have to tell you something personal for a moment and brag about two of my friends. The musical Side Show (on Broadway in 1997) is the show that I credit for inspiring me to be a producer. When I left the theatre after seeing the show back in October of 1997, shortly after its opening, I left a different person because of what I saw on the stage that day. Soon after, I met the writers of Side Show, Henry Krieger and Bill Russell, and have been close friends with them since. In fact, it was one of the highlights of my producing career to have the opportunity to be a producer of the revival of Side Show when it returned to Broadway in the Fall of 2014. I think it has touched people in a way that few other shows have and I'll forever be proud of that.
Anyway, here's the "bragging" part. Back in 2002, Bill and Henry wrote a brand new number that served as the opening of the "Spectacular" entitled "Santa's Gonna Rock and Roll." Bill is a master lyricist and Henry (who also was the composer of "Dreamgirls," need I say more?) became known as an incredible song writing duo who wrote several more musicals after Side Show and were asked to write songs together for special events, including the "Spectacular" and also a wonderful song entitled "Take The Flame" that was used in the opening and closing ceremonies of Gay Games IV.
My last bragging portion of the article is that one of our amazing actors in the revival of Side Show this past year, Josh Walker, played the role of "World's Smallest Cossack." He and his female counterpart in the show, Jordanna James (she stars in the TV show Little Women New York), have both had incredible success in the acting world. Both Josh and Jordanna are "little people" and get regular roles in TV shows and theatre. Josh plays an elf in the Radio City Christmas Spectacular and he loves it—and of course people love him—he's amazingly talented. So, if you go to the "Spectacular" this year, PLEASE say hi to Josh, if you can. He'll have you laughing non-stop!
There is a lot to look forward to this holiday season in New York City. You can check out Rockefeller Center and the legendary Christmas Tree (don't go to the actual lighting unless you are very brave and/or are on sedatives and like crowds), you can take the Hop On/Hop Off Bus Holiday Tour, of course you can walk down Fifth Avenue and look at the store windows and the decorations, and no holiday season would be complete without a trip to Macy's Herald Square. However, if you want to celebrate a true New York City theatre tradition that's been going on for over eighty years, please do yourself a favor and check out the Radio City Music Hall Christmas Spectacular. No matter what holiday you celebrate, it will be a good time and certainly get you into the spirit of the season.
It's that time of year, everyone! Even though it seems we were just talking about summer and the fall season on Broadway, winter is fast coming upon us. As we know, when winter gets close, so do the holidays. And it wouldn't be the holidays without the Radio City Christmas Spectacular.
Since 1933, Radio City Music Hall has put on its annual extravaganza that stars the magical Rockettes. Even though Radio City isn't actually "Broadway," make no mistake, the talent that comes together to put this show on most definitely is.
Just a little background for you…the first "Spectacular" was presented on December 21, 1933. This was only one year after the opening of the Music Hall (1932) and was created by the resident producer Leon Leonidoff and none other than their resident designer Vincente Minnelli (yes... Liza's dad).
The main highlights of this early version of the show were an overture by Erno Rapee and the Radio City Symphony and the legendary Wurlitzer Organ, performing an amazing solo. It also featured the "Toy Shop Ballet" and the Rockettes' version of "Parade of the Wooden Soldiers." Finally, it was also the first performance of "The Living Nativity." Both of these scenes have been seen in every edition of the show up through today (so if you check it out this year, look for them!).
Did you know that Radio City Music Hall used to show feature films before their performances? It's true. But they stopped that quite some time ago. Before each of their shows, they would present a movie that was playing in the theatres at the time. So if you went to see the Radio City Christmas Spectacular back then, you'd first be treated to a popular film. After they stopped showing films, however, the Christmas show was expanded into a full length show running ninety minutes rather than thirty.
Over the years, the "Spectacular" continued to change and expand. However, in 2007 (yes... 75 years since its inception!), an entirely new edition of the show was created, designed, and choreographed under the direction of Linda Haberman. Interestingly, for a brief time, it was one of the few shows playing in New York in December of 2007 during the strike which closed most Broadway theatres. Remember when I mentioned before that Radio City is not Broadway? See? There are some benefits to that sometimes as they did not need to strike with the rest of the Broadway community due to the differences in their unions.
Until next time, Happy Holidays to you and your families. And, oh yes... break a leg!
Jim Kierstead
Kierstead Productions, Inc.
Producer
kiersteadprod@gmail.com
Kinky Boots
On Broadway at The Al Hirschfeld Theatre, on tour, in London, and in Toronto
Winner of 6 Tony Awards including Best Musical
Past projects:
Pippin, You Can't Take It With You, The Visit, Side Show, It Shoulda Been You, Rocky, The Glass Menagerie; Notable investments: Something Rotten, Matilda