Magic's Duo of Mayhem & Mysticism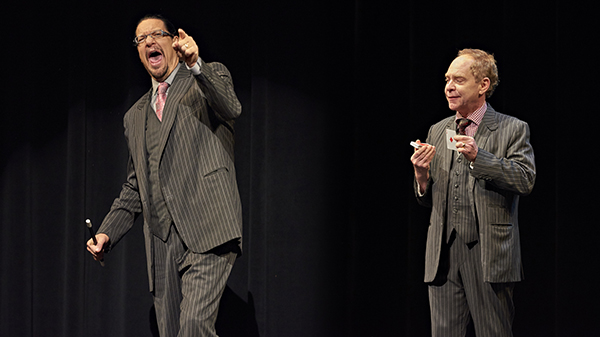 By Bob Nesoff
Penn & Teller are arguably the most popular magical entertainers in the United States today, surpassing many of their contemporaries…and they don't have to make elephants or the Washington Monument disappear.
The mismatched duo have managed to merge different personalities and stage presence, their maniacal tricks, somehow come together and entrance audiences around the world. They'll be bringing their craziness to New York's Marquis Theater from July 7 through August 16 and if the past is any indicator of the present, tickets will go fast.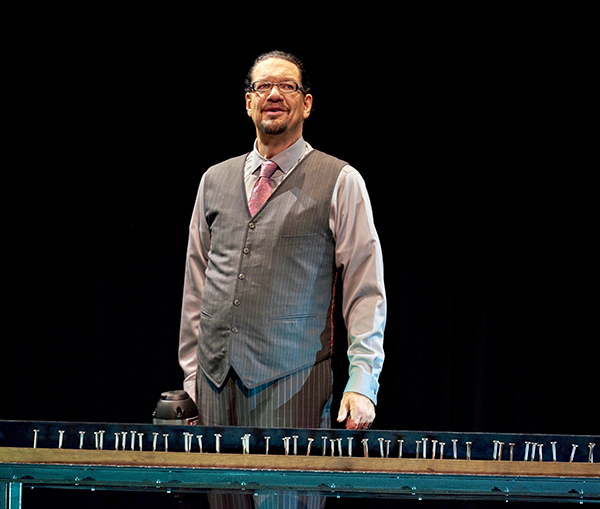 Penn Jillette wanted to be a magician from an early age. His father was a coin dealer and gave him a wonderful collection, took him to coin shows and conventions, but his interest never jelled.
Teller started out as a teacher in New Jersey. When the two met and began performing together, Penn handled all the dialogue while Teller played mute.
NYL: How did you get started performing?
Penn: I started doing tricks as a youngster and performed for family and friends.
Teller:
Penn: Teller worked his way through college doing magic. He felt that if he was silent on stage, people would stop heckling him and it developed from there.
Teller:
Penn: He always talks, just not in the normal way.
NYL: Do you perform for your own children?
Penn: I do sometimes. My children will bring something to me and say "Make it vanish." I can't fool them most of the time any more, but I still try.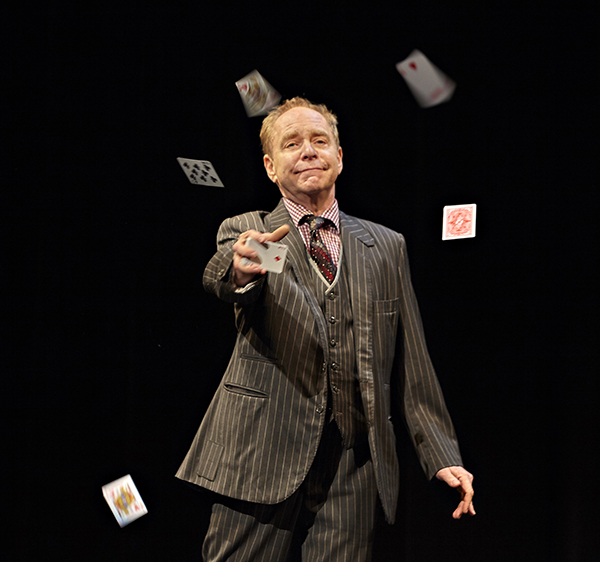 Teller:
NYL: Other magicians perform spectacular tricks, such as the vanishing elephant. How do you match that?
Penn: We will make an elephant disappear. Some people may think it's a cow that looks like an elephant. We worked on that trick for six years.
Teller: Just nods.
NYL: It's been 25 years since you've been to New York. Why so long?
Penn: We've always wanted to come back to New York. The city is still where everything happens. It's my favorite city to be in. We sort of fell into having a theater named after us in Las Vegas. It took years to build up the casino to a point where we could leave for a while.
Teller: ?
NYL: You started working decades ago. How has that gone?
Penn: We started 40 years ago in a number of cities. We had a long run in San Francisco and worked in New York for 10 years before moving to Las Vegas. We've been all over the world with gigs in London and other big cities but we've pretty much stayed in Las Vegas.
Teller:
NYL: We understand that you both have some pretty strong political ideas.
Penn: We are both libertarians and atheists, but only in the sense that Houdini was.
Teller: Nods
NYL: What's your opinion of other magicians who claim to have supernatural powers?
Penn: They are immoral. You can proclaim to have those powers all you want, but magic is simply entertainment.
NYL: What about government regulations and laws?
Penn: As I said, we are libertarians but we follow the laws of the country as best we can. We don't get involved in civil disobedience. I think we should have a smaller government and use the money sent overseas for our own people. I haven't been singled out by the IRS. I use only my freedom of speech and maybe the IRS knows that.
Teller:
NYL: What'll you be doing during your limited time in New York?
Penn: It's hard to take time to see a show when you are performing in one. I'd like to have time to see The Curious Incident of The Dog In The Nighttime and a bunch of other stuff.
Teller: Nods
NYL: You've done some pretty amazing tricks the kind that mothers tell their kids not to do at home. You've jabbed an ice pick in your eye, caught a bullet in your mouth. How do you survive?
Penn: It's not magic. It's illusory. But I can't give it away.
Teller: Rubs his eye and grinds his teeth.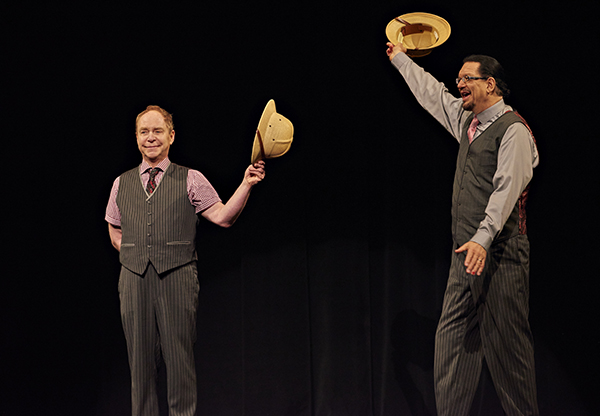 We all know that Penn's last name is Jillette. What about his partner? His name is "Teller." The silent half of the hilarious duo was born Raymond Joseph Teller. His persona became so entwined with his stage name that he had it legally changed to "Teller."
That's it. No first name, no second name. Just Teller. In fact he is only one of a small handful of people who have been issued a passport with just one name. Not even Whoopie or Oprah can claim that distinction.
Performing together since the late 1970s they can almost finish each other's thoughts and sentences…that is if Teller would speak.
They were introduced to each other by Wier Chrisimer and performed their first show together at the Minnesota Renaissance Festival. They performed as a trio called The Asparagus Valley Cultural Society (Maybe that's why Teller doesn't talk. That was a mouthful).
In 1981 Chrisimer quit show business and they continued as a duo. Some four years later they were receiving great reviews for their off-Broadway show. In 1987 they kicked off what would be two successful Broadway runs.
Into the 1990s they made numerous television appearances on such shows as Late Night with David Letterman, Saturday Night Live, The Tonight Show with Jay Leno and more. Their stars began to rise rapidly.
Interestingly they even made a hit on the sci-fi show, Babylon 5 and sat in a box on Hollywood Squares.
They hosted a Showtime TV program titled "Bulls—t" (there were no dashed in the shows on-screen tag) skewering psychics, religion, the pseudoscientific, conspiracy theories and the paranormal..
In a field were alcoholism and drug usage is rampant, they are teetotalers. Their book: "Penn & Teller's How To Play In Traffic" notes that they avoid alcohol, drugs and caffeine although they have smoked cigarettes in some videos.
Their auto license plates read: "Atheist" and "Godless." When Penn signs an autograph he sometimes writes "There is no God."
During an interview with Larry king , they note that much of their success stems from the fact that they never have been close friends. They respect each other and enjoy working together, but have little in common outside of magic. They give each other space off stage.
But yet Penn later said that while they share little of common interest, he still considers Teller to be his best friend. His children treat the silent one as a relative…and yes, he does talk to the kids.
In April of 2013 they were awarded the ultimate show business honor when they were given a star on the Hollywood Walk of Fame. And, perhaps not so coincidentally, their star is only a few feet away from that dedicated to harry Houdini. It is also just down the street from the Magic Castle.
Teller bears the brunt of physical action and has been run over by an 18-wheeler, hung upside down over a cushion of spikes while in a strait jacket, and submerged in a tank of water.
Their famed bullet in the mouth trick awes audiences. They fire a handgun at each other simultaneously through small panes of glass. They catch the bullets in their teeth…an orthodontist's delight.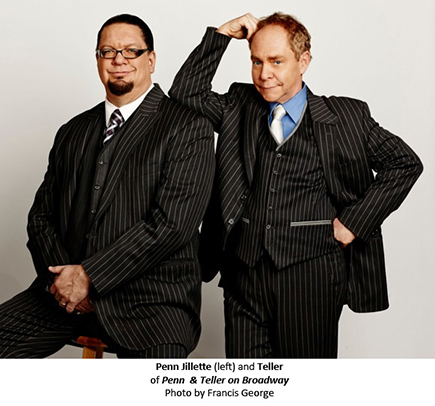 Never a duo to hold back on their thoughts, Penn & Teller have espoused their views as libertarians. In their show (Bulls—T) they have strongly criticized governmental authority, the infamous IRS and the Environmental Protection Agency. They have taken stances against circumcision and gun control and in favor of drug legalization, tobacco, prostitution, nuclear energy, nudity and profanity.
How much of their personal views will be on display in between feats of magic at the Marquis Theater?
Penn:
Teller: Come on down to the theater and see for yourselves.