Organic Dining at its Best: Foragers Market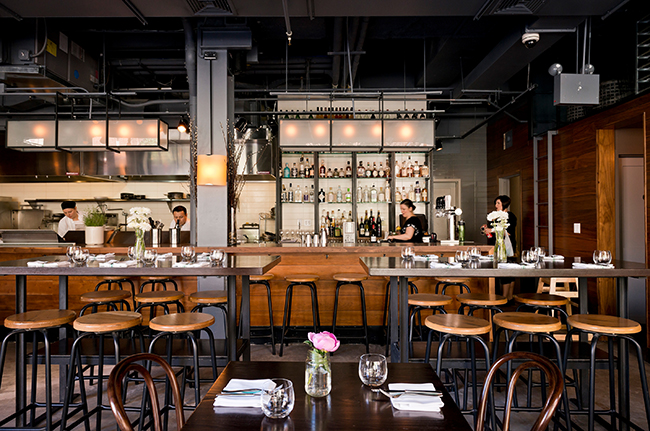 By Daniel J. Bollinger
Foragers organic market has two exceptional locations: one in Dumbo, Brooklyn and the other in Chelsea, which I recently visited. Located on the southwest corner of West 22nd Street on 8th Avenue, Foragers in Chelsea consists of a fully stocked organic market, restaurant and wine store. The Market offers artisanal foods, local dairy, pastured meats and free-range eggs, plus a wide selection of pantry staples and unique snacks. During my visit, I had the most delicious brunch at their restaurant Foragers Table, which is located at the back of the market. The wine store carries a broad range of wines consisting of organic, biodynamic and natural wines, as well as a unique selection of small batch spirits.
Foragers has a three-acre farm in upstate New York and they source every product from farmers and producers they know, so all of the meats are free from antibiotics and hormones, their fish is sustainably harvested and their eggs, dairy and produce are grown using standards that go beyond organic. The freshness of these ingredients can definitely be tasted in everything they serve on their menu. I love the design of the store and restaurant. It's an open layout with an industrial feel featuring exposed steel beams. I would describe it as "industrial-meets-farmers' market". They're helping make Chelsea not only one of the chicest areas of Manhattan, but also one of the healthiest.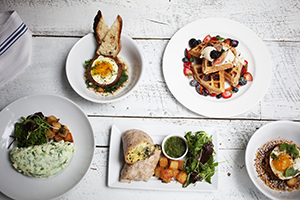 The restaurant offers organic house-made juices and a brunch menu divided into three categories: To Start, Savory and Sweet. I started with their blueberry, pear and cinnamon scone. Usually, scones are relatively hard and produce a messy pile of crumbs when eaten. This is not the case with Foragers' scones. They're baked fresh and served warm straight out of the oven. My scone was warm and soft in texture—completely opposite of what I expected. It was also served with homemade jelly and a crème fraiche that is something between sour cream and sweet cream, which really accentuated the sweetness of the scone. From the menu's Savory category, I had the house-made Crepinette and Smoked Salmon Tartine. This dish is pastured pork with sunny-side up eggs, sweet and sour apple and rosemary potatoes. The meat is prepared like a latke or potato pancake, with the outside perfectly crusted while the inside is moist and tender. The entire dish compliments itself—the pork and the apples match and eggs and potatoes are a typical American breakfast staple. The Smoked Salmon Tartine dish is a sunny-side up egg with escarole, spinach, dill, crème fraiche and pickled shallot on Black rye bread. The dish immediately impressed me. I noticed first off that there was a copious serving of sliced salmon on this dish. I always expect limited amounts of smoked salmon when dining out since it's an expensive delicacy, so this was a treat. I was also expecting a slightly acidic taste from reading the ingredients, but this dish is sweet overall. The flavors combine well for a gentle and subtle sweetness. The beautiful presentation and the effortlessness of eating these dishes also impressed me. The chef layers each ingredient equally, topping off these dishes with the sunny-side up egg. The meals are like little mountains of food served in bowls instead of on plates. The dishes are saucy, so the bowls makes for cleaner eating. Neither meal fell apart while eating. Sometimes a dish looks so perfect when served, but after the first bite or once cut into it all the ingredients slide and the concoction collapses, forcing you to scoop a little of this onto your fork and then stabbing a little bit of that in order to get one mouthful of all the ingredients. These creations, even when I cut the pork with only my fork, stayed together, so that each mouthful had an equal amount of each ingredient. From their Sweet category, I sampled the pancakes. Foragers' pancakes are orange blossom ricotta pancakes with candied orange served with Ioka Valley Farm maple syrup. The pancakes are light, fluffy and sweet with the texture of an omelet. Cutting into the pancakes and looking at the inside you could easily mistake them for an egg omelet, but their melt-in-your mouth sweetness is all pancake. The ricotta makes them soft and fluffy, and the orange accents and maple syrup make for the sweet- ness. Some of the best pancakes that I have ever had were the lemon ricotta pancakes at Fred's Place in Sausalito, CA., but Foragers brings some of the best pancakes to the east coast.
I also had one side dish, the small fruit salad. Foragers did make one mistake by erroneously naming this a "small dish" because it's anything but. In addition to the generous portions and wide array of fruit including mango, kiwi, pineapple, blueberries, blackberries and honeydew, the pomegranate seeds are the additional ingredient to this colorful salad that makes it different than other fruit salads. Where most fruit salads have that lone meager slice of kiwi as a topping, Foragers' salad actually includes an equal amount of kiwi slices in theirs.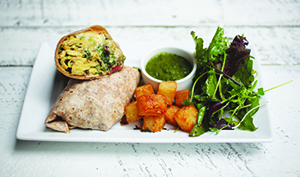 While enjoying all of these delectable dishes, I also sampled three of their organic house-made juices. I recommend the Hudson, which is made of pineapple, apple and mint. I liked how the pineapple didn't overpower the other flavors. Pineapple by nature is quite acidic and strong, so it has a tendency to overpower other juice flavors in drinks. Foragers blends the Hudson so that the sweet flavor of the apple is equal to the pineapple, and the touch of mint rounds out the beverage. The Brooklyn Kombucha is a tasty treat, as well. Foragers sources its kombucha from a local Brooklyn manufacturer, so I suggest keeping it local and trying it. For those who can handle it, the Fire Cider is a winner. Consisting of apple cider vinegar, turmeric, cayenne and lemon juice it's not for the faint of stomach or for those who can't handle the heat. But don't worry, it's only a shot. Foragers' menu describes it as a 'traditional New England daily tonic'. I actually make apple cider vinegar a part of my daily routine, so I am fairly accustomed to its strong taste. This Fire Cider packs an initial sour bite (from the vinegar) and the heat from the cayenne sneaks up on you five seconds later. I suggest sipping this healthy tonic throughout your meal, as it will aide in digestion.
Foragers is a great place. Whether you're looking for a unique wine, healthier food choices for home cooking or dining out, Foragers should be on your list of places to make part of your daily routine. And you can't go wrong by visiting either location, both of which are located in two of the best areas in New York— Manhattan's Chelsea and Brooklyn's DUMBO. Sometimes we get lost in this city with all of its food choices, but Foragers' can help center you with their farm-to-table offerings.
For more information, please visit:
foragersmarket.com