June at a Glance What's Happening And Going On This Month
By Patricia Canole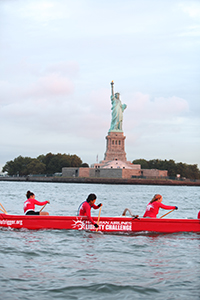 SPORTS
HAWAIIAN AIRLINES LIBERTY CHALLENGE
June 11th
Catch the Aloha spirit at Hudson River Park's Pier 26 for the 20th annual Hawaiian Airlines Liberty Challenge, hosted by New York Outrigger. You'll view nearly 550 athletes from around the world who will race a 15-mile course in New York Harbor. The exciting competition transforms the waterways into a dramatic urban stadium for this international competition to share island culture with the Big Apple.
In addition to viewing the race, festival-goers have the chance to experience island-themed activities including Polynesian music as well as local food trucks and a beer garden. Keiki (children) of all ages will enjoy hands-on activities including lei-making, hula lessons, and storytelling.
There will surprises too! Appearing for the first time is Hōkūle'a the Polynesian Voyaging Society's legendary canoe that has been sailing across the world's oceans since 2013 to grow the global movement toward a more sustainable world. Hōkūle'a will be docked at Pier 26 during the festival from 10 A.M. to 5 P.M. For more information, visit libertyoutrigger.org.
---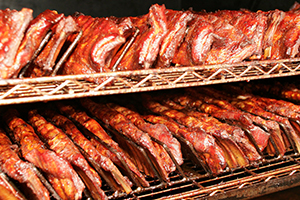 DINING
BIG APPLE BARBECUE BLOCK PARTY
June 11th – 12th
Considered by most as the nation's largest culinary and music festival, The Big Apple Barbecue Block Party will once again present the best of barbecue on the streets of New York. Each year, thousands of visitors flock to this festival to enjoy mouthwatering 'cue from the world's most celebrated Chefs and Pitmasters.
Founded by restaurateur Danny Meyer and his Union Square Hospitality Group, the Big Apple Barbecue Block Party has evolved over the past two decades from a street affair on 27th Street to a larger-than-life scale annual festival that stretches across several city blocks around Madison Square Park. Taste every type of barbecue from Dallas to Nashville—and Brooklyn, too. In addition to all the fantastic sites, smells, tastes, and sounds, visitors can also feel good about attending the event: Its mission is to benefit the Madison Square Park Conservancy. Since its inception, over $1.3 million has been donated to the class art and public programming. For more information, visit www.bigapplebbq.org.
---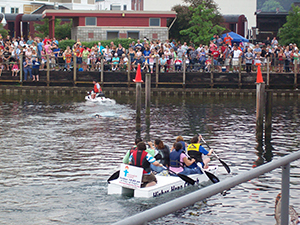 DAY TRIP
THE WATKINS GLEN WATERFRONT FESTIVAL & REGATTA
June 17th – 18th
Now in its 23rd year, The Watkins Glen Waterfront Festival & Regatta offers visitors the opportunity to enjoy Seneca Harbor Park on the beautiful shores of Seneca Lake in downtown Watkins Glen. It's family-style fun at its best!
When the sun sets on Friday evening, the Lighting of the Harbor begins with musical entertainment along the Seneca Harbor Waterfront from 5 to 9 P.M. Music groups will perform at the Pier House, Captain Bill's and the Marina Bar and Grill Dock. There will be plenty to eat as well at the food courts located in the Jammin' Tent. Saturday's event takes on a much livelier beat. From 11 A.M. to 4 P.M. visitors stroll the "Concourse de Cardboard" to view cardboard vessels and meet the crews. Then it's a race to the finish in the Nearly Famous Cardboard Boat Regatta. Cheer your favorites as they bravely sail their cardboard crafts to victory. For more information, visit thewaterfrontfestival.com.
---