Rum's The Word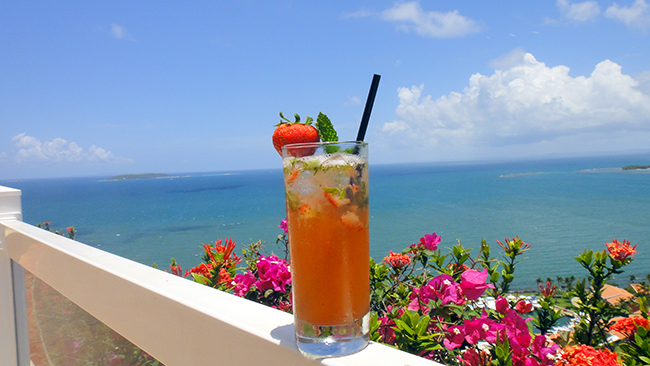 By Clint Brownfield
Scotland brought us single malt, Russia pioneered Vodka, Mexico gave us Tequila; France, Cognac & Armagnac. As for the glorious Caribbean, its shining star is most certainly Rum.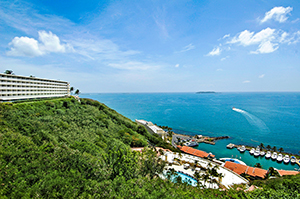 Born in the New World of the sugar cane that Columbus brought over on his second voyage, rum is a drink inextricably linked with this region. Once the mainstay of island economy throughout the area, rum prevails as nearly everyone's drink of choice, especially when visiting the Caribbean—let's just call it "drinking locally." It's available in extremely high proofs, and when aged for decades, it goes down as smooth as silk. No matter which island you visit, you'll find dozens of tiny, ramshackle wooden sheds where locals gather to enjoy some gossip and good cheer.
Today, fresh herbs, including mint and ginger, and fresh fruits like guava, pineapple and lime lend themselves to a variety of delectable rum drinks which few revelers can resist. In fact, in the French West Indies, it's traditional for the host to offer a complimentary Ti punch (Ti is short for petite) before the meal is served.
The most classic of the frozen concoctions is the Pina Colada, which incidentally is the official beverage of Puerto Rico. (For the uninitiated, pina colada pina translates as pineapple, and colada means strained, or creamed.) Virtually 75 percent of the rum consumed in the U.S. is produced in Puerto Rico with Bacardi leading the field. To get a real sense as to how rum is produced be sure to visit Casa Bacardi (casabarcadi.org) while you're in San Juan, where you will explore the past and get a taste of current rums via tours offered daily. And, don't be surprised when the locals there mention Don Q, as their rum of choice. At the other end of the island, where the Atlantic meets the Caribbean, the classic El Conquistador, a Waldorf-Astoria Resort, (elconresort.com) has something for everyone—families, romantics, business travelers attending conferences and guests merely enjoying a quick getaway. A very popular adult libation there is the Luna Fresada, which is composed of fresh mint leaves, chopped strawberries, lemonade and strawberry-flavored Pitorro Frutas Rum. Bottoms up!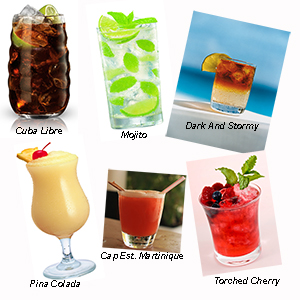 Over in the British Virgin Islands nothing compares to the Vanilla Killa. Made of a potent combo of Cruzan Vanilla Rum, fruit juices, and a dash of nutmeg this drink is best savored while lying on the talcum-soft beach under the shade of a coconut palm tree. This popular drink is a favorite of many and a staple at Foxy's on the island of Jost Van Dyke.
In Bermuda, the Dark 'n' Stormy is as fashionable as a pair of colonial-inspired Bermuda shorts. The dark rum and ginger beer drink goes down nice and smooth and is enjoyed by almost everyone. Try it over lunch at the Frog and Onion Pub as you take in the beautiful sights at the Royal Navy Dockyard.
It won't take long to figure out why they call Grenada the Spice Island. Nutmeg grows here in such abundance that its heady fragrance perfumes the tropical breezes. At the Saturday outdoor markets, you'll spy heaping mounds of nutmeg alongside colorful pyramids of lemons and limes, and other island fruits. Grenada's luxurious Spice Island Beach Resort (spiceislandbeachresort.com), is one of only seven resorts in the Caribbean to boast the AAA Five Diamond Award. It's Carib's Leap is named after Grenada's last remaining indigenous Carib Indians who threw themselves off a cliff in the Northern town of Sauteurs in 1651 to resist domination by the French. Made with dark rum and tropical fruit ingredients, this cocktail is a tribute to their resistance. But there is no reason for you to resist this tempting libation.
And what happens when classic French meets tropical Caribbean sizzle? Discover the delicious results for yourselves on this ever-so-French island, Martinique. For that special ooh-la-la evening, head to the five-star Relais & Chateaux Cap Est Lagoon Resort & Spa (capest.com) for a chic Caribbean-inspired dinner and their signature LePlanteur rum-inspired drink which combines fruit juices with vanilla essence and nutmeg with white rum.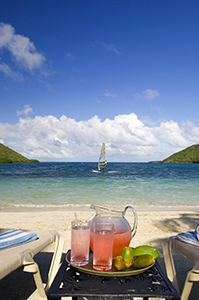 Meanwhile, over on Barbados' Platinum Coast, The Cooler at Cobbler's Cove (cobblerscove.com) is not for the timid. Made from Mount Gay rum, fruit juices and a splash of Grenadine this drink is potent. Mount Gay is the rum of choice on the island of Barbados and has the oldest distillery in the world dating back to 1700s.
Finally, everyone's favorite Appleton Rum is a staple on the island of Jamaica and is the basis for many of your favorite libations at all six Sandals Resorts (sandals.com) on the island of one love.