Singer Island: Your Ticket to Paradise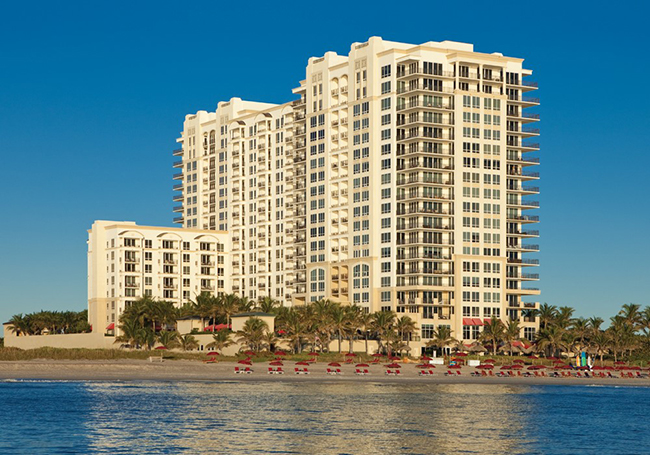 By Karen Feld
Resort islands have an enticing lure, especially if it's a sun-drenched peaceful destination and just a two-hour getaway from bustling New York City. Singer Island is just the place to unwind and relax. Located across the inlet at the north end of Palm Beach is Singer Island, rimmed with motels and high-rises. At the north end is Palm Beach Marriott Singer Island Beach Resort & Spa. You just may have found your ticket to paradise.
The 21-story condo-style property is the only all-suite beachfront hotel in Palm Beach nestled on a sandy Riviera Beach between the Atlantic Ocean and the Intracoastal Waterway. Nearby is the protected John D. MacArthur State Park, a favorite place to spot sea turtles—loggerheads, greens, and leatherbacks. The resort is far enough away from the pretension of Palm Beach, yet near enough (only 20 minutes by car) should you want to shop or dine on famed Worth Avenue.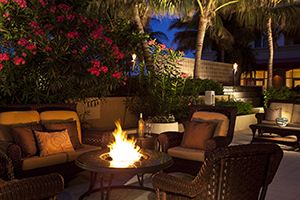 Of course, for those who would rather not leave Singer Island, there's much to do. Explore Peanut Island at the mouth of Lake Worth where there are plenty of pristine beaches to soak up the sun. For history buffs, check out JFK's secret 1,500-square-foot bunker and decontamination room for use in a possible nuclear attack during the Bay of Pigs. It was closed after his assassination and later became part of the Palm Beach Maritime Commission in the 1990's.
A typical day on the resort begins with a morning coffee on the balcony overlooking one of the area's largest beaches. Then, it's time for yoga. My instructor, Elsa, greeted me for a gentle morning class on the sandy beach; it was a spiritual way to start the day. Afterward, on a long relaxing stroll, I passed kids searching for unique shells as I walked the long stretch of one of Florida's best sandy beaches feeling both the warm rays of the sun on my shoulders and a gentle cool breeze on my face. I soon settled into a comfy lounge chair under an over-sized sturdy umbrella to block the midday rays.
Families enjoy the resort because of the spacious accommodation and comforts of home. The airy suites feature marble-tiled, granite-topped kitchens that come fully stocked. Also, in-room washer/dryer and the super-luxurious beds and huge showers complete this picture.
Naturally, this resort is kid-friendly with the younger set splashing around at the Lagoon pool a world away from the adult's beachside infinity pool and whirlpool. Children have chaperoned activities complete with prizes including a metal detector beach hunt in search of hidden treasures, water balloon toss, and artistic endeavors including building seashell creatures, shark tooth necklaces, creating sand art, and starfish painting.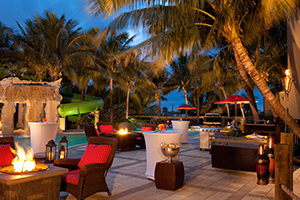 Outdoor dining is available at the 3800 Ocean Grille (they also provide inside dining) with a menu to impress. Fresh regional fish prepared in a unique fusion of New England, Mexico, and Caribbean flavors is the specialty. Try the amazingly delicious shrimp cocktail. Or, opt for Chef Larry LaValley's five-course tasting menu. You won't be disappointed. Afterward, step outside to the fire pit for a late-night drink and watch the ocean surf.
Other dining options include restaurant row at the nearby PGA Commons or the most exclusive eateries in Palm Beach Gardens. Pampering is a must on this island. But SiSpa is more than seaside solace in a Zen environment. Each member of the staff is trained in spa treatments for those with cancer or recovering from the illness by The Florida Cancer Aware program's "Wellness for Cancer" hands-on training. The result of this heightened awareness of cancer procedures is found in their "Comfort Care Classics" menu. The spa is one of only two nationwide to offer this program (the other is at the Marriott Pompano Beach). Spa Director Pat Dutcher is committed to helping her clients to emerge with positivity and healing in mind.
When a guest books a "Comfort Care Classics" spa treatment, whether massage, facial, or nails, it alerts the staff without the guest having to revealpersonal data. Therapists are mindful of appropriate and inappropriate questions so that the guest's experience is seamless.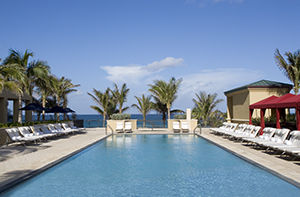 All guests are welcomed with a mimosa and escorted to one of eight treatment rooms, each named after a body of water. I was escorted to the earth-toned Caribbean room for a signature massage with compresses over my tired eyes. The experience included sipping raspberry water in the relaxation area following the treatment. I recommend the Anti-Stress and Replenishing Sargasso Seaweed Experience to alleviate jet lag. Other signature body treatments include Voyage of the Si Chakra Experience and Rejuvenating Indian Si Scrub. Whichever you select, it's guaranteed to calm the mind and soothe the soul. marriott.com
Karen Feld is a well-traveled New York City-based writer. Her website is karenfeld.com.