George Brescia: Broadway's Speed Dial Stylist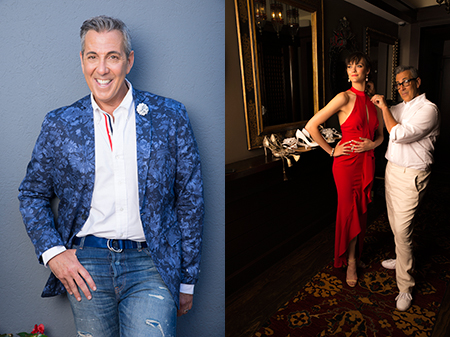 By John Burke
Photography by Getty Images
Be honest! …What could possibly be better than spending a balmy Summer day at a photo-shoot with five beautiful Broadway dancers overlooking the Fifth Avenue skyline? It was make-some-magic-time with an entire crew of technical assistants, interns, waiters, make-up 'n' hair folks, agents, managers, and guys to move furniture, potted trees, and lighting equipment!...oh yes, and of course those five gorgeous gals!… all of it orchestrated by a guy who does this stuff everyday for a living! George Brescia, fashion stylist to the stars, red carpet commentator, and author of the Simon & Schuster book "Change Your Clothes, Change Your Life!...because you can't go naked" called on his "Stroman Girls" to model one of this Summer's hottest fashion trends, "White! White! White!"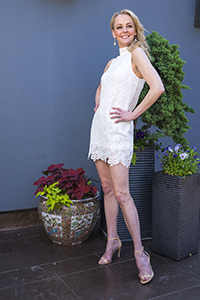 George's clients include Oscar, Emmy, and Tony winners, society folks, Wall Street guys, and soccer moms, but for this shoot he wanted legs-for-days and zillion kilowatt smiles, so it was a few text messages to his gal pals, Leah Hofmann, Angie Schworer, Beth Nicely, Mackenzie Warren, Lara Seibert Young and guess what?... All systems were GO! The location was the stunning rooftop terraces of Salon De Ning high atop the Peninsula Hotel. Photographer Jenny Anderson was booked! Known for her extensive work with Broadway celebrities on both Broadway.com and the Broadway Style Guide, she was a master with just-the-right-lighting, even as the sun and the clouds played hide 'n' seek and drove the make-up and hair folks mad! But George kept the whole thing as light and airy as the terrace where everything was assembled. His whole approach was to get the right balance of fun and fabulousness into the fashion, and his handpicked team didn't disappoint! During a short break, we asked him, how did he get to be the go-to-guy for so many celebrities who are looking for just the right look for a Broadway premiere, a red carpet interview, a press junket, or perhaps even a stroll up onstage to grab a Tony Award, and his story is a kid-who-made-good fantasy…. (With a lot of talent and hard work added in, of course!)
"I came from a big family, and I had always been my family's song and dance man, starting when I was four or five! My grandmother especially encouraged me to tell stories and sing for her friends, the next-door neighbors, even people on the city bus when she would take me shopping. I loved entertaining! Making folks smile! …and, of course, getting applause! I could see from the start that I could make people feel happy with my performing, and that I could actually change the energy in a room by doing what I loved. As I grew up, I was in school plays and then on to college, and I had a lot of success with my singing and dancing, training constantly. But I needed a job, and I was always drawn to fashion and the beauty of clothes, mostly from my Mom's influence and her great taste. She insisted that my brother and I always be dressed perfectly even at a young age, and she had her own career in fashion at her own clothing store, The Glass Door in Connecticut. Everything that I first learned about style and fashion came from her. My Mom's love and influence sits on my right shoulder everyday, and I am so grateful and honored that she's mine."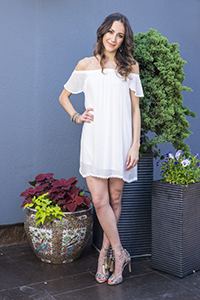 It was easy for George to get jobs during Summer vacations at stores around Hartford…"I was 18 and started as a promotional model featuring men's fragrances…then, after graduating from college, I went directly to Ralph Lauren in sales… and I sold everything! After a few years working my way up through the ranks at the Ralph Lauren Mansion on Madison Avenue, I was put in charge of special events and merchandising Women's product in all the Polo stores nationwide."
George was promoted to travel the country doing "trunk shows" where he spoke and did presentations in front of hundreds of different customers each week, coast to coast, and then regular in-store seminars motivating and educating the sales teams on the new seasons' products. Every time he returned to NY, he would be called to do promotional videos to be distributed to the stores. He got regular exposure to every branch of the business, all the big names both within the company and among their exclusive clientele, and to Ralph Lauren himself, and it influenced and enlarged his perspective on what fashion means and what it can actually accomplish in transforming a person's outlook on the world and how they function in it. The so-called "rag trade" had much more heft to it than met the eye, and the giants in the industry; Ralph Lauren, Calvin Klein, Geoffrey Beene, Oscar de la Renta, and the commentators, Diana Vreeland, Carey Donovan, Grace Mirabella, Anna Wintour knew it! The hackneyed cliché for years had been "Clothes Make The Man!"…but what if it was actually, somehow, true??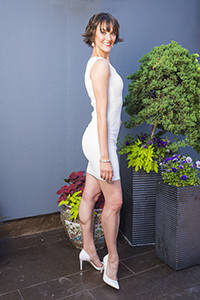 "When I look back on my time at Polo, I realize how lucky I was to have seen so many different approaches to clothing and how all the different parts of the industry work within all the various segments of society; luxury goods, ready-to-wear, couture collections, aspirational and so-called "bridge-lines", children's fashion and juniors, missies, and men's wear. And of course, I was performing in front of people and cameras constantly. Everything I do now, I learned the basics of at Polo."
George's biggest break came about in 2010, when red carpet events began to take on a life of their own both in television and in the press. Magazines had been featuring red carpet spreads on celebrities as they arrived at the great award presentations, but those pages were tucked into the back with a jumble of thumbnails and ten-word captions and credits! It all escalated when the red carpet was used on television as both a fashion runway and an interview-op. The public began to really connect to the chance to see and hear everything from the stars before they walked into the "Big Event"…. And they ate it up! ….both "the hits" and "the misses"! It was only logical that an iconic comedienne and raconteur like Joan Rivers would hit it big with the premiere of "Fashion Police" on the E! Network in September 2010. She and her panel of fellow wits would lavish or lambaste the icons of entertainment both for what they said and what they wore! Tripping on a hem, stumbling on a step, or wearing the wrong shade of green in the wrong size could make front-page news! Within a short time, some red carpet broadcasts got ratings as high as the award shows following them!... and the advertisers and fashion industry titans paid close attention!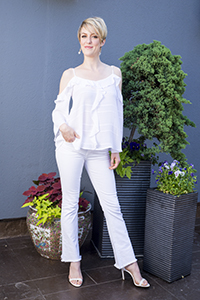 "Folks I worked with always called me a 'personality'. Since I was known for doing speaking engagements, public appearances, trunk shows, and motivational seminars, my transition was easy. I began to appear on TV on NBC's NY Live, on CBS's "On The Couch", on FOX's "Good Day New York!", as well as on the networks' evening news shows for special fashion segments and commentaries. I became the NY 1 style commentator both for the big Fashion Weeks at Bryant Park and at the Tony Awards red carpet events. I was approached by Stage 17, an online digital-media company affiliated with Broadway producers that created webisodes for subscribers. It was the new broadcasting method done over the internet, and I was given the opportunity to create my own show, DRESS UP!, a docu-series where I styled celebrities in their opening night looks for Broadway premieres, press junkets, and red carpet galas….and I became their on-air correspondent at every Broadway opening night and the Tony Awards. I'd be running from one couture showroom to another and then off to Verdura on Fifth Avenue to pick up a quarter of a million dollars' worth of Art Deco jewels." With all that exposure, George's styling career was on its way and the clients began to pour in; Tony winners like Victoria Clark, Shuler Hensley, and Lea Salonga; glamorous stars like Kate Baldwin, Marin Mazzie, Lauren Worsham, and Carolee Carmello. The men came too; Jonathan Groff, Bryce Pinkham, George Takei, Aaron Lazar, Jefferson Mays, Telly Leung. And the folks he interviewed on camera read like a who's who of entertainment giants! Gloria Estefan, Debra Messing, Megan Hilty, Bernadette Peters, Sting, Dianne Wiest, Bryan Cranston, Crest Love, Fran Drescher, Kristin Chenoweth….the list goes on and on.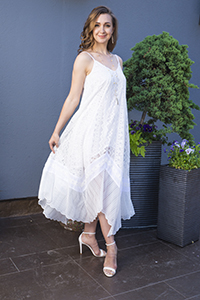 George's break-through in the publishing world was equally serendipitous… He managed through an accident to meet Jen Bergstrom, a publisher at Simon & Schuster, and right on the spot, he told her he'd like to write a book! She asked him what would it be. Without missing a beat, he said simply it would be a spiritual approach to dressing for your life… a sort of Vogue-Magazine-Meets-The-Secret….. He wanted people to know that clothes can serve as tools to enrich and expand their option, and that although our culture would like to think that appearance doesn't matter, (and that people should only care about their "insides", not their "exteriors"), the truth is that personally and professionally, people make up their minds by what they see of another person, (and it's a great deal!)... within two minutes!!… and it can change the outcome of a job interview, an office conference, even a first date. George's title said it all; "Change Your Clothes! Change Your Life"…and the subtitle; "...because you can't go naked!". We are forced societally to wear clothes, and they may as well serve us. Let your clothes tell the world what you want to say about yourself. Let your clothes truly reflect your interior… your dreams, your aspirations, your goals, and your intentions. Dressing unconsciously need not be an option anymore, and it doesn't have to be intimidating, depressing, or expensive. George thinks of fashion as another form of entertainment…and enlightenment!!
George's schedule has gotten crazy-exciting with multiple appearances on NBC's TODAY Show opposite Matt Lauer, Kathie Lee Gifford, Hoda Kotb. He has appeared regularly as a style expert on HSN's THE LIST with Colleen Lopez, and travels the country doing in-store appearances and fashion segments on regional television including Los Angeles' KTLA. He now numbers his clients from all over the country, and he'll soon be announcing exciting new ventures for the Fall, including projects on television, internet, and radio. [George Brescia is currently a regular contributor to Playbill.com with his Red Carpet Best Dressed column, and he can be found on Instagram, Twitter, Facebook, and on his website, GeorgeBrescia.com] (George Brescia's clothes by INC available at Macy's).
---
THE LEADING LADIES
Leah Hofmann: St. Louis, Missouri, an actor, dancer, singer, puppeteer, and model. Currently in "Something Rotten!" and a former Rockette! As a frequent model for George on his television segments, she is also one of his clients!
"One of my favorite New York moments included attending the Metropolitan Opera's Opening Night gala for THE MERRY WIDOW, for which George had picked out a gorgeous one-shoulder, red gown by Rolando Santana. During the evening, the famous society photographer Bill Cunningham snapped my picture and told me I looked like a "long stem red rose." The picture appeared in the Sunday NY Times. Bucket List, check! Thank You, George. I concur with George's ideals that what you wear tells a story, and whether you're choosing an outfit for lunch with a friend or an opening gala, you must feel confident, unique and true to yourself. Because let's face it, confidence is the most important accessory of all." (White fitted dress with lace inset and shoes from Bar III available at Macy's. Jewelry from Purdy Girl, 471 Amsterdam Ave, New York, NY 10024)
Mackenzie Warren: From South Carolina, she's appeared in PIPPIN and ANYTHING GOES!… "I met George through Leah last year, and immediately adored him! He has a gift for making you feel safe, and feminine, and strong. He has a great eye for texture combinations that I wouldn't normally think of….and I'm so thankful for his affirmation of me to be me!!" (White ruffled cold-shoulder blouse by Marled at Reunited Clothing and shoes by INC, both available at Macy's. JUSTBLACK Jeans with frayed bottoms and jewelry from Purdy Girl).
Angie Schworer: Originally from Ft. Mitchell, Kentucky, Angie has been on Broadway for 25 years and played the sexy bombshell Ulla opposite Matthew Broderick and Nathan Lane in the mega-hit THE PRODUCERS. She is currently in SOMETHING ROTTEN, her 10th Broadway show! "George collaborates with you on every aspect of your styling. He allows you to wear what feels good on you, but always makes sure it's on point with the current trends!" (Lace sleeveless dress and jewelry from Purdy Girl. Shoes by INC at Macy's).
Beth Nicely: A former Rockette, Beth's Broadway credits include YOUNG FRANKENSTEIN, SPAMALOT, and BULLETS OVER BROADWAY. She is currently appearing in SOMETHING ROTTEN. "I love working with George because he really focused on making me look and feel good, which is important! If you don't feel good, you won't look good, no matter what you're wearing. He also picks things I would never have thought to wear but end up LOVING!!" (Off the shoulder dress by Flying Tomato and jewelry both from Purdy Girl. Shoes by INC available at Macy's.)
Lara Seibert Young: From Dallas, Texas, Lara appeared in the Broadway hit CHICAGO, playing "Velma Kelly". Other Broadway credits: BIG FISH and YOUNG FRANKENSTEIN. "I first met George during BIG FISH, doing a number of morning show fashion segments, and we hit it off right away. What stands out about George's styling is that he never pushes a specific style on me. He always asks first if I am comfortable and if I feel beautiful in what I'm wearing. If not, he's back to the rack to find something else. The confidence that an outfit brings is the main thing he's after. And every client has their own specific staple. And you'll be laughing through the whole session. He has the gift to make anyone feel instantly at ease." (Long maxi-dress by KAS and jewelry available at Purdy Girl. Shoes by INC at Macy's).
Location The Peninsula New York
Salon De Ning Rooftop Bar & Terrace
(www.newyork.peninsula.com)
Photography Getty Images
(www.gettyimages.com)
Hair Dion Moore and Lois Broderick for
Angelo David Salon
(www.angelodavid.com) | T3 Micro
Makeup Virginia Martin for Angelo David Salon
(www.angelodavid.com)
Smashbox Cosmetics | JP Ramirez for Angelo David Salon | Giorgio Armani Beauty/ Bloomingdales SOHO
Nails Mariana Kryekurti for Angelo David Salon
(www.angelodavid.com) | Morgan Taylor Lacquer