AvaDoBro – Dwntwn BK Rentals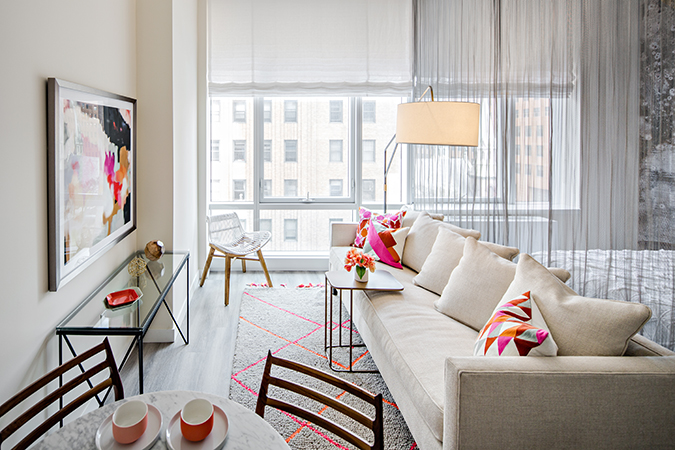 By Daniel J. Bollinger
AvaDoBro, which stands for Ava Downtown Brooklyn is a great example of 21st century design in a rental development. It is right next to 388 Bridge Street which I have also written about. Located right in the heart of Downtown Brooklyn close to everything including Manhattan. Avalon Communities receives high honors from me for their thoughtful design details and especially their amenities. This is a dog lovers' dream with a heated indoor/outdoor dog run and pet spa. There are plenty of panoramic views of the city with two floors of lounges at AvaDoBro. For those who are in the know that Brooklyn is the most popular borough in the world and are interested in experiencing it AvaDoBro offers the perfect rental to live out the Brooklyn experience. It's the perfect home base to live and experience everything this city offers.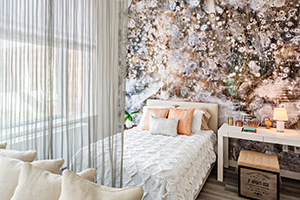 AvaDoBro offers studio to three bedroom apartments. They are not large like most of the condos that I write about but these are rentals. Very impressive how Avalon Communities lays out the apartments though. In the studio there is a sizeable walk in closet AND an in-unit washer and dryer. Find that in another studio apartment. In all the apartments you will find the designers laid out the rooms to create an open airy feel. All with top notch materials and appliances. It's some of the design details that are very impressive. In select models you have sliding barn doors. It looks great and saves on space without the conventional doors. There are built-in charging stations for our gadget intense society. Another impressive feature is that AvaDoBro offers "Do It Yourself" kits to customize your space with. You know the parts are all going to fit and match your apartment! These are great design details in your apartment. But there are a number of art pieces throughout the building that are very appropriate for my beloved Brooklyn and make this building a great place to live.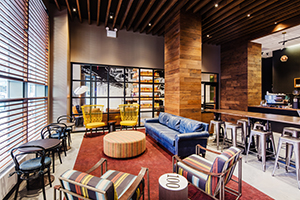 In the lobby there is a huge mural, in the mail room there are a number of wall height drawings/sketches, the elevator walls have photographs, and each unit has hand painted artwork around their apartment number sign. Very industrial and city appropriate artwork. Some of it is done by local artists residing in Brooklyn. All of this makes for great living but what really sets AvaDoBro apart is their amenities.
Their dog run for one. A sizeable outdoor space for your dogs to play and heating lamps under the seating for those cold days in the NYC winter. The pet spa is located right inside the dog run so you can rinse your puppy off or maybe have him run on the doggie treadmill for a little while. I really like that the front desk has a cookie jar of doggie treats and I witnessed a few dogs who knew exactly how to get them. If you are a dog owner in NYC you have a place where both you and your baby are welcomed.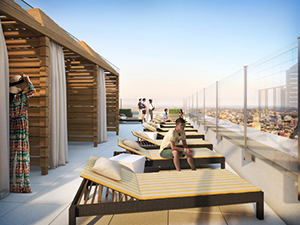 There are also two community lounge areas. The first is on the 30th floor and has an outdoor terrace with several fire pits and BBQ stations. The views here aren't the highest but are still interesting. On the 58th floor there is a rooftop lounge with both indoor and outdoor areas. And these views are fantastic. There simply haven't been views like this in Brooklyn until this building a few others have been built in the past several years.
They have the usual bike storage and bike lobby for residents with bikes and also rent out a few of their own like Citi Bike does. The subway is on site for the A,C,F, and R trains and the 2,3,4,5,B, and Q trains are only a few blocks away. In the lobby there is a Café with interactive tv displays where you can get train schedules, local bar/restaurant information, all the arts and theatre going on around Brooklyn and more! This is 21st century design in the heart of Downtown Brooklyn. And on-site garage parking. I can see why Avalon Communities develop from California to Connecticut and from Florida to New York. They develop with the intent not just to provide housing, but to offer a home with social and community design ideas incorporated.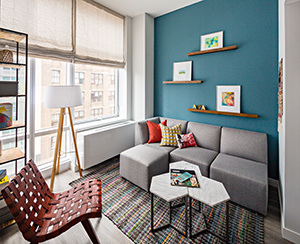 For someone who has heard all about the Brooklyn buzz and wants to live in one of greatest boroughs with a ton of nightlife, restaurants, culture, and more AvaDoBro provides great rentals in the heart of it all. Well laid out apartments, artistic accents and design details galore. Close to all transportation, great amenities, iconic views. All of this is available to you, and your dog, at AvaDoBro... your city, your life.
For more information, visit:
www.avaloncommunities.com