Iceland: Country of Contrasts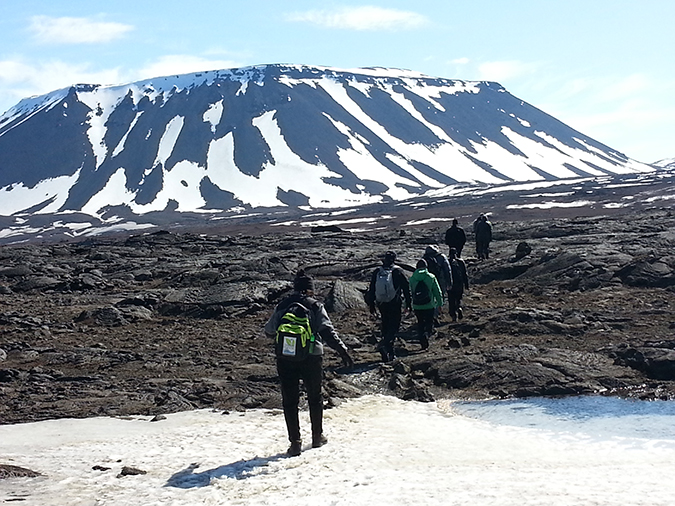 By Jeff and Stephanie Sylva
It is a country of contrasts. It is a country of extremes where fire and ice coexist. Iceland is rugged and harsh – but it is also welcoming and inspirational. It is the European continent's youngest landmass, yet the country is steeped in old traditions and folklore sagas.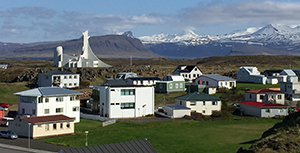 Iceland's diversity is probably most evident in its geophysical location – at the juncture between the North American and Eurasian tectonic plates which are drifting apart by a few centimeters every year. This location directly on the continental rift is a major reason for Iceland's active volcanic and geothermic history producing the incredible forces that shape the unique scenery of Iceland.
This diversity is also evident in Iceland's weather – conditions tend to change quickly, so layering clothes and having a good rain parka are essential (something we were quick to learn during our recent visit to this country which lies just below the Arctic Circle). In just one day we hiked on one of Iceland's many glaciers in a cold and windy rain, only to witness a glorious rainbow on a perfectly sunny afternoon at one of the numerous waterfalls that populate the country. We came to understand that Icelanders embrace their fickle, sometimes harsh, weather, just as they embrace the ruggedness of their landscape. Indeed, it is this extreme diversity of landscape that has propelled Iceland to the top of many people's "to go" list. Iceland is just a five-hour, non-stop flight from New York – perfect even for a long weekend getaway. Alternatively with IcelandAir's free stop-over program, experiencing Iceland for up to seven days is an easy side trip to any European vacation.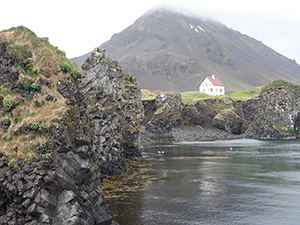 Iceland was pretty much on nobody's radar until 2010. That was the year that European air travel was stopped by the eruption of the volcano Eyjafjallajokull, and everybody's attention was drawn to this small Nordic nation. Since then tourism in Iceland has increased dramatically. Many visitors are drawn to the capital city of Reykjavik, a small city (pop. 203,000 in the greater Reykjavik area) in comparison to other European capitals. The city reflects the charm of Europe, but with a hip, unpretentious energy and youthful vibe.
For those who want to explore the world's northernmost capital city, we suggest purchasing the Reykjavik City Card. The card offers free admission to a number of the city's museums, national galleries, the Animal Zoo and Family Park, all of the city's thermal pools, and the ferry to Videy Island. The card also offers free unlimited travel by bus within the capital area. We constantly took advantage of the bus system since we did not have a car rental when staying in the city – parking is at a premium. The City Card, which can be purchased for a one-day, two-day, or three-day period, also offers discounts on admissions to a number of city attractions.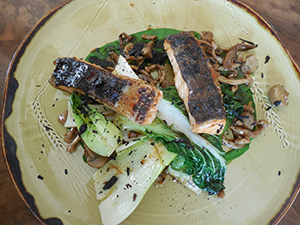 Reykjavik is cosmopolitan enough to offer a variety of international restaurants, but many visitors want to try some fresh Icelandic seafood. Two restaurants in Reykjavik we highly recommend are Apotek and Tapas Barinn. Both offer a selection of seafood as well as European dishes. Apotek, "the pharmacy," is so-named because the historic building long housed the city's main pharmacy. Now a casual-smart restaurant and popular cocktail lounge, Apotek's design reflects the "pharmacy" theme and serves exquisitely prepared small plates and entrees from a flaming hot Argentinian grill. Tapas Barinn, recommended to us as one of the more popular places with locals, focuses even more on a tapas menu. A number of pre-selected tasting courses, such as the Icelandic Gourmet Feast that we sampled, offer a variety of Icelandic specialties such as Arctic Char, smoked puffin, pan-fried blue ling and Minke Whale. A selection of main courses is also available.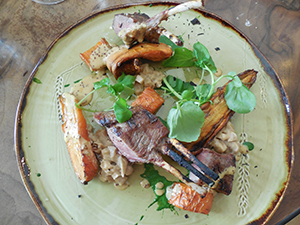 To truly experience Iceland you need to get out of Reykjavik to see – and experience - the spectacular Icelandic scenery. Although there are many chartered day trips available from Reykjavik, we suggest a more immersive trip – a self-drive tour with Nordic Visitor, one of Iceland's and the Nordic region's leading travel agencies. Traveling with our friends, Karen and David, we chose the Iceland Full Circle Tour giving us nine days of driving all kinds of roads throughout Iceland.
The beauty of a self-drive tour with Nordic Visitor is that everything is arranged for a flawless travel experience. In addition to a choice of car size (GPS, WiFi hotspot, and a pre-paid cell phone included), arranging excursions, and preparing a personalized travel guide with outlined maps highlighting a wealth of attractions and sites, Nordic Visitor offers three levels of accommodations, all with breakfast included. We chose the mid-level, "Comfort," and were very pleased with our accommodations.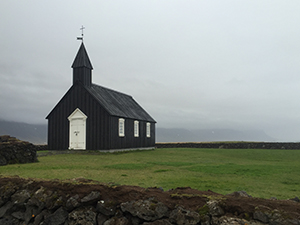 Iceland's unique scenery is a palette of dramatic extremes. Each day's drive brought a variety of awe-inspiring landscapes and scenery featuring powerful or idyllic waterfalls (Dettifoss is Europe's most powerful waterfall); vast glaciers (Iceland is home to Europe's largest glacier, Vatnajokull); and glacial lagoons populated with spectacular blue icebergs floating in icy waters. We drove past towering snow-capped mountains and visited numerous volcanic craters (on average, Iceland experiences a volcanic event every five years); and geothermic fields of geysers, steam vents and bubbling mud pots. Hiking maze-like lava fields resembling moonscapes, strolling black sand beaches with impressive basalt columns and dramatic rock formations, and viewing magnificently-blue fjords kept us in awe of Iceland's natural beauty.
An outdoor enthusiast's paradise, Iceland offers a variety of short to multi-day hikes, snowmobiling on a glacier, river rafting, ice climbing, kayaking, caving, diving ultra-clear glacial waters, salmon fishing, whale watching, puffin viewing and of course, horseback riding on the famous Icelandic horses. We opted for a glacier trek with Arcanum Glacier Tours, who have been in business for over 20 years. We donned helmets, crampons, and a safety harness, then grabbed an ice pick, to explore the amazing terrain of crevasses, sink holes, and ice ridges on the Solheimajokull glacier. We also explored the Lofthellir lava cave known for its unusual ice formations. After a short hike across a magnificent lavafield, our guide from Saga Travel, "Bucky," was great helping each of us squeeze through narrow crevices and crawl up and down inclines to enter the main chamber of the cave. Lofthellir boasts the greatest natural ice sculptures currently known in an Icelandic lava cave.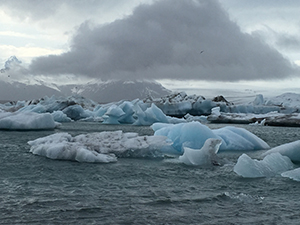 With more than 170 geothermal pools throughout the country, a cherished pastime for Icelanders is relaxing in these hot tubs, which often function as the local version of the pub, where they can catch up on all the town gossip. The most popular pool with visitors and probably Iceland's most famous attraction is the Blue Lagoon, which is located between Reykjavik and the airport in Keflavik (prior reservations are required). The mineral-rich waters are soothing for a range of skin conditions and a soak will leave your skin silky smooth. We enjoyed soaking in the Myvatn Nature Baths, a pool of geothermal water drawn from depths of up to 2,500 meters located in a natural setting with great views. With nearly day-long sunlight in late spring and summer, we stayed in the Nature Baths until late in the evening, and later ended our day with a midnight toast to the sun setting over Lake Myvatn.
An alternative to a self-drive tour is staying in Reykjavik and doing day trips outside the city. Nordic Visitor can arrange any of a variety of such trips, the most popular of which is the Golden Circle. This trip includes a trio of incredible natural attractions – Thingvellir National Park (location for a number of scenes from HBO's "Game of Thrones"), the famed geothermal area of Geysir, and the spectacular waterfall Gullfoss.
A country of sharp contrasts, where the endless daylight of summer is offset by the nearly day-long darkness of winter and the radiance of the Aurora Borealis, Iceland is rugged, mysterious, awe-inspiring, and idyllic. Iceland is epic.
For more information please visit:
www.nordicvisitor.com
www.visitreykjavik.is
www.iceland.is
www.visiticeland.com