Scott Stringer: Reimagining How The City Works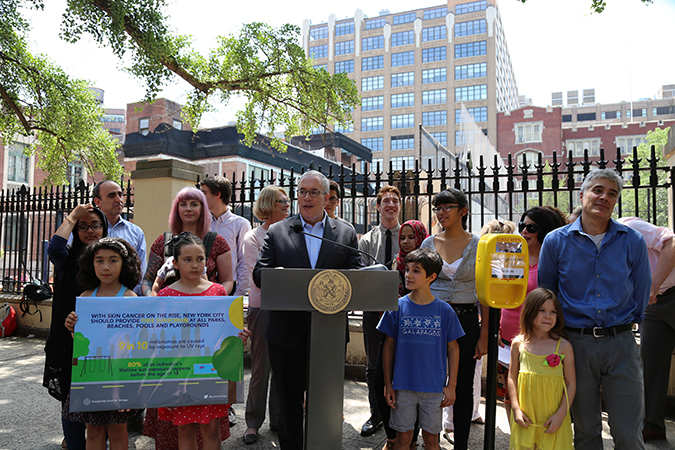 At our press conference a few weeks ago to announce our new plan for free sunscreen
By Anthony Rapacciuolo
In 1979 the legendary Frank Sinatra released his famed song "New York, New York" and proclaimed in the famed lyrics that "if I can make it there, I'll make it anywhere," singing about the fast-paced lifestyle and opportunities that our great city offers. Fast forward 37 years later to the present day and New York City's 44th Comptroller, Scott M. Stringer, who tells New York Lifestyles Magazine that his job is to ensure that everyone can "make it here" ... albeit in a less lyrical tone than old blue eyes.
Marching in this year's Pride Parade with his wife Elyse and sons Max and Miles
The role of the Comptroller is far-reaching with responsibilities including overseeing performance and financial audits of all city agencies. While serving as a fiduciary to the city's five public pension funds (totaling nearly $160 billion in assets), he also provides comprehensive oversight of the municipal budget and fiscal condition. The Office of Comptroller must ensure transparency and accountability and vigorously enforces prevailing wage and living wage laws. Not to be overlooked, this former Manhattan Borough President promotes numerous innovative policies that enhance city government's efficiency, integrity, and performance for all New Yorkers.
Scott's career in government goes beyond urban limits. Before entering into the city administration, he served six terms in New York State's Assembly (1992-2005), where he led the fight on issues of domestic violence (he authored the anti-stalking law) and affordable housing. That spirit continues and since taking office as Comptroller in 2013, the 56-year-old alumnus of John Jay College of Criminal Justice has been "reimagining how our city works" and dedicates to protecting and maximizing every taxpayer dollar for the benefit of our city as a whole. In such a short time, Scott has rolled out programs to create more jobs, cut the red tape that exists between the private and government sectors, revamped the $160 billion public pension system, and placed particular focus on our city's youth and education programs.
New York Lifestyles Magazine had the pleasure of speaking candidly with the Comptroller about some of his past success and future goals for our city. In fact, we were even given an exclusive look into his life outside of the office where he shared with us what he called his "life's suffering." Don't be alarmed as it isn't as dramatic a revelation as I've portrayed it to be, but you'll still have to read the article in its entirety to see what it is.
What do you think is the best part of the city?
New York City is the center of the universe! Every day I have an opportunity to interact with people from every corner of New York and from every walk of life. New Yorkers speak over 200 languages and come from over 170 countries; our diversity is incredible. My job as Comptroller is to ensure that everyone has an opportunity to make it here. I'm a lifelong New Yorker and together with my wife, Elyse, we're raising our two boys here, and constantly thinking about the city that we are going to leave for our children as well as the children I'll never meet.
As a native New Yorker, what are your fondest memories growing up here?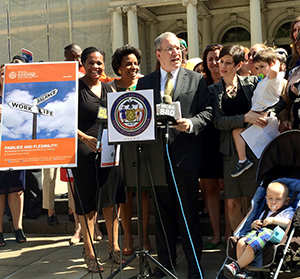 Scott Stringer hosts a press conference with his family and elected officials on the steps of City Hall to present his report on Families and Flexibility: Reshaping the Workplace for the 21st Century in June 2014.
I grew up in Washington Heights back in the 70's, and it was a tough time to come of age. The subway I took was a roving crime scene. I lived through the New York blackout, the Bronx is Burning period, and graduated high school the same year the Son of Sam crime spree took place. But even with all that was happening, it was a good upbringing. There was a sense that if you worked hard and played by the rules, you could aspire to the dreams that you had. I feel like the luckiest person in New York because I have had a front row seat to this ever-changing city.
You are clearly passionate about New York so what do you think defines a New Yorker versus someone who lives in another city?
New Yorkers have a certain attitude, confidence, and we have a spirit that can't be broken. We have proven that time and time again. Whether it's a devastating hurricane or post 9/11, there is a strength New Yorkers possess that ultimately defines them.
Given the time of year, what do you think makes our city unique in the summer months?
When it is summer in the city, I love taking my two little boys to the city parks and playgrounds to play in the sprinklers. There's so much to do in the summer in the five boroughs, from the beaches to the festivals and street fairs. From salsa dancing in Orchard Beach to the fireworks on the East Side, New York just seems to come alive for everybody in all boroughs.
With summer, comes longer days and plenty of sun. Tell us about your campaign to protect New Yorkers by offering free sunscreen dispensers at public pools, parks and beaches.
Skin cancer is a real threat, and we found in our report that the rate in adults increased nearly 40 percent annually from 2006 to 2011. These numbers are staggering! And it's why I've proposed the city provide sunscreen dispensers at parks, pools, playgrounds and beaches at no cost. With similar programs in Boston and Miami, we need to catch up. The cost is minimal and funded mostly by non-governmental organizations. We're looking forward to sitting with the Department of Health on how best to roll out this program.
What are some of your other top priorities and initiatives?
Since taking office, we have reimagined how this office does business. We're focused on improving New York City for all. We've revamped how we operate the city's pension fund; we've created reporting methods for our affordable housing challenges. Did you know that every night 57,000 people including 22,000 children go to sleep in homeless shelters? We are investigating the conditions of these shelters and moving the city to act. We've also initiated programs related to expanding arts and culture in our school systems. Most recently we've investigated day care centers, where 50 percent did not have required lead testing for their water on file with Department of Health. Sometimes we work in close collaboration with City Hall and at other times we are holding them accountable so we can have a government that is truly effective for present day and years to come.
There seems to be a theme of programs and initiatives for our city's youth, do you think there's a difference between a child who grows up in New York versus anywhere else in the country?
When you grow up in New York City, you have a head start. Why? Because of our diversity. Think of our global economy. Our kids are living this experience every day so that by the time they get that New York City education they will already be well prepared to do great things here and around the world.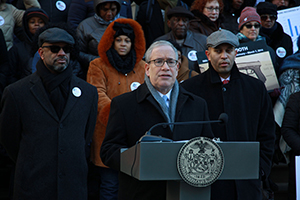 At a press conference this past winter on gun safety
Sound off! Tell our readers something they don't know about you.
I'm going to give this to you as an exclusive! I am a long-suffering NFL New York Jets fan! Of course, this has been going on for decades. When my two children were younger, it could have gone either way—Giants or Jets. But now they're Jets fans, and we enjoy spending Sunday's together watching the game.