Jacques Pépin A Recipe For The Good Life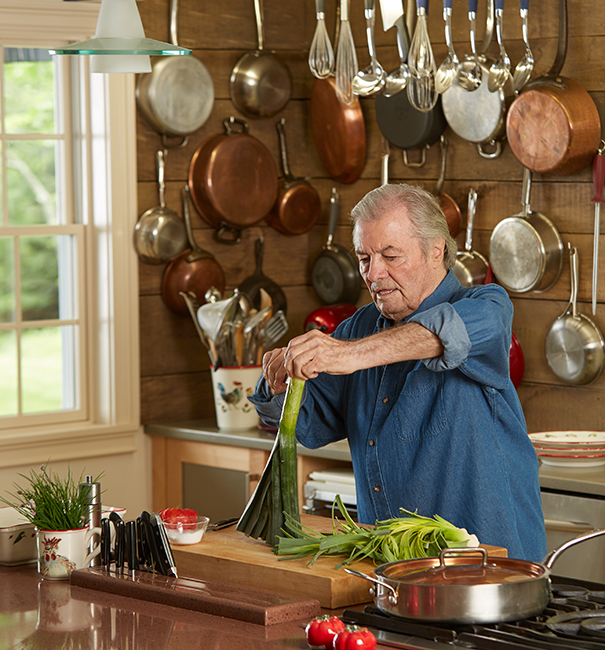 By Clint Brownfield • Photography by Tom Hopkins
A few weeks before we spoke with world-renowned French master chef Jacques Pépin, he had spent a week in California's Napa Valley, participating in a food and wine festival. Soon after, he made a pit stop at his Connecticut home, where he and his family have lived since 1975. Then, along with his daughter Claudine, he headed to Copenhagen to cook up a storm with 300 other chefs at a food event at Noma, which for several years has been ranked as the world's top restaurant. After six days in Denmark, he came back to the U.S.A.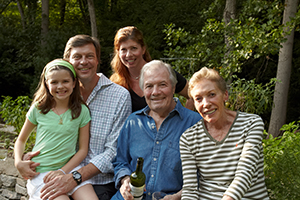 His schedule the following week was just as strenuous: An appearance on The Rachael Ray Show and coordinating his schedule at the International Culinary Center (formerly the French Culinary Institute), where he is Dean of Special Programs. And, most important of all, that same week, he would celebrate his 50th wedding anniversary with his beloved wife, Gloria. If this schedule seems a bit daunting, also remember Jacques Pépin will turn 81 years old in December.
After visiting with the chef, a pattern very quickly emerges: his life has consisted of hard work, learning about food and its preparation and then passing along that knowledge to friends, family, students, television viewers and those who have enjoyed the 28 cookbooks he's written through the years. The 28th, Jacques Pépin: Heart & Soul in the Kitchen is accompanied by his 26-episode PBS-TV series. Published by Houghton Mifflin Harcourt in Fall 2015, it and many of his other books and videos are readily available. All of his television programs have been produced by KQED-TV in San Francisco. And, if you're on a budget, a few hundred of his appearances are available on YouTube, free of charge.
In The Beginning
This pattern of learning and teaching was set in motion very early when at age six he began learning by helping, and observing his grandparents and parents in their home and restaurant kitchens in his native Bourg-en-Bresse, France, 35 miles north of Lyon. He continued to help out in his parents' restaurant, Le Pelican until age 13 when he began an apprenticeship that would further add to his food education—"learning by observing and doing."
He still fondly remembers when, as a six-year-old boy, he milked a cow for the first time and got to drink a glass of milk straight from the source. We asked him what other childhood food memories still stand out. "Fondue," he told us, "it's fun and tasty and is a great way to entertain family and friends."
At 17, he moved to Paris and rapidly began working in some of the best restaurants of the time, training under Lucien Dait at the Plaza Athenee, then moving on to Maxim's and Fouquet's. A friend of Pépin's, who worked for France's Secretary of the Treasury, led him to a position as personal chef to three heads of state, including Charles de Gaulle, from 1956 to 1958.
He remembers it would have been unheard of in those days for someone hosting or attending a state dinner to come back to the kitchen and praise or thank the chef. But that was then. Now, for example, if he prepares a meal for the Obamas in the White House, he and other famous chefs are accorded the same status that rock stars enjoy.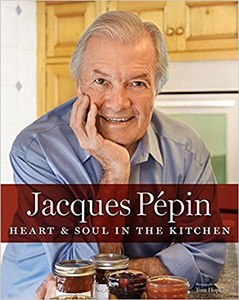 America The Beautiful
After moving to the United States in 1959, he first worked at Le Pavillon, which was then New York's most revered French restaurant. This lead to a 10-year stint as director of research and new development for Howard Johnson's where he developed recipes for the chain (Howard Johnson himself, was a regular diner at Le Pavillon). During this time he would learn English and earn BA and MA degrees in French literature at Columbia University.
Looking back, Pépin told us that it was his experience at Howard Johnson's that enabled him to open and operate his own successful New York restaurant, La Potagerie, from 1970-1975. After that progression of learning and continuing to perfect his craft, he was placed in charge of food operations for the newly opened World Trade Center. In 1988, he began teaching at the French Culinary Institute (now the International Culinary Center) where today he continues as Dean of Special Programs.
Down through the years, his success as a chef, professor, television personality and author has been based on one main thing: knowing and using the proper technique. The success of his book La Technique, which is used to this day as a textbook for teaching the fundamentals of French cuisine, prompted him to launch a televised version resulting in the acclaimed 1997 PBS series, The Complete Pépin.
Becoming a Legend
Early after his arrival in NYC, he met and became friends with other future legends such as James Beard and Julia Child. I asked him his favorite memory of Julia Child. He thought for a moment and smiled. "The times she would come to my house, and we could cook together." Those days with Jacques and Julia can still be seen today. Her Julia Child: Cooking With Master Chefs (originally aired on PBS and can be seen on YouTube) is priceless as she and Jacques prepare a lobster soufflé. His wealth of knowledge, experience, and technique is truly spectacular. It's also fun to watch. Julia's mastery of landing a one-liner is just as impressive as Jacques' ability to teach us how to whip up a lobster soufflé.
And he certainly can teach. Over the years, he's taught us how to slice and dice an onion, and how to sharpen knives (he says you only really need three knives but admits to owning around 300). He's even explained the complexity of preparing an artichoke.
A True Artist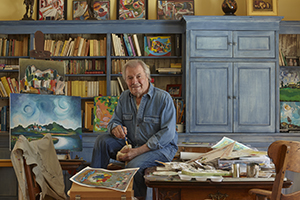 Listening to Jacques reminisce about the past and talk about his busy schedule today we asked him if he has time for a hobby. He said that painting has been and continued to be his avocation. Examples of his oeuvre are on jacquespepinart.com—still life, landscape and the like in oil and acrylic. You might not be surprised at all to see that most of his subjects are—edible.
He also spends as many Sunday afternoons as possible playing the classic French game boules near his Connecticut home. With 50 other like-minded men, they spend hours rolling heavy balls (called boules in France, and bocce in Italy) toward a small target ball.
Meanwhile, back to food: Does he ever shop in a neighborhood supermarket? "Yes," he said because when he began to write cookbooks and show people how to prepare the recipes on TV, he had to imagine that people across the nation might not have access to extensive selections of imported cheeses, fresh seasonal produce and the like. He always had an imaginary grocery store in mind that could provide some semblance of what it might take for a home cook to prepare one of the recipes.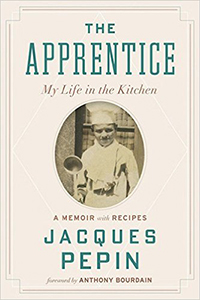 Jacques' wife, Gloria, loves to cook as well. In fact, she had cooked beans and rice for him the night before—comfort food after the trip back from Denmark. That evening, he would prepare fish for their dinner. It was Gloria who broadened his French-based food horizons. Born in New York City, Gloria's mother was from Puerto Rico and her father was born in Cuba. Jacques began to add such Latino staples as rice, beans, chili peppers and cilantro to his repertoire—backed up by the finest French technique, of course.
And so it goes. From grandparents and parents in France who helped him begin his food journey, to his daughter Claudine and her husband Chef Rolland Wesen and their daughter Shorey, the food chain is unbroken. It's not every daughter who can say she was taught how to cook by her father—on TV, via the 1995 PBS series Cooking With Claudine. Granddaughter Shoney, at 12, has also appeared alongside her grandfather in what he has said will be his final TV series Jacques Pepin: Heart & Soul.
So, maybe instead of calling Jacques Pépin a French chef, we should just say he's a man who was born in France, who has lived in America for nearly 60 years and has helped teach the world how to cook—really well.
Yes, the good life indeed!
---
Clint Brownfield is a New York City-based freelance travel and food journalist who writes for major newspapers, magazines and regularly appears on network television and radio shows.