WINE TRAILS OF THE HUDSON VALLEY

By Jeff and Stephanie Sylva • Photos Courtesy of Shawangunk Wine Trail
With a crisp chill in the air and autumn leaves surrounding your every step, it's a perfect day for a drive along country roads and valleys of vineyards. Could this be Napa? Think again. It's the little known 80-mile-long trail called the Shawangunk Wine Trail (SWT). Comprised of a collection of wineries it's about an hour's drive from the city and located between the magnificent Shawangunk Mountains and the Hudson River in Ulster, Sullivan, and Orange Counties. The collective of 15 wineries offers visitors tastes of their well-crafted wines and some creative, enjoyable special events.
One of SWT's founding members, Richard Eldridge, believes that a wine trail is best established if it can focus on a particular geographic area (like the Finger Lakes in New York or Napa Valley in California). Affectionately known as "The Gunks," the Shawangunk Mountains are a ridge of bedrock extending from the northernmost point of New Jersey to the Catskill Mountains.
---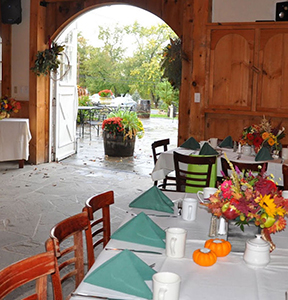 FIFTEEN AND GROWING
About 26 years ago, five individual wineries in the New Paltz area saw more impact for themselves as a "collective." Eldridge explained that organizing some special events "as a group gave these wineries a better chance to attract visitors and introduce them to wines of the Hudson River Region." Building on the early success of this small group, The Shawangunk Wine Trail now boasts 15 unique wineries, each following the tradition of fine winemaking established by the early French Huguenot settlers who brought their winemaking expertise to the area well over 300 years ago.
A visit to any of these wineries is a great way to enjoy the beautiful scenery of "The Gunks" and the Hudson River Valley and be introduced to some of the fine wines that the region's winemakers have to offer. But an even better way to experience the wines of the wineries of the SWT is to enjoy one of the Wine Trail's events. An excellent way to jump-start your holiday spirit is to spend a day or a weekend touring the Shawangunk Wine Trail for its "Wreath Fineries at the Wineries." This year the weekends of November 18th-19th, December 2nd-3rd/9th-10th, will showcase the wineries in a festive way. Visitors are asked to select a date along with any one of the wineries as a starting point. There you will receive a souvenir wine glass, a grapevine wreath, and a Shawangunk Wine Trail ornament. Appetizers are available at all the wineries as you continue to visit along the way. Tickets, sold in advance, are available for a Saturday, Sunday, or a two-day tour. Be warned: They run out fast.
Also, there are special events held throughout the year and are just as festive. Another option is to purchase the Hudson Valley Passport which allows you to visit the wineries at your pace. Valid April through August, the Passport is an excellent warm weather adventure and should be put on your itinerary for next year. Also available is the Shawangunk Wine Trail Season Pass which provides access to all events with a 25 percent discount.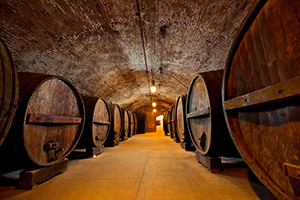 VARIETY IS THE SPICE OF LIFE
Travelers on the Shawangunk Wine Trail will find wineries offering many varietals. A recurring theme at some wineries is history, such as Brotherhood Winery in Washingtonville, which boasts the distinction of being America's oldest winery. Adair Vineyards in New Paltz is located in a 200-year-old plus National Historic dairy barn. Benmarl Winery in Marlboro lays claim to the oldest vineyard in America. Stoutridge Vineyard in Marlboro was built on the historical foundations of a turn of the century winery and prohibition era distillery. Brunel & Rafael Winery, also in Marlboro, houses its tasting room in a century old home. Palaia Vineyards & Winery in Highland Mills utilizes a 200-year-old barn for its tasting room/gift shop.
A good number of the wineries also feature entertainment on weekends including Applewood Winery and Clearview Vineyard, both located in Warwick. Baldwin Vineyards in Pine Bush presents live music during its Strawberry, Chocolate & Wine Festivals. Picking up on the micro-distilling trend sweeping the country, a few of the wineries distill spirits, such as Demarest Hill Winery & Distillery, Warwick Valley Winery & Distillery, and Applewood, all located in Warwick. In addition to wine and spirits, some of the wineries produce hard cider. Glorie Farm Winery in Marlboro offers a hard cider crafted from its estate-grown apples.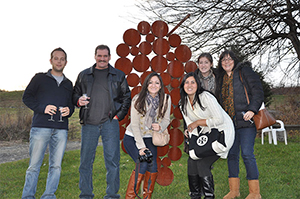 You'll notice after a short while that many of the wineries are family-owned and operated, such as Brimstone Hill Vineyard & Winery in Pine Bush, Whitecliff Vineyard in Gardiner, and Robibero Winery in New Paltz. Brimstone Hill's owner/winemaker Richard Eldridge, together with his wife, started producing wines in 1980 and is often on hand to talk with customers about the wines his family produces in the French tradition. The Robibero family's winery, which was established in 2003, and Michael Migliore and Yancey Stanforth-Migliore's Whitecliff Winery, which has been crafting fine wines for well over 30 years, are all perfect examples of following ones' dream.
The individual wineries of the Shawangunk Wine Trail are as diverse as the wines themselves with many offering  spectacular vistas. All the wineries provide a friendly welcome and an enjoyable, informative tasting experience designed to introduce visitors to the unique wines of the Hudson River Region.
For more information on the wine trail, wineries, accommodations, restaurants, and attractions call 845-256-8456 or visit GunksWine.com