POSTCARD FROM NEW ORLEANS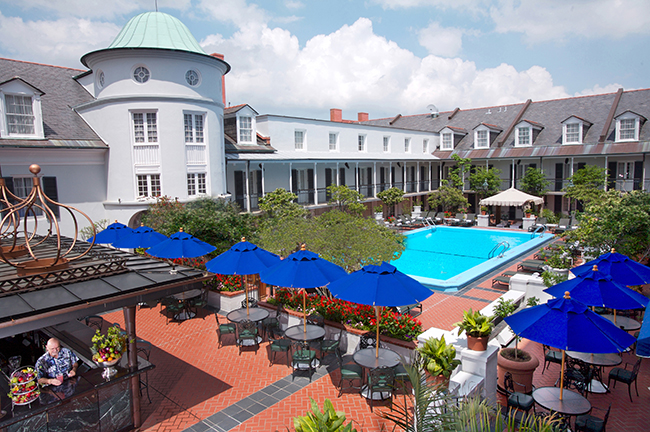 By Patricia Canole
The joy of Dixieland jazz in the French Quarter, the spicy aroma of Cajun fare, the sweet aroma of sugar-coated beignets--what's not to love about New Orleans? Whether you call it the Big Easy, NOLA or Crescent City, this iconic piece of Americana on the mighty Mississippi is the place to enjoy—again and again.
---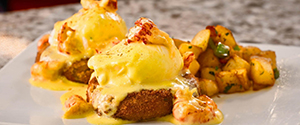 COLLECTING MEMORIES
Start your day with a leisurely breakfast in bed: hot beignets and coffee will set the pace. Then explore the French Quarter with its Old World shops and buildings. This section of town embodies romance, with its walled courtyards, narrow streets, tiny museums, and shops. Surprise waits around every corner and jazz spills out of every door. You'll notice that distinctive Creole architecture combines lacy Spanish and elegant French elements, reflecting the mix of culture that gives this city its continental flair. For a mid-day break, head to Tujague's (pronounced Two Jacks, tujaguesrestaurant.com), where things are still done precisely as they were 160 years ago—only authentic Creole entrees are served and made to perfection with strict attention to detail. Afterward, stroll over to Jackson Square, where portrait artists, jazz bands, tap dancers, and fire-eaters can be seen—all in the shadow of St. Louis Cathedral, the nation's oldest active church.
---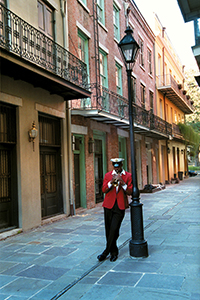 LIVELY BARS
Once the sun sets, it's time to party. For 65 years, the revolving Carousel Bar & Lounge in the Hotel Monteleone (hotelmonteleone.com) has been one of the city's most popular gathering spots. Immortalized by Ernest Hemingway in his writings, it remains a part of New Orleans history. The bar completes one revolution every 15 minutes. Don't leave without trying their signature Vieux Carre Cocktail... Built in 1723, Lafitte's Blacksmith Shop Bar (lafittesblacksmithshop.com), a Bourbon Street watering hole claims to be the oldest in the country. Named for the notorious pirate, Jean Lafitte, the bar serves up a friendly atmosphere, surprisingly strong libations and entertainment every night. The famous Voodoo Daiquiri is addictive.
---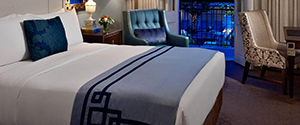 PERFECT STAY
Lush foliage-filled courtyards and plush décor have created a loyal following at the award-winning Royal Sonesta New Orleans (sonesta.com). Centered in the heart of the French Quarter's Bourbon Street, spacious rooms greet guests featuring elegant furnishings and private wrought-iron lace balconies. You'll especially love The R-Club on the 7th level with its luxurious suites and private elevators, concierge, club lounge and exceptional amenities. Because of its prime location on Bourbon Street, the hotel is often referred to as the "Jewel of the French Quarter" and offers great choices in dining and entertainment. At the street-side Desire Oyster Bar order some traditional favorites like Jambalaya and Po-Boys. If you're in the mood for imaginative cuisine, reserve a table at Restaurant R'evolution for its classic Cajun and Creole menu. Not to be missed is live jazz nightly at Irvin Mayfield's Jazz Playhouse with its emerging young artists and contemporary music legends. The jazz club is a great spot to catch a late night bite.
---