INSTRATA NoMAD
By Daniel J. Bollinger
Welcome to Instrata NoMad, a 50 story high-rise building with 392 apartments located at 10 East 29th Street in the heart of NoMad (North of Madison Square Park). Bordering some of the city's great areas including Union Square, Gramercy Park, Midtown, and Park Avenue South, you'll find living here to be exceptional. Nearby Blue Smoke and Jazz Standard, Sarabeths, Eataly and the famed Pete's Tavern in Gramercy Park are all tempting features.
---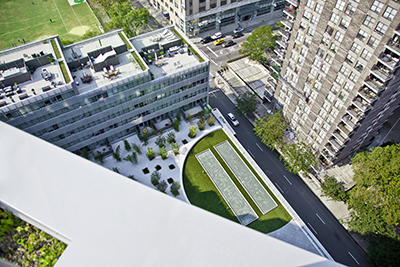 The Instrata Brand
The Instrata portfolio includes five buildings located throughout Manhattan, Brooklyn and beyond. The locations include Brooklyn Heights, Park Slope, Gramercy, Hell's Kitchen, Los Angeles, Dallas and Washington DC. When you rent in an Instrata building you are not merely a tenant. You are actually joining a close-knit community within the Instrata brand. Along with the beautiful studio-to-three bedroom rentals offered, there are the multitude of perks and amenities that are second to none. The icing on the cake that ties the whole package together is the management company. Senior Vice President Ann Eber of Adellco Mangement LLC led me on a great tour and showed me not only how unique the Instrata brand is but also why Adellco is an exceptional management company.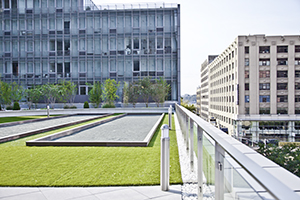 ENDLESS VIEWS
The apartments are quite simply beautiful. When a rental not only has stainless steel appliances but a five-burner Bertazzoni stove you know the sponsors care. Combine that with granite countertops, Kohler fixtures, marble bathrooms, and hardwood floors and the Instrata Luxury Lifestyle Brand starts to define itself. Large closets and private balconies seal the deal. As an example, one three bedroom boasts a huge kitchen with open dining room—so big you can fit a banquet table to host a feast! The views are amazing. From northern facing apartments there is a crystal clear view of the Empire State Building.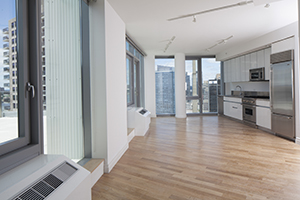 SUPERB SERVICES
It's not just the very well - designed spacious apartments and stunning views of the city that make Instrata a notch above all others - it's the management. All the Adellco staff is friendly and personable from the concierge to the building manager to the janitorial staff. The Adellco service is superb. We viewed this first hand when we asked Ann Eber and her staff if it was possible to get a tour of the currently under construction Gramercy location. A taxi ride and 15 minutes later, we were at the Gramercy location viewing a split-level two bedroom with top-notch appliances as well as a very large outdoor deck. Instrata offers concierge services,fitness center with yoga studio, pet spa. bike storage and so much more.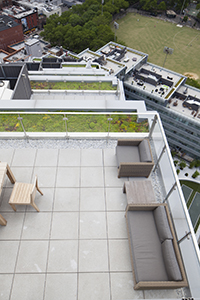 PERKS & MORE
Instrata goes far beyond with a "plus": They not only have a yoga studio but they offer complimentary yoga classes. Not only do they have a concierge but they have Abigail Michaels Concierge which hosts four-to-five events per year outside of the building for residents; this concierge can also secure tables at the restaurant of your choice. Instrata also hosts in-house rooftop social events in all of their buildings affording unbeatable views of the city. NoMad's has a glass enclosed residents' rooftop lounge with wraparound roof deck and barbecue grills. Each building personalizes their events: The Brooklyn locations have more family-oriented events and their Hell's Kitchen location has more cocktail inspired events. They also have Instacart, a service that receives your groceries and unpacks perishables in the fridge/freezer. At some select properties, the Instrata Conceirge Club Card is offered which provides members with saving and discounts to more than 100 top restaurants and boutiques. Residents also receive access to ClubCorp's exclusive portfolio of more than a hundred private clubs across the country. In addition, their Ritz-Carlton Hotel Partnership offers residents special courtesies worldwide at all Ritz-Carlton Hotels. If you're a frequent traveler, these perks are invaluable. And the one perk that is unbelievable is their Flexible Lease Transfer. A current resident can easily move anywhere within the Instrata portfolio with only 30 days notice. Whether you are moving around the city or to Los Angeles, Dallas, or Washington DC—Instrata just saved you from worrying about breaking a lease or dealing with subletting.
It's not hard to realize why Instrata has a high retention rate with their residences. Great apartments, an attentive management staff, and a laundry list of perks and privileges that come with being a member of the Instrata Luxury Lifestyle Brand really sets these residences apart from just "renting an apartment". For more details on the perks & privileges, listings, and the whole portfolio visit Instratany.com.