THE FINE ART OF PHOTOGRAPHY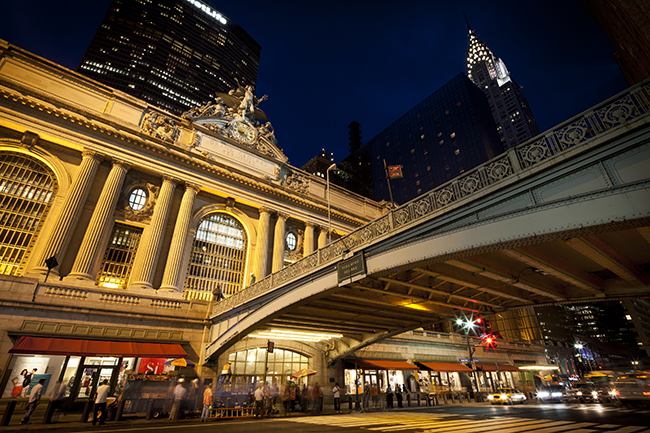 By James Maher
In the book, The Death and Life of Great American Cities, Jane Jacobs explained the aura of street life in her iconic quote about New York City: "Its essence is intricacy of sidewalk use, bringing with it a constant succession of eyes. This order is all composed of movement and change, and although it is life, not art, we may fancifully call it the art form of the city. The ballet of the good city sidewalk never repeats itself from place to place, and in any one place is always replete with new improvisations."
This quote always stuck with me in my journey as a photographer. New York may be one of the most photographed cities in the world, and yet there are always new improvisations to come across and capture. Whether we like it or not, the city always changes, and there is life interacting in every corner we might think to look in.
---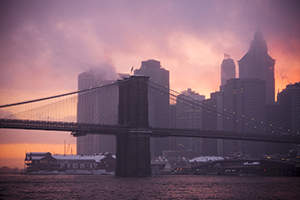 LOOKING TO THE SKY
I started with the buildings. Almost everyone starts with the architecture when you first get a camera. To look up at the skyline in New York is a unique experience, no matter how long you have lived here. The grand old architecture grounds the city and creates a sense of history, stability, and awe, while the new glass and steel buildings sprout like weeds in an unstoppable gallop towards the future.
Over time, my focus shifted downwards as I realized what was even more impressive than the skyline was what was happening on the sidewalks, street corners, and subway station. The people of New York are what makes the city special. People from different cultures, backgrounds, and income brackets all interact, co-exist and balance each other. As Louis C.K. said, "In New York, everyone is so mixed together that there's less of a feeling of class here. Everybody is dealing with the same...everybody is on the subway elbow-to-elbow."
This is what I have been trying to photograph in New York for the past 15 years. My aim is to show the feelings and special moments that you notice while walking and interacting with the city—the good, the bad, the looking up, the looking down. Over the years, I have worked as a commercial photographer, run a portrait photography business, sold and licensed my photography to collectors and companies all over the world, collaborated with the New York Daily News, and wrote and taught about photography and the city. However, when you boil it all down, all of this still comes back to my love for getting lost with a camera.
---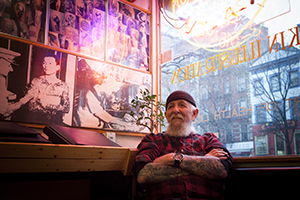 A STORY EVERYWHERE
The most personally rewarding project so far has been a four-year-running interview and portrait series with longtime residents of the East Village neighborhood of Manhattan, run weekly on the East Village news website.
What has become most clear throughout all of this is that while the camera is just a tool to learn, like a pen to a writer or an instrument to a musician, its real power is that it acts as a key to new experiences. It gives me an excuse to go out and explore in the worst weather, at night, or on the coldest days when nobody else would think to venture outside. It gives me access to interesting people and some of the fascinating life stories in New York. It made me curious about the city and its history, and it grew a lifelong love for reading and history. It turned me into a writer. I have explored ten stories below under Grand Central Terminal and been in $20 million apartments on Park Avenue, and it was all due to the camera around my neck. Most people don't seem to question you when you have a camera around your neck; they let you be.
---
SO YOU WANT TO BE A PHOTOGRAPHER
I was asked to give some tips on how to capture good photographs. There are the technical tips, which I'm going to avoid writing about here. I promise they are not all that hard to learn, and I think the most important photography tips go beyond the technical.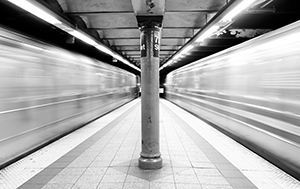 Get a small camera. Forget the large tank-like SLRs, and stick to the small mirrorless, micro-4/3rds, or old film cameras. I highly suggest the Fuji brand for small cameras (I use the Fuji X100 line), but Olympus and Sony are good as well. You want something that will entice you to throw it around your neck and take it with you on a daily basis, and small is the key here. Next get a good pair of walking shoes.
Take the camera with you frequently and get lost. Take a half day or just leave the house 20 minutes early and take photographs along your usual route. Shoot within your daily life. Consistency is the key. Be spontaneous with the shutter button and let go of the fear of taking bad photographs. 99 out of 100 photos that I take are not great. You do not need to worry about finding the best locations. Those will come, but over time you will start to find great photographs wherever you go. They will pop out at you suddenly and unexpectedly in the most random of places. Photograph for yourself. Not everyone has to love it or understand it, as long as you do. Get a good umbrella and go out in the rain. Go out at sunset, sunrise, or at night. Pay attention to the light. Purchase a few photography books to inspire you at night. Find a good printer and print your photographs. Make a few large prints for your walls but also create a bunch of 5x7s and put them in a shoebox, or purchase a large corkboard and tacks, fill every inch of it, and constantly change it. Give away your favorite photographs to friends and family.
A beautiful print is the ultimate goal of any photographer, but when you start to enjoy the process of photographing even more than the resulting photographs is when you will start to become a true photographer. The enjoyment of the process is what fuels the creation of those prints, and there is always a new photograph around the corner.
---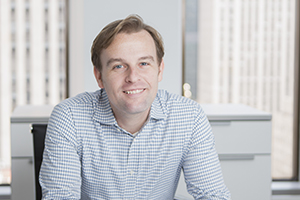 James Maher is a fine art, street, and portrait photographer. He is also a lifelong New Yorker and is unsure if that is a good thing or not. He is a terrible driver and cook, as most Manhattanites are, but he can walk for very long distances and is an excellent navigator. He's authored the e-books, The Essentials of Street Photography and Street Photography Conversations and loves to write about photography and the history and architecture of New York. Visit jamesmaherphotography.com.