MAKING A DIFFERENCE ONE CHILD AT A TIME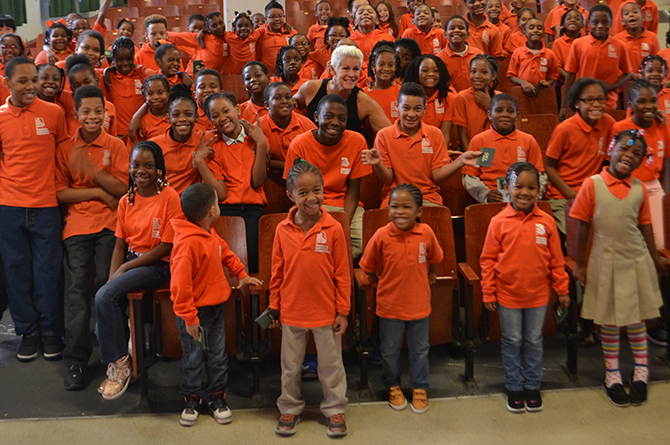 By Diane Terman
As a leading broker at Halstead Property's Park Avenue office and a multi-time winner of the broker of the year, Louise Phillips Forbes is a very busy woman. Active in New York's real estate market since the late 1980s, her career sales exceed $2.5 billion. She has been the director of sales for more than 30 development projects to date and is credited with establishing residential neighborhoods in areas where they previously did not exist. Louise is frequently quoted in articles for The New York Times, Wall Street Journal, The Real Deal, and many other notable publications. In fact, for the past few years, she has been named in the Real Trends/Wall Street Journal's "Real Estate Top 200," which recognizes elite real estate brokers and teams throughout the country. Additionally, she is a wife and mother of two tween boys, an avid surfer and fitness enthusiast.
Still, despite her jam-packed schedule, she makes time to give back—serving on the advisory board for The Bronx Museum of the Arts and working with a cause most dear to her heart—Change For Kids.
---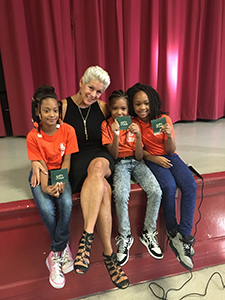 Louise Phillips Forbes embraces
a group of Summer Reading Challenge participants from The Brooklyn Landmark Elementary School, a school supported by Change for Kids -- Photo Credit: Change for Kids
THE EARLY YEARS
Louise always had a great appreciation for the arts. After struggling in school as a child, she was later diagnosed with dyslexia as a teen and used the arts as a way to cope in an environment that tends to reward students flourishing in STEM subjects, while placing less value on those who are capable of interpretive dance or painting a grand work of art. While recent studies have shown that arts education enhances critical skills such as visual learning, decision making, and even improves reading, writing, and math skills, a lack of arts education funding still plagues, especially in low-income schools. A 2014 NYDOE study showed a major decline in funds allocated for art programs and supplies for low-income schools in New York City. Louise hopes to change that.
In 1997, Louise met Ted Madara, founder of Change for Kids—an education nonprofit that supports ten public low-income schools throughout New York City with art, creative writing, music and literacy and health programs. Her life hasn't been the same since. Louise was so inspired by Change for Kids, that she began volunteering and fundraising for the organization, and later recruited her then-soon-to-be husband, Christopher Forbes, to serve on the board of directors. Louise serves as the co-chair for many of the organization's fundraising events.
As Louise says, "Volunteering with Change for Kids isn't a change-the-world moment. It's about making a difference one child at a time, one school at a time, one community at a time, through real hands-on involvement."
This past summer, Louise was integral in an event for the charity, "Ride for Kids," which teamed Louise with celebrity trainer and SoulCycle Senior Master Instructor Stacey Griffith at SoulCycle Bridgehampton. The event, in its sixth iteration, has raised more than $100,000 for Change for Kids and brought supplies, fitness education, art, and literacy support to thousands of children.
On October 7th, Louise visited Brooklyn Landmark Elementary to present students with their rewards for completing the reading challenge she had posed before school let out for the summer. Louise offered every student in the school a gift card to Barnes and Nobles if they completed all the reading assigned to them by their teachers for the summer. For some students it was the number of books, for others—like our youngest readers—it was a few passages from specially selected texts. The idea behind the challenge was to encourage students to maintain and strengthen their literacy skills over the summer months. The summer reading challenge was Ms. Forbes' plan, and Brooklyn Landmark teachers and staff were thrilled to have her support.
This month, Louise's fundraising abilities will be in focus as Change for Kids holds its 4th Annual Super Chefs benefit at The Lighthouse at Chelsea Piers. The event features ten nationally celebrated master chefs, cooking to raise funds for 4,000 low-income New York City elementary school students. Last year's fantastic event raised more than half a million dollars and auctioned off work by photographer Debby Hymowitz, an exclusive Tiffany & Co experience, sports memorabilia and more. Chefs featured at the event include Marc Murphy of Landmarc, and judge on Food Network's Chopped; Shane McBride of Balthazar; Miguel Franco of El Original TX MX among others.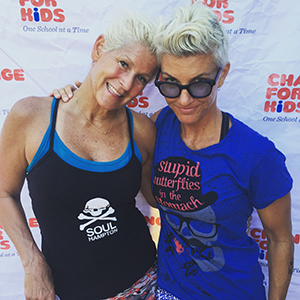 Louise Phillips Forbes and Stacey Griffith
at the Hamptons Ride for Kids to benefit Change for Kids, Summer 2015
Photo Credit: Change for Kids
STILL THE REAL ESTATE PRO
Even though her plate is certainly full with planning these events and taking care of her family, Louise is eagle-eyed and focused when it comes to work. One of the remarkable properties she is currently brokering is a $23.75 million townhouse located on Manhattan's Upper East Side. The co-exclusive listing, 63 East 82nd Street, is a six-story dream home with over 9,000 gross interior square feet in addition to a 1,360 total square foot cellar. Features include a temperature controlled wine room, an elevator servicing all floors, high ceilings, and a wide sweeping staircase, as well as outdoor space that includes a 35-foot landscaped garden with custom irrigation system. A Juliet balcony and a large terrace with open city views complete this picture.
Originally built at the turn-of-the-century, the house is fully renovated, and every inch has been masterfully conceived with the finest finishes, innovative systems, and luxurious amenities. Modern design elements balance seamlessly with old-world elegance, scale and details including pristine, decorative moldings, beautifully finished oak wood floors, pocket doors, and nine wood-burning fireplaces. With two levels of expansive formal rooms, a peaceful landscaped garden, multiple butler kitchens and a dumbwaiter, the house can comfortably accommodate entertaining on a large-scale. It is currently configured as a six bedroom but could be converted to a seven or eight-bedroom, making it perfect for large families or those with many visitors.
Few in New York City can lay claim to Louise Phillips Forbes' accomplishments and determination to give back just as hard as she works. She is proof that no one is too busy to make a positive impact on society and embodies the true spirit of New York. For more information on Louise and her and her services, visit louisphllipsforbes.com; and for Change for Kids, visit changeforkids.org.