A Hell's Kitchen Stunner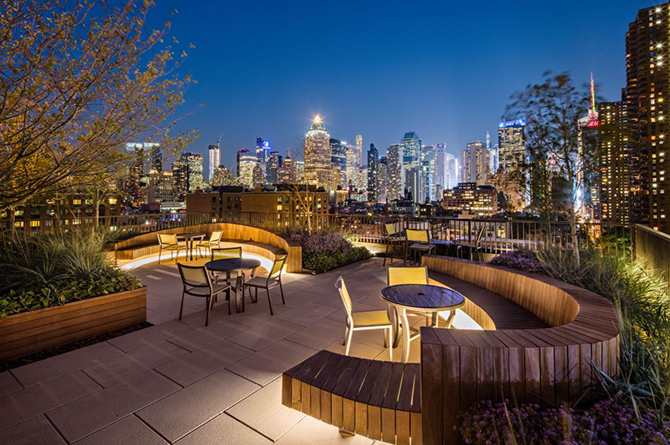 By Daniel J. Bollinger
Nestled in the heart of Hell's Kitchen is 535 West 43rd Street, a two-tower rental building, designed by CetraRuddy Architects. The building boasts studio-to-two bedrooms "plus" and a host of amenities. Hell's Kitchen is a great neighborhood filled with restaurants and stylish boutiques at the footlights of Broadway's finest shows located on the west side of Manhattan next to Times Square on the east and the park-lined Hudson River on the west.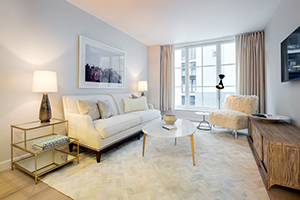 SPACIOUS LIVING
The apartments are very well designed. They all exhibit condo-sized layouts: Open kitchen and living rooms with gallery style designs and big windows with plenty of light make for very spacious apartments. The bathrooms are also larger than normal (even the studios have large bathrooms). All units come with a Bosch washer/dryer. Closets are built-out, and all units have walk-in closets (even the studios). Some of the one and two bedrooms feature terraces; it's the two bedrooms "plus" which offer the best and biggest ones. This address has a 'plus' designation on some of their apartments. The 'plus' indicates that there is an additional alcove in the apartment that can be used as a workspace, study, or to host a guest on occasion. The alcove also features an additional walk-in closet. The apartments have stainless steel Blomberg and GE appliances. One of the design details that I like in these apartments is that the kitchens have a stainless steel farmers' sink. It matches very well with their integrated cabinetry and stainless steel appliances.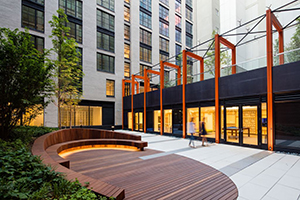 STAND OUT AMENITIES
The amenities at 535W43 are what turn this apartment building into a lifestyle choice. Duplex lobby with Wi-Fi, a 14-seat screening room (upon reservation), larger than an average gym with free weights, and duplex outdoor green space courtyards featuring grounds by renowned landscape architecture firm HMWhite are just some of their amenities that stand out. They also have the more common pet spa, children's playroom (indoor/outdoor), industrial laundry room, and bike storage—with direct access to the street. Their game room is a step above as well with not only ping pong and a billiards table but a full kitchen (most amenities spaces have a caterer's kitchen). To match the full kitchen is a banquet-sized table that can accommodate 20 people for a sit-down dinner. Renting at 535W43 gives you the opportunity to host large dinner parties. The rooftop decks are gorgeous; well landscaped with lounge chairs and views of the river. They have BBQ grills and an outdoor shower to rinse off in the summer heat.
You'll soon agree that 535W43 is a great apartment complex with many amenities. At the time of this writing, they are offering a three free month concession on all new rentals and no fee which makes this very attractive for those moving in the city right now.
For more information, please visit 535w43.com.