FAINA EUROPEAN DAY SPA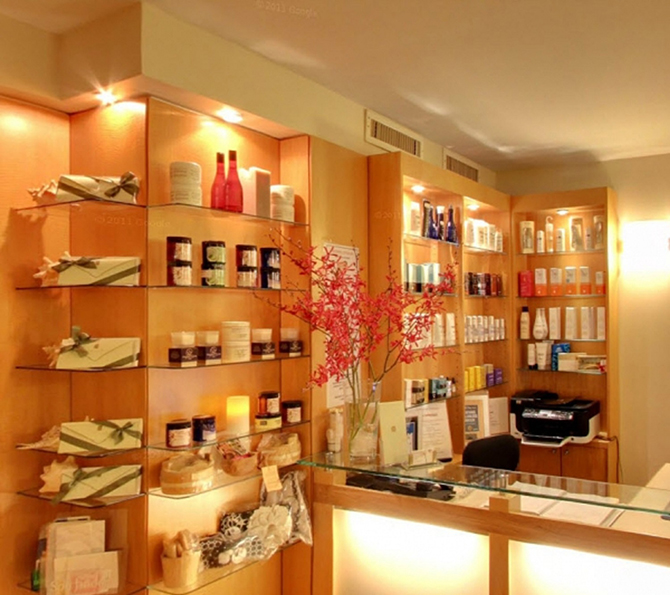 By Griffin Miller, Spa Editor
For couples looking to skyrocket their passions into the next dimension, it's wise to set your sights on Manhattan's Faina European Day Spa. Here, against a seemingly modest backdrop, awaits a garden of couple-centric delights. And during this hearts and flowers month, you might just find Valentine's Day makes the perfect occasion to test out one of Faina's many liaisons luxurious.
YOUR HEARTS DESIRE
Unlike most spas that offer one or two couples treatments max, Faina has built a reputation for catering to this romantic demographic, offering a menu of fourteen different packages dedicated to twosomes seeking a dose of transcendent down time together be it steeped in body scrubs and massages, or indulgent facials and nail treatments. In short, whatever your hearts and bodies yearn for—accompanied by "fresh cut flowers, aromatherapy candles, and soft music."
According to owner Faina Shafir, who designed her spa's treatments and packages, the idea of catering to couples began a long time ago: "I wanted it to be something special to celebrate an occasion—like a birthday or anniversary or Valentine's Day. The idea was that it would be different from other gifts. Something that would be remembered," she says, adding perspective to the millions spent on things that rarely make a lasting impression. Sharing indulgent body treatments by candlelight, on the other hand, well, that's a cherished journal entry with brag rights attached.
And should a Valentine's "Will you marry me" be eminent, Faina Spa has experience in making the moment exceptional. "We've had a few proposals here," recalls Faina, who says the most recent one was especially memorable. "There were flowers all over the treatment room and right after their massages the gentleman proposed. She was so sweet and surprised—it was touching."
Recreating some of the couples' experiences—albeit as a single participant—I surrendered to a wonderfully decadent full body scrub and massage. The scrub made up of lavender and sea salt, was exceptional—most definitely celebrity couple-worthy. My treatment guru assured me my body would be baby soft afterward and indeed while rinsing off in the steam shower, I found myself reveling in my new velvety second skin.
Shortly after that, I was escorted into a second room of flickering scented candles strategically placed inside charming box shelves. This was the setting for the kind of massage that makes the world evaporate around you. Disconnecting in this cozy haven—while being freed of the knots and kinks that (sadly) come with sitting at a computer most of the day—gave me a sense of well-being, while the aromatic oils and soothing leg massage were bliss. And then comes the sweet denouement: Champagne and chocolates.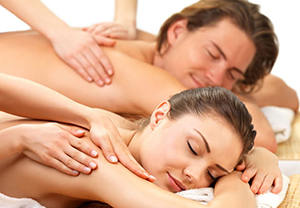 HEAD TO TOE PAMPERING
As for the most popular Valentine's Day couples packages, Faina says the 2 hour plus "Sweet Sensations for Two" tops the list. It consists of a Champagne Rose Body Scrub for Two, Steam Shower, Aromatherapy Body Massage for Two; French Manicure (for femme) and European Pedicure with Aromatherapy Foot Scrub (for homme). Still, I'm betting the "Couples Chocolate Decadence Massage" gets a serious number of takers, too!
The pleasure of sharing Valentine's Day with your one and only need not be locked into the day itself—which this year falls on a Tuesday (and may book up quickly). Weekends on either end of the Valentine spectrum are also prime time for indulging in couples packages, or you can opt for a gift certificate which allows you to set your date to make the perfect (pampered!) love connection.
Do keep in mind that while couples are high profile at Faina Spa, they are not by any means exclusive. In addition to the treatments cited in the spa's couple packages, individual services include everything from seaweed masks and body wraps to aromatherapy cellulite treatments, body and scalp massage, waxing and even Eyebrow Microblading. And FYI, the menu of men's spa services may well be the most comprehensive in the city.
For more information on Faina European Day Spa (330 West 58th St., Suite 402; 212-245-6557), visit fainaeuropeanspa.com