AMSALE ABERRA & RACHEL BROWN

Mother & Daughter On Fashion, Music & Living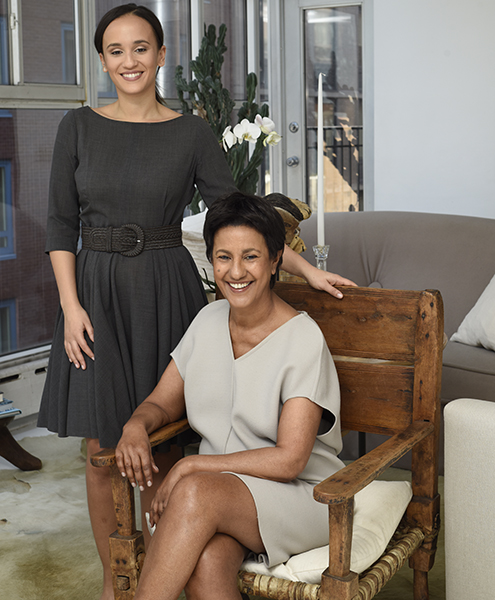 By Baruch Shemtov - Photos by Jillian Nelson
The bond between a mother and her daughter can be truly special, and for designer Amsale Aberra and her daughter singer Rachel Brown, that connection has defined and nurtured two inspiring careers.
With her lines of bridal gowns and bridesmaids' dresses now available in over twenty countries around the world, Amsale has become an international leader in bridal fashion. Born in Ethiopia, Aberra recognized a void in the market as she shopped for her own wedding dress in 1985, and set out to redefine the industry, offering a modern take on bridal design.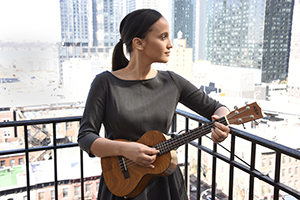 For Brown, music has always been a passion, prompting a then 10-year-old Brown to write "I want to be a singer" in her journal. Her dreams have certainly come true, with Brown performing for everyone from Beyoncé to Robert De Niro and even taking the stage with Wyclef Jean. Backed by her band, Brown's soulful and rhythmic sound has earned the singer fans around the world, with her rendition of Whitney Houston's "I Wanna Dance with Somebody" streamed over two million times.
And while mother and daughter have chosen different fields, their shared commitments to creativity and each other have nurtured two parallel creative journeys built upon the foundation of the family.
How has New York inspired you?
Amsale Aberra (AA): The people of New York inspire me. I'm always mindful of people I see on the street. What they wear and what they do. Whether I'm in a café or rushing to an appointment, anyone who has a strong sense of style, they catch my eye.
Rachel Brown (RB): There is so much going on at all times, that you can't help but be moved by the energy. Everyone seems to be up to something, and I find that collective drive to be so inspiring. I also don't think there's anywhere else in the world that I would have had access to such incredible diversity in building my band. The musicians I play with span the globe from Madagascar to Haiti, Mali to Brazil.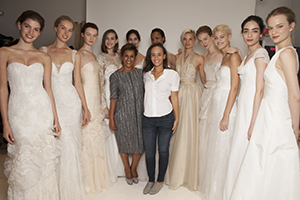 Amsale and Rachel with Amsale's Collection
Growing up, when did you each discover your calling? How did growing up in New York make that a unique process for you, Rachel?
AA: Although I made many of my own clothes as a child, I didn't dream of being a fashion designer. It was after graduating with a degree in political science that I came to know that I really wanted to be a fashion designer.
RB: I always secretly wanted to be a singer, but it wasn't until after I finished high school that I actually took the first steps to turn that dream into a reality by buying a guitar and discovering songwriting. From that moment on, I was hooked. Moving back to New York after college, New York was the perfect place to be. There was no shortage of open mics or music venues to get my feet wet.
How did you nurture Rachel's talent, Amsale?
AA: From a young age I could see that Rachel was creative by trying different things—painting, sculpture, photography, silk screening, knitting, even re-designing clothing. Although it might have seemed that she was unfocused, I believed it was OK for her to keep experimenting by trying different thing, so I encouraged her. Finally, she settled on music.
How have you supported each other's creative processes?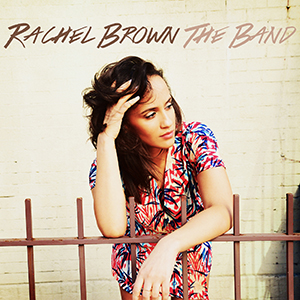 Rachel's most recent album: The Band
AA: Well I don't know much about music, so the best way I can support that is to stay out of the way. I just give her encouragement.
RB: My mom has never doubted me and always given me tremendous support. I'm pretty sure she's my biggest fan! As far as her work—I've never missed a single fashion show (I always block the dates out at least a year in advance so I can't be booked for shows!) and there hasn't been a single design she's made that I haven't been amazed by. She's a genius.
Have you inspired each other?
AA: Rachel's uncompromising commitment to her work, and her willingness to immerse herself in all the creative elements of her brand, not just songwriting and performing, but conceiving and editing her videos, art directing her album covers, and actively programming the events she performs inspires me.
RB: Growing up with a mother who pursued a creative passion and turned it into a thriving business is incredibly inspiring. Because of her example, I never had to think twice about pursuing my dreams—it's just what you do.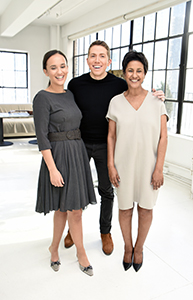 Rachel Brown, Baruch Shemtov, Amsale Aberra
What's been the most rewarding part of being a designer and musician in this city?
AA: I love the process of creating--developing a vision and watching it come to life.
RB: There is music everywhere. Any night of the week you can pop into a venue, see an amazing band, and get inspired—both by the musicians on stage and by the audience who came to be entertained. While it can get overwhelming to know that there is so much out there, it's a great feeling to know that you are part of that world.
What's next for each of you?
AA: I keep myself pretty busy designing five collections. Just getting that done each season is enough!
RB: I haven't released new material since The Band—EP in 2015, so right now I'm jumping into my songbook and writing as much as I can so that I can put out some new music!