SOMETHING FOR EVERYONE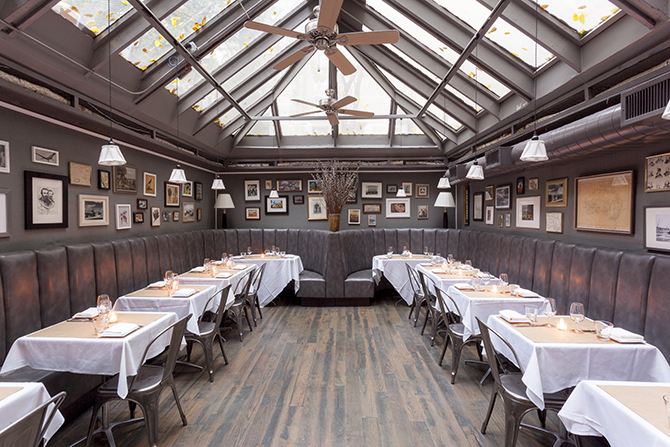 By Patricia Canole
In just a few years Burke & Wills has staked its claim as one of the most popular restaurants on the Upper West Side—and has become well known for its first-class combination of seasonal cuisine and original, artisanal cocktails.
Australian expats, Tim Harris and partner Matilda Boland, offer several experiences under one roof: a casual bar with an excellent snack menu; a swanky, exclusive cocktail lounge, The Manhattan Cricket Club, on the second floor and the elegant; and a comfortable dining room that one can experience the best they have to offer.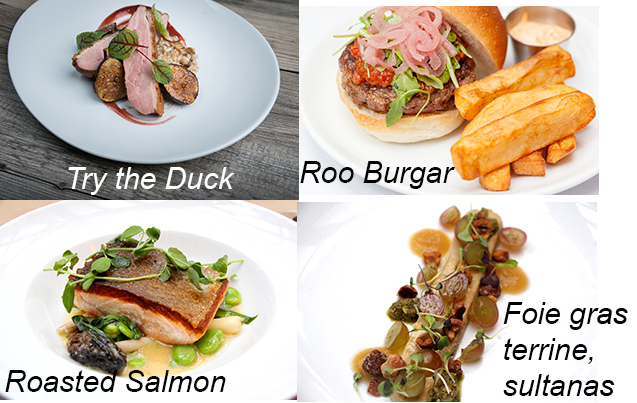 FRESH & FANTASTIC
Executive Chef Rodrigo Nogueira, a graduate of the French Culinary Institute has created a menu that is fresh, bright, and vibrant for the season. In the front room, bar snacks include soft and creamy taleggio cheese drizzled with honey and topped with walnuts, crispy crab beignet accompanied by Japanese mayonnaise and bonito flakes, creamy textured salt cod croquettes with piquant harissa dip, or vegetarian risotto fritters with tomato jam, or delicious and restorative bone marrow with grilled scallions.
In the main dining room, an ideal meal may begin with tastes from the raw bar with Littleneck clams, shrimp cocktail, Jonah crab claw by the piece or by the platter and small plates like cured Arctic char, Meyer lemon puree and radishes; and perfectly seared scallops with smoked tomato. The large plates are just as spectacular: Braised Pork Belly with faro, Fresno jam and a fried egg, the Roasted Scallops with water chestnut, bell pepper and coconut broth, and the tender Roasted Fillet with short rib, bone marrow and sun chokes. And of course there is the popular 'Roo Burger—a kangaroo meat patty topped with house-made tomato jam (a recipe from owner and Aussie expat Tim Harris' grandmother), arugula, pickled onions and thick-cut triple fried chips with harissa aioli. Don't pass up the signature Australian lamb rack. Desserts include Affogato (Kahlua ice cream doused with Kobrick's dark-roasted espresso atop an icebox brownie) and Warmed Chocolate Cake with berries are available to sweeten your day (or night).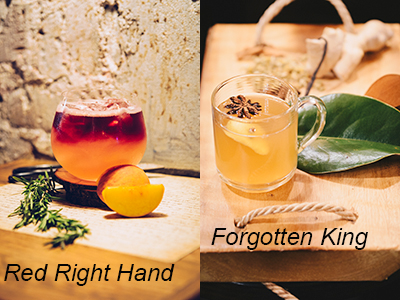 CREATIVE LIBATIONS
The current cocktail list takes inspiration from Southeast Asia with flavors such as kaffir lime, Thai chili, lychee, and lemongrass. The creative cocktails were developed by owner Tim Harris in collaboration with renowned mixologist Greg Seider (Summit Bar, Le Bernardin, The Mercer Kitchen). Each cocktail is named for an iconic Aussie rock song and has an Instagram linked music video to go with it. For instance, "Before too Long" combines Zu Bison Grass Vodka with lychee, lime and ginger beer over shaved ice. Tim has also curated an expansive selection of Australian wines to pair with the seasonal fare.
Hidden behind an upholstered door is The Manhattan Cricket Club, located upstairs in an apartment restored to its original aesthetic. The décor includes a wood-paneled living room and library with a gold brocade wallpaper, leather sofas, and all the comforts of home. Recent additions to the club include a Calvisius Caviar program, featuring servings of classic osetra caviar that may be paired with half bottles Champagne. A private club that is open to the public, the Manhattan Cricket Club offers exclusivity without snobbery. When space permits, all are welcome. However, membership does have its privileges. Priority seating with guests, and access to member-only events, gatherings and tastings, private liquor lockers, the opportunity to book a room or the entire apartment for special functions, and private menus with advanced ordering. For more information on how to join, visit mccnewyork.com.
The restaurant is open seven days a week for cocktails, dinner, late night dining, weekend brunch, and lunch.
For more information on Burke & Wills (226 West 79th Street, between Broadway and Amsterdam), visit burkeandwillsny.com.
MANHATTAN CRICKET CLUB RECIPE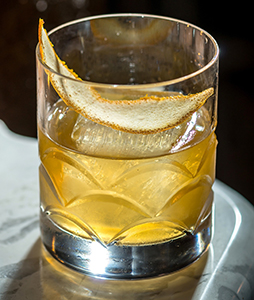 Smoked Cinnamon Old Fashioned
2 dashes orange bitters (Reagan's, Fee Brothers or Angostura)
2 dashes smoked cinnamon tincture (recipe below)
1/4 oz. agave syrup (50/50 light agave nectar and water)
2 oz. High West Double Rye
Smoked Cinnamon Tincture
Place 1 Tbsp. of smoked cinnamon powder and 1 cinnamon stick in a mason jar. Pour in 1 cup of high proof neutral spirit such as a high proof vodka (100 plus proof). Agitate and sit for 24-48 hours for best results. The higher the proof the quicker the process. Strain through a fine strainer into a dasher bottle (can use vinegar dashers or a used bitter bottle, or buy specialty bottles online at barsupplies.com) Will last up to a year if stored air tight.
Directions
Add all ingredients to a mixing glass. Top with ice and stir approximately 50 times. Strain over one giant ice cube in a double-old fashioned glass and garnish with a large piece of orange peel (trying not to get the sour white part).