THE WONDERS OF LAKE AUSTIN SPA RESORT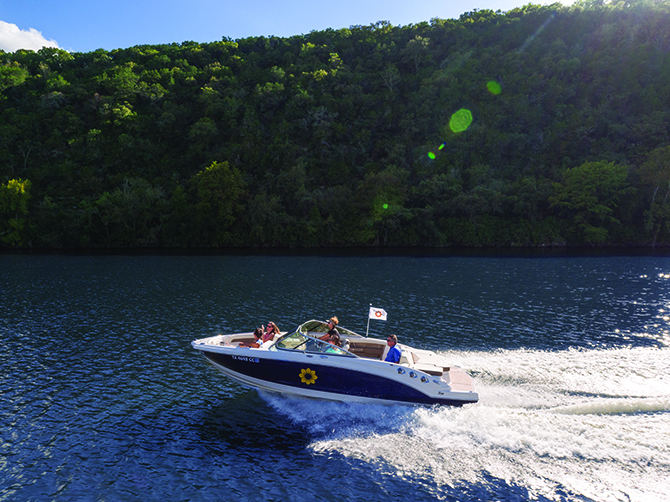 By Karen Feld
Walking on water—that's the surreal feeling I had at the Lake Austin Spa Resort in the Texas Hill Country. I arrived late evening to a welcoming, delicious picnic meal—a hint of what was to come! My cabin, one of 40, had a private fountain garden in the rear and a terrace facing the lake. Once I opened the bath salts, the fresh lavender aroma filled the comfy room. The soaking tub faced a lush garden outside and fresh flowers inside, perfect for a tranquil night's sleep.
Austin has often been called America's favorite city with its vibrant music and downtown renewal. Like many other guests I was so relaxed at the world class spa resort that once there, I didn't want to leave—not even for a 30-minute car ride (or water taxi) to check out the downtown music scene. There's something about the serenity of a lake, the ripple effect, and ions—in this case, the 19-mile long river—that adds another dimension to spa life, wellness and healing.
START THE DAY RIGHT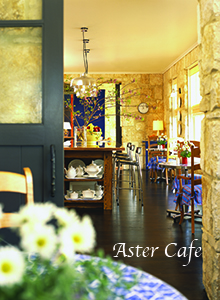 Although not a breakfast person, I couldn't resist the avocado toast with crisp bacon and juicy tomato topped with a sunny side up egg in the lakeside Astor Café in the morning. I learned, too, that it was Michael McAdams and William Bucks who purchased the neglected 19-acre property and transformed it into a destination luxury spa and wellness retreat. That was twenty years ago and today it continues to provide excellence in health and wellness. The activity schedule includes not only water activities but also tarot classes, drumming for full body strength, hoop dancing, Pilates, floating meditation or acoustic guitar meditation: Self-improvement in all areas of life for those of us open to learning and unplugging. As difficult as it may be, leave your digital devices at the door. You'll be relieved you did. You can do as much—or as little—as you wish. Chill in a hammock lakeside, embark on a mindful hike or work with an individual trainer.
After a morning yoga class in the tree house, I felt a call to the lake. Here, during a river cruise, Captain Chuck pointed out Blue Herons nesting in pecan trees along the shoreline during a river cruise. One side of the water is a nature preserve and the other dotted with handsome limestone houses and a matching two-story boathouse and decks. Later, while peddling a hydro-bike, I watched a lone coot swimming against the lush green landscape. Also available to guests are Howie leg-powered stand-up pedal boards, stand-up paddle boards, and kayaks. Don't miss this opportunity to walk on water.
HEALTHY INSIDE OUT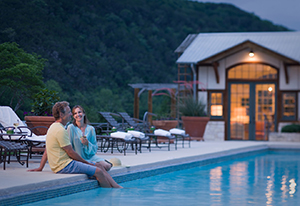 Hunger pangs are quickly satisfied: Fresh fruit, smoothies, and homemade frozen yogurt are available anytime—banana cream became a favorite. Enjoy lunch in your robe on the patio by the spa or in the main restaurant, which has the intimate feel of a friend's lake house. Of course, calorie counts are listed, after all this is a spa resort. Executive Chef Stefane Beauchamp's nutritiously creative preparations would lead you to think five-star restaurant rather than a spa. The bison burger was delicious at lunch as was the locally caught redfish followed by gluten-free key lime pie at dinner. The organic produce and herbs including 45 varieties of basil are grown on the property or sourced from local purveyors. Be sure to drop in for one of the winning French chef's fun cooking classes with ample tastings.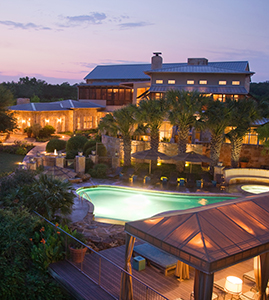 Spa treatments are amazing, and like the classes and activities, try one or all? The Neroli Blossom Sensory Massage and Texas Starry Night Massage were tempting, but I opted for the Weekend Warrior, one of the newly introduced body treatments—80 minutes of a customized deep tissue massage combined with assisted gentle range of motion exercise. My tight muscles felt like putty in the hands of the skilled therapist. Treatments focus on energy healing, organic skin care, water emersion therapies and oxygen facials. After your spa treatment, be sure to relax in the soothing Blue Room with gardens hand-painted on linen wall panels and while there experience meditation through coloring.
Lake Austin Spa has superb personalized service, activities, and treatments without "attitude" for the savvy guest. It's a healing place for body, mind, and spirit. A piece of that energy is now a part of me. After a few days of pampering, I returned home with a feeling of renewal and a package of the fresh lavender bath salts to mimic that wonderful Zen feeling as though I was immersed in the organic lavender field overlooking the lake.
For more information on Lake Austin Spa Resort, visit lakeaustin.com.