SWEET TREATS
By Gigi Stone Woods
Lately, we seem to put a lot of effort into depriving ourselves of calories, sugar, and cholesterol, so when we do indulge, we owe it to ourselves to find the treats most worthy of our sinning. I have always believed we should be the most well-informed, well- researched gluttons we can be, which is why I decided to enlist the one person I know who approaches sweets-eating with the concentration and urgency of a surgeon separating conjoined twins: my 4-year-old son, Weston.
---
DŌ, COOKIE DOUGHCONFECTIONS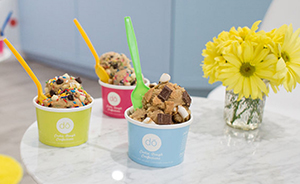 Once upon a time, lines stretched so far around the block for Cronuts, Levain cookies, and Magnolia cupcakes that people even hired strangers to wait for them. Not anymore. NYC dessert lovers aren't craving warm-from-the-oven treats. Now, they can't stop eating cookie dough. Yes, the kind your mother wouldn't let you lick out of the bowl for fear you'd contract salmonella. Kristen Tomlan, certified genius, figured out how to make cookie dough that's safe to eat, and those who try it may never be the same again. The raw dough is made with pasteurized eggs, so it can't technically make you ill unless you OD. Perhaps that's the secret message in the shop's name: "DO."
Since February, when it opened its doors, crowds have formed early and stayed late. "DO" has even had to hire "line managers" to help keep it all moving. Obviously, the most popular flavor is the classic chocolate chip but don't overlook the appropriately named "heavenly dough," which is made with sugar cookie dough, Nutella, chocolate chips, caramel bits and sea salt. Oops, I just left a pool of drool on my laptop.
For more information, visit DŌ, Cookie Dough Confections (550 LaGuardia Place; cookiedonyc.com).
---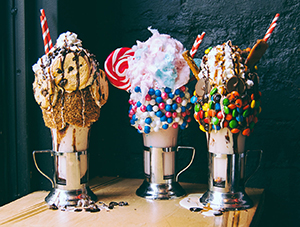 BLACK TAP
Black Tap is your wildest milkshake fantasy come true. Instagram- worthy masterpieces featuring a kitchen sink of toppings: doughnuts, slices of cake, M&Ms, cotton candy, rock candy and chocolate chip cookies. Before you go, please seek the assistance of a friend—it's not wise to try to eat one of these alone. Plus, it's nice to have someone to stand with you in line; Black Tap fans have been known to wait up to three hours for a jaunt to shake heaven.
For more information, visit Black Tap (529 Broome Street; blacktapnyc.com).
---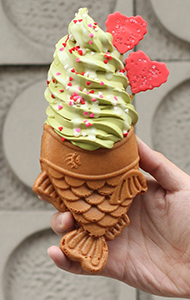 TAIYAKI NYC
When it comes to the prettiest dessert in town, Taiyaki is a clear winner. The trendiest new Japanese ice cream parlor in Chinatown serves treats that are so beautiful; you almost don't want to ruin them with your mouth. Picture this: soft-serve ice cream piled on top of an open-mouthed, Tai-fish-shaped waffle cone. The fish, a symbol of wealth and good luck in Japan, actually works. By the time you finish a cone, you feel fuller, happier, and richer.
For more information, visit Taiyaki NYC (119 Baxter Street; taiyakinyc.com).
---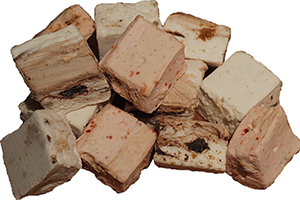 SQUISH MARSHMALLOWS
If you crave s'mores year-round and wouldn't dream of skipping marshmallows to top your hot chocolate, then you'll want to head over to the appropriately named—Squish Marshmallows. Katherine Sprung is the creator behind Squish Marshmallows who was hooked when she started making these confections in new and unique flavors. These hand-cut marshmallows come in a variety of flavors, ranging from banana pudding to birthday party to peanut butter and jelly, and, of course, the obvious s'more.
For more information, visit Squish Marshmallows (120 St. Marks Place; squishmarshmallows.com).
---
THE SWEET SHOP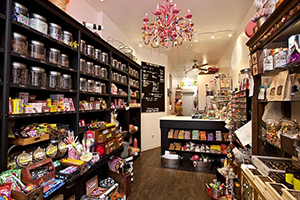 Kelly "The Candyman" Jaime, and his wife, Glyn, are the husband-and- wife candy buffs who started this shop, combining a love of sweets with all things vintage and retro. Their shop specializes in hard-to-find sweets and is filled from floor-to-ceiling with candies from around world, fun trinkets and artisanal treats. Their more than 200 candy jars include a great selection of candy necklaces, Pop Rocks, and Turkish Taffy. Bestseller: "Candyman's Silkies," handmade marshmallows drenched in your choice of buttery caramel or chocolate caramel.
Most unusual treat: cherry-flavored gummy chicken feet.
For more information, visit The Sweet Shop (404 East 73rd Street; thesweetshopnyc.com).
---
THE SWEET LIFE
This old-fashioned, family-run candy shop has occupied its Lower East Side location for 25 years. The place is filled with long-gone treats, like penny candy from apothecary jars. An even sweeter deal: giant gummy bear and chocolate made on the premises. And their mixed candy- and- nut bags make a chic hostess gift.
For more information, visit The Sweet Life (63 Hester Street; sweetlifenyc.com).
---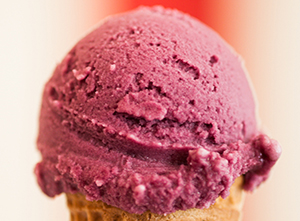 ODD FELLOWS ICE CREAM CO.
True aficionados already know that the ice cream at Odd Fellows is amazing, but it reaches a new peak when it's surrounded by a soft and sweet brioche bun. Drizzled with caramel sauce and coated with rainbow sprinkles, it's irresistible.
For more information, visit Odd Fellows Ice Cream (175 Kent Avenue; oddfellowsnyc.com).
---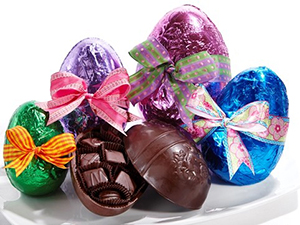 LI-LAC CHOCOLATES
Manhattan's oldest chocolate house, preserving traditions and heritage of old-school handcrafted chocolate for nearly 100 years, Li-Lac Chocolates uses original recipes and cooking methods from the 1920s. Luckily, they haven't gone the least bit stale.
For more information, visit Li-Lac Chocolates (40 Eighth Avenue; li-lacchocolates.com).
---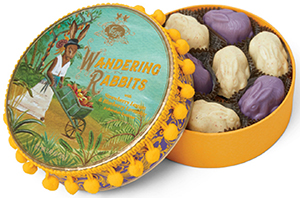 VOSGES HAUTE-CHOCOLAT
If you're truly a chocolate connoisseur and believe it to be one of the five basic, food groups, then you already know Vosges. The highly stylized and top-quality brand was founded in 1998 and has offered exotic varieties and unique flavor combinations ever since. Many of its most beloved bars were inspired by founder Katrina Markoff's global travels, including Red Fire Chocolate, made with Mexican chili and cinnamon, and Black Pear Chocolate, made with ginger and sesame seeds, not to mention the famous Mo's Dark Chocolate Bacon Bar.
For more information, visit Vosges Haute-Chocolat (132 Spring Street; vosgeschocolate.com).
---
TOP CANDY & CHOCOLATE SHOPS
Dylan's Candy Bar, with its eye-popping color displays, is a mecca for candy lovers, but a few little candy shops scattered around New York City are still worth their own pilgrimage. From the old-fashioned shops that have survived for decades to the newcomers that have spawned a million Instagrams, these stores are worth a visit whenever you're in the mood for some quaint charm and nostalgia. Think: Pixie Stix, Nerds, Ring Pops, and everything you ever found in your Halloween stash. Multiple locations, for more information, visit: dylanscandybar.com
---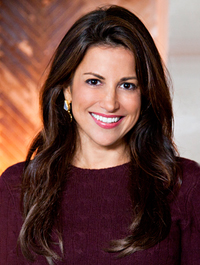 Gigi Stone Woods is an award-winning, national TV on-air host, anchor, correspondent and producer from ABC News, CBS News, NBC News and Bloomberg TV. She is currently a rotating anchor and producer of various national news shows including "Early Today" on NBC and MSNBC and appears regularly as a business expert on Fox5 NY.  She also works as an on-air media trainer, media message writer and TV consultant through her company, Stone Woods Media.
Stone Woods received her master's degree in journalism from Columbia University. She is a native New Yorker.