PAUL SHAFFER LIFE AFTER LETTERMAN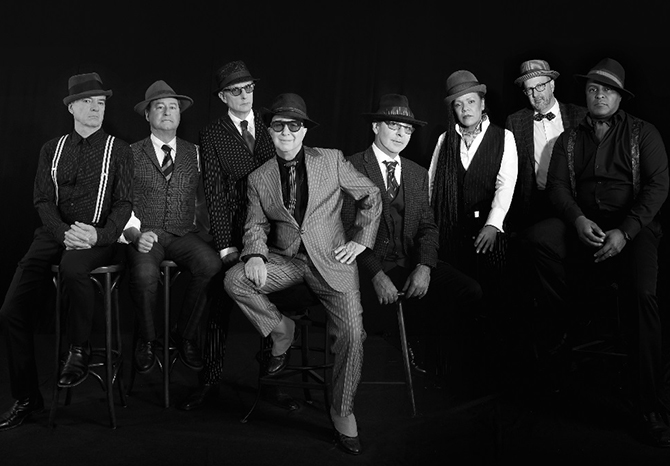 Paul Shaffer & the World's Most Dangerous Band
By Pat Collins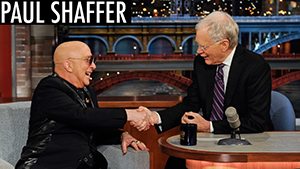 Paul Shaffer & David Letterman
For more than three decades Paul Shaffer was America's favorite late night music man leading his band on both NBC's Late Night With David Letterman and CBS' The Late Show with David Letterman. His solo album Coast To Coast brought him his first Grammy nomination. His new album Paul Shaffer and The World's Most Dangerous Band, recently released on Sire Records, features several guest stars including Bill Murray. If Mr. Murray's rendition of "Happy Street" does not put you in a good mood, nothing will. Paul and his wife, Cathy—married 27 years—have two children. I recently asked Paul, who is currently on tour with the band, about his remarkable career.
Who are some of the special guests on your new album?
We start off with the great Jamaican dance hall toaster, Shaggy.
Then we feature Dion (The Wanderer), Bill Murray (the movie star), Jenny Lewis (alt-country songstress), Darius Rucker (country star, formerly of Hootie and the Blowfish), and the incomparable Valerie Simpson (singer/writer extraordinaire).
Why was there a 25-year gap between your first album and the new one?
They liked my first album so much they asked me to do another one 25 years later!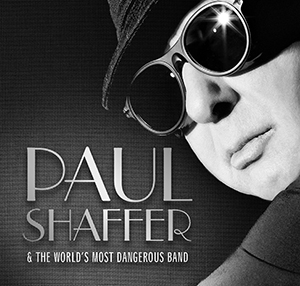 Paul Shaffer & the World's Most Dangerous Band album cover
How and when did the World's Most Dangerous Band get its name?
David Letterman called us The World's Most Dangerous Band during the early days of his show. He got the idea from the world of wrestling. The name got caught up in that whole late night wars mess, and we had to leave it behind when we changed networks with Dave, but we have now reclaimed it.
At what age did you begin taking piano lessons and were you more interested back then in playing baseball than playing the piano?
I started piano lessons at age 6, with my mother saying, "When the kid can read English, he can start reading music." I love baseball too and in fact, had a nightly game in my backyard. This lasted until I caught a high pop fly and it sprained my middle finger. That ended my baseball career.
What role did Godspell composer Stephen Schwartz play in the early years of your career?
After graduating from the University of Toronto, I was gigging around town playing bars and accompanying my friends at auditions. A couple of girlfriends auditioned for the Toronto Company of the 70's rock musical, Godspell. Stephen Schwartz, the composer, ended up hiring me to conduct the band. He also hired a cast of funny, talented kids, who remain my best friends to this day: Martin Short, Eugene Levy, Andrea Martin, Victor Garber, and the late great Gilda Radner.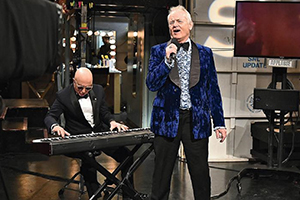 Paul Shaffer & Bill Murray
How did you become involved with Saturday Night Live?
After Godspell in Toronto had ended, Stephen Schwartz moved me to NY to work for him on Broadway in The Magic Show in 1974. Then the following year, Lorne Michaels arrived in town with a group of Canadians to create Saturday Night Live. One of his crew was Howard Shore, now an Oscar-winning movie composer, then his musical director. Howard called me to play piano in the band since I was already in town. I naturally evolved into a writer of musical material since I already was friendly with members of the cast. I became a featured actor in the fifth season.
Your friendship with David Letterman dates back to the early 1980's. How did you two meet and did you envision Late Night's continued success?
In 1982, having left SNL with the original cast, I got a call from a producer asking me to come in for a meeting with David Letterman, regarding a possible job with him. We hit it off, and he hired me as his Musical Director. I was used to long runs, having spent a year on Broadway, and five years with SNL, but certainly neither Dave nor I anticipated a 33 year run together.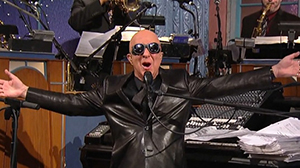 Paul Shaffer
You have worked with numerous and diverse artists including Diana Ross, Cyndi Lauper, and Cher. Describe how you and the band prepare for a recording session because no two sessions are alike.
For our album, we started by programming the formats of the songs into a computer. This way we had a fixed time source with which to play. I then consulted with my long-time arranger and trombonist, Tom "Bones" Malone, who wrote arrangements for the songs. Then we went into Electric Lady Recording Studio and, using our computer program, and Tom's charts proceeded to make the album.
What was your role in the 1999 Olympic Games?
In 1999, I was the Musical Director for the closing ceremonies of the Summer Olympic Games in Atlanta. I put together a group of stars including Gloria Estefan, Al Green, and The Pointer Sisters then gave a concert for the Olympiads, which was broadcast worldwide.
When you have the rare day off what do you do to relax?
When I am off, I try to hang out with my kids. Victoria is 24, living in the city, and Will, 18, is preparing to leave for college. Time with them is precious.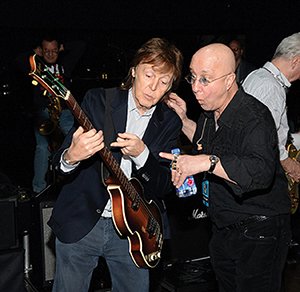 Paul Shaffer & Paul McCartney
What advice do you have for young people pursuing a career in music?
In my case, show business seemed too far-fetched, and I was settling into college, trying to be an academic. With no musical outlet, I became very depressed. Then in the second year, having joined a jazz group on the side, I immediately cheered up. It was clear I had to try music. Luckily it worked out because it was the only thing I could have done to be fulfilled.
Captions: Paul Shaffer and David Letterman Paul Shaffer & the World's Most Dangerous Band original members Paul Shaffer early days Paul Shaffer & Paul McCartney A starring role on The Simpsons