NODE BROOKLYN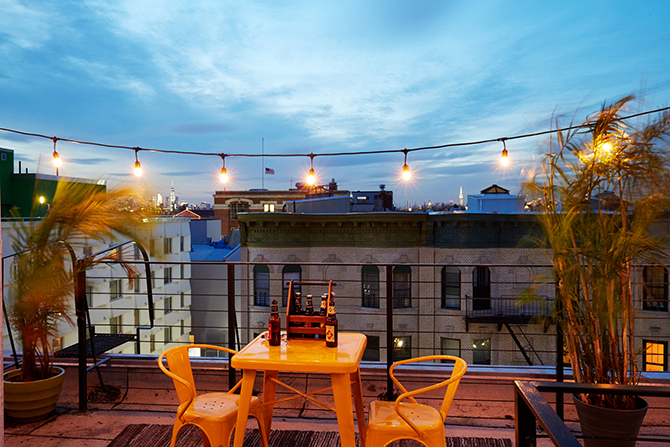 By Daniel J. Bollinger
Node is a collection of thoughtfully designed, fully furnished, boutique apartments in the world's most creative cities, where Node has re-imagined community living. One of their most exciting new locations premiered recently in Bushwick, Brooklyn on Eldert Street. Node's global reach is grounded by a local feel with locations in Los Angeles, Toronto, Dublin, London and Manchester and they are looking to expand further on the West Coast (San Francisco, Seattle, Portland) and in Continental Europe (Berlin, Barcelona, and Amsterdam). They couldn't have picked a better spot in this hip and happening area of Bushwick, Brooklyn. Located just two blocks from the Halsey stop on the L train, one block from Irving Square Park, this is a prime area of Bushwick. The ever growing number of new cafés, bars, and restaurants in this area is exciting for residents, as well as the very popular "Jefftown" which is within walking distance.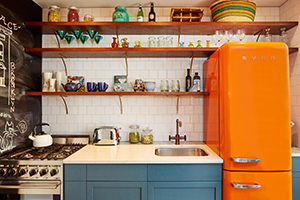 DESIGNED FOR LIFESTYLE
If this burgeoning neighborhood, (also easily connecting residents to the larger New York City scene), isn't exciting enough, Node's boutique building and apartment design is beyond compare. The Node on Eldert Street consists of six apartments which embody Brooklyn's industrial chic style while elevating expectations with high-end finishes. DesignAgency with local Brooklyn designer William Jude helped to ensure that the interiors reflected the local architecture and the history of the building itself. Open kitchens with Smeg appliances, custom shaker cabinetry, subway tiled bathrooms with brass and bronze fixtures, and mid-century industrial furniture adorn the apartments. Nest and Sonos smart tech systems are a staple of every apartment. But it's not just the cozy apartments and unique interior design that make Node a great place live, it is the amenities and community-centric residences that make it special.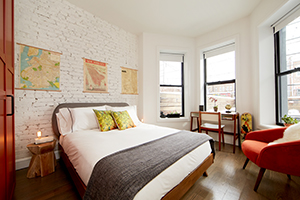 A SENSE OF HOME
Amenities include free laundry on the premises, free hi-speed WiFi, fully furnished units and utilities bundled in one convenient fixed-fee. There is also a lounge community room and backyard patio with grills for barbecuing, a fire pit, and enough seating for all residents. Flavor Paper reflecting local culture symbols and old pictures of Brooklyn adorn the community room lounge and hallway. There is also a rooftop deck for enjoying summertime drinks with views of the New York City skyline. Amenities even transcend the physical space, as the node philosophy revolves around people—connecting exciting creatives and globally-minded individuals with each other in a way that helps get them involved in the local community.
Co-Founder of Node Brooklyn, Dorothea Avery says, "Node works to get residents to be part of the community, and we believe in the adage "know your neighbor." Recently, one resident who is a film producer had residents as extras in one of his films. A new Dutch resident who works for a vegetarian food company is sharing his product at an in-house Memorial Day barbecue event this month.
There are many international residents and those new to New York who are attracted to Node because they can pack light since the apartments are fully furnished. Node is also attractive because of the resident networking and connection to the local community, which is good for people who are new to an area.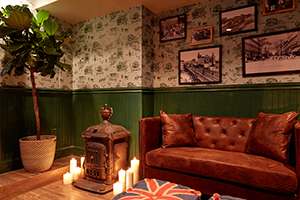 MORE TO COME
Node is currently in construction to build four more buildings for a total of five apartment buildings in Bushwick alone but is also expanding globally. Founder and Global CEO of Node, Anil Khera says, "Node centers around technological areas, we are planning to open in Canada's start-up capital, Kitchener-Waterloo (near Toronto), and where the Google Canadian headquarters is located. In Dublin, we will be minutes' walk from LinkedIn and Amazon's Ireland offices. In L.A. we will open in the buzzing creative epicenter, Echo Park. This is also why our Bushwick office is located in the co-working space Brooklyn Desk in Jefftown."
Node's apartments are unique because they focus on design, while Node's buildings are unique because they focus on community. There is nothing cookie cutter about Node; all units have different fixtures, furniture and color palettes. Node living provides a great place to move to whether you are an international transplant or a local Brooklynite who has been priced out of his current neighborhood. With all of Node's community involvement and social events, you are sure to be welcomed into Node living. Dorothea says it best, "Node is lifestyle living with a Brooklyn feel."
For more information on Node, visit node-living.com