REAL ESTATE SPOTLIGHT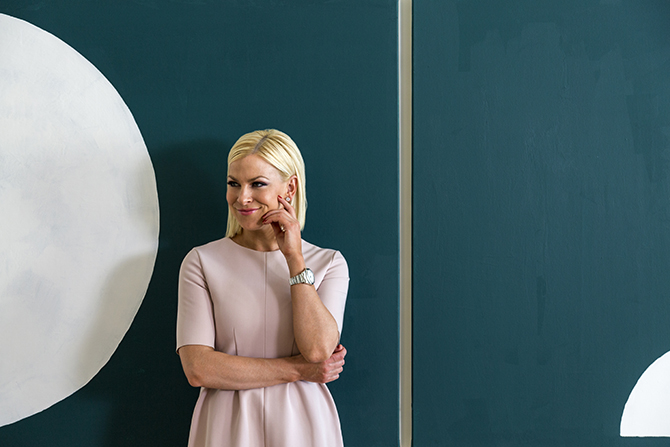 By Daniel J. Bollinger
If you haven't heard of Taylor Spellman, she'll soon be on your radar. This top interior designer/staging expert has the unique talent of mixing high-end one-of-a-kind pieces with treasures found at the Goodwill. Her penchant for witty banter paired with her signature bold design style has made her a standout in the design community as a whole.
Taylor's vast portfolio of private clients entrusts her and her firm to create their nine figure properties. Taylor is an influential voice in the industry and a go-to personality for all things creative. She regularly appears on-air as an entertaining and lifestyle expert and is one of the hosts of the BRAVO series Yours, Mine or Ours.
New York Lifestyles recently met with Taylor to find out about what's happening in her world of interior design and staging.
How did you get into interior design and staging?
I saw a niche in the market that wasn't being tapped. My unique selling point with staging is that I create aggressive and bold interior designs peculiar to the space and demographic of the intended buyer.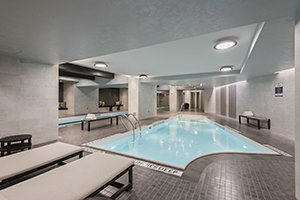 100 Barclay ©Rich Caplan
What benefits are there for a real estate agent to stage their listing?
Staging not only maximizes the price per square foot but leads to more photos resulting in more potential buyers and a quicker sale.
How do you go about staging a property?
First I think about who is the potential buyer. I try to hone in on what said buyer would see and feel when they enter into the space. After I determine what the space is going to say, I think about functionality. I always stage for how people live versus what people think looks nice and this has made all the difference.
Where do you get your design inspiration from?
New York City!
Who are some million dollar agents you work with?
Ryan Serhant, John Gomes, Fredrik Eklund, my good friend and colleague Jason Walker and Richard Hottinger of the Hottinger Team.
Tell us some of the properties that you have staged.
Let's see. I've staged 100 Barclay, 87 Leonard, 100 Avenue A, 277 East 7th Street, and roughly 80 percent of the city.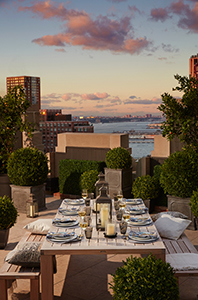 100 Barclay Terrace ©Ty Cole
What is a typical day for you like in the world of interior design and staging?
My day starts when my feet hit the floor at 7 am with filtering through a barrage of emails as I drink a large coffee and then it's meetings with brokers and developers. Afterward, it's design presentations with my team and then to whatever fire needs to be put out that day. Occasionally I will remember to eat and maybe put on some blush, but it is a mad dash until about 8 pm when I go out to eat with my friends in one of the many amazing spots in my neighborhood. Bedtime is sometime after midnight, and I wake up to do it all again.
I know you love red wine. One of my favorite spots for wine is The Ten Bells because of their vast inventory of global organic wines. What's your favorite red wine or space for wine? My friends and I live at Mario Batali's restaurant, Lupa, on Thompson Street. I also love the one-of-the-kind private wine room I designed for 100 Barclay.
For more information on Taylor Spellman, visit taylorspellman.com Instagram @taylor_spellman.