A CULTURED PEARL IN THE SAND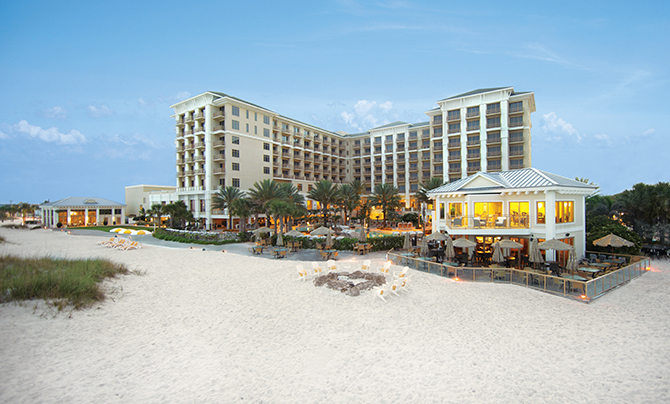 By Gerrie Summers
If the typical modern mega resort is not to your liking, there is a pearl in the sand, which provides the amenities of a large resort, yet the classic Old Florida/homey feel of a grand beach house. Located in Clearwater, Florida in the Tampa Bay area, The Sandpearl Resort sparkles on the pristine white sands of Clearwater Beach, ranked as one of the best beaches in the nation.
The Sandpearl's polished yet comfortable touch begins when you enter the reception area, aptly nicknamed "the living room" where you are greeted with a welcome glass of Champagne. Paintings, murals, mosaics, and artwork by Floridian artists can be found throughout the resort depicting the property's history, including a collage of photos of Clearwater history displayed near the entrance of Caretta on the Gulf, the hotel's signature restaurant. The history begins with a structure originally built as a private summer bungalow and later expanded into a boarding house and seasonal resort, even, at one point, housing a college. This building was demolished and replaced by the 6-story Clearwater Beach Hotel, a favorite spot for 17 years until it was rebuilt and opened as the Sandpearl in 2005.
The resort has held on to many of the Clearwater Beach Hotel traditions. The wooden bar from the old hotel is at Tate Island Grill. The original dinner bell is rung nightly by one of the resort guests, usually a child, as the sun sets on the horizon signaling the start of dinner. The sunsets here are spectacular. Many guests watch the sun paint the sky in gorgeous hues at the resort's fire pits, also a spot for enjoying s'mores on the beach and Tate's inventive cocktails.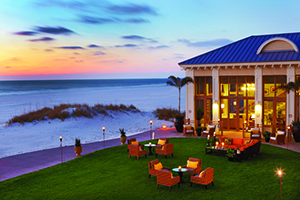 Gulf Side Suite Sunset
RELAXING VIEWS
The Sandpearl Resort has 203 guest rooms and 50 one- and two-bedroom suites. Rooms are open and cozy, designed with soothing earth tones and decor reflecting the beachfront atmosphere. Some rooms have large furnished balconies to soak it all in. Accommodations include flat screen TVs, in-room refrigerators, sitting areas, deluxe bathrooms with step-in showers and separate Roman-style tubs. Some rooms also have accessible features. For those who aren't in one of the suites with a kitchen, microwaves are near the ice machines—a nice touch.
Sandpearl is also eco-friendly. The resort was the first Silver LEED-certified resort and is a member of the Florida Green Lodging Program Clear the World, recycling leftover soap and shampoo to reduce waste while providing items to impoverished communities.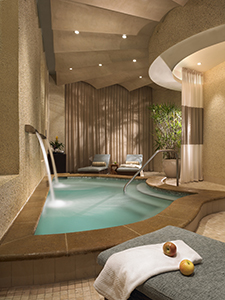 Spa at Sandpearl Jacuzzi
THE PERFECT SPA EXPERIENCE
Guests can relax and rejuvenate at the 12,000 square foot, full-service Spa at Sandpearl, which has seven treatment rooms, a therapeutic whirlpool, and private relaxation rooms. There are over 50 treatments to choose from, including signature treatments like the Signature Perfect Massage, individualized to fit your needs to make a perfect restorative and relaxing massage for body and mind. The spa has a 24-hour gulf-front fitness center with cardiovascular machines and strength training equipment, as well as yoga, tai chi, and fitness classes.
GULF GASTRONOMY
Sandpearl has two on-property restaurants. Caretta's on the Gulf is the resort's AAA Four-Diamond fine dining restaurant. Named for the areas' loggerhead sea turtles, Caretta's has indoor and outdoor seating with spectacular views of Clearwater Beach and the Gulf of Mexico. It has a ceviche and sushi bar, private wine and dining room, lounge and bar and boasts a seasonal menu, with fresh seafood, from delicious snapper and grouper to steaks. Selections have inventive flavor combinations, like Chilean Sea Bass with 7-Spiced Wehani Stir Fry.
Tate Island Grill, named after an original settler of Clearwater Beach, offers casual dining, with a beachside setting and a menu of fresh fish and seafood, salads, burgers, sandwiches and tropical cocktails and signature beer. For quick bites and beverages, the Marketplace located in the lobby has coffee, grab-and-go-breakfast, sandwiches and snacks.
FLORIDA FUN
For beach lovers, Sandpearl provides plenty of beach chairs, as well as umbrellas to rent on its private stretch of beach. If you're more into relaxing by the pool, there is a lagoon-style, zero-entry pool with private cabanas and beach cocoons. Sandpearl is family friendly, yet single adults will not feel overwhelmed. Camp Ridley Kids Club, named after the native Kemp's Ridley turtle, keeps kids busy with arts and crafts, wildlife programs and other activities.
If you decide to leave the property, you can walk (or rent a bike) and visit nearby Caladesi Island. If you do an outing, book a Picnic in Paradise, with a gourmet basket-to-go from Caretta on the Gulf.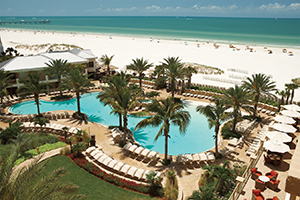 Lagoon Pool
The resort also partners with the Clearwater Marine Aquarium, a rescue and rehabilitation center for marine animals. The Clearwater Marine Aquarium was the backdrop for the Dolphin Tale movie and sequel and home to the film "stars" dolphins Winter and Hope and Ricky (Rufus in the movie) the Pelican. The Aquarium has kayaking eco-tours, stand up paddle board eco tours and sea safari boat cruises.
Nearby on Mandalay Street is a strip of boutiques, shops, and restaurants. One to try is the new Blinkers just a stone throw away (in the same building as the Sandpearl Residences) with steak, seafood, and pasta dishes. Or perhaps opt for the iconic Crabby's Dockside (the locals call it Crabby Bill's) where you can enjoy panoramic views of Clearwater Beach while trying alligator bites or more familiar burgers, chicken wings or the fresh Floridian grouper that the eatery is known for. During your stay be sure to walk the beach to Pier 60, which has a nightly sunset festival of music, crafts and street performers and other activities.
For more information on the Sandpearl Resort, visit sandpearl.com.
Gerrie Summers is a freelance writer, specializing in travel, health, beauty spas and wellness. She was the Multicultural Beauty Expert for About.com. Her writing has appeared in Real Health, For the Bride, Luxury Living, FoxNews.com, and Everett Potter's Travel Report. For more information on Gerrie Summers, visit gerriesummers.com.