15 MINUTES WITH FRANCINE LeFRAK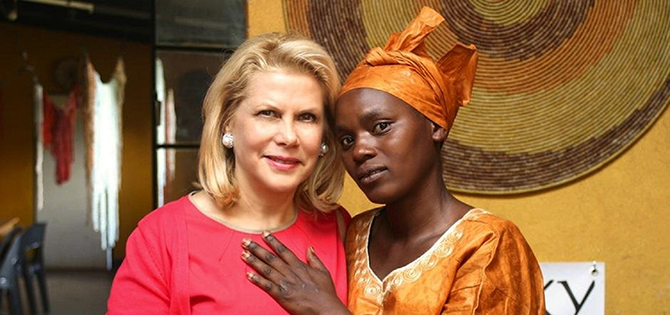 By Baruch Shemtov
Francine LeFrak's surname may be familiar, but the entrepreneur has indeed paved her own path, winning awards as a film, theater, and television producer. Then, nearly a decade ago, LeFrak came up with the idea for Same Sky (samesky.com), a brand that empowers and employs women around the world. The result is a line of jewelry that is both beautiful and impactful.
What inspired you to create Same Sky?
I met the women who would become Same Sky's first artisans while producing a film about the Rwandan genocide. Getting to know these remarkable survivors, hearing their stories and seeing just how much they've risen above, was a life-altering experience for me. But many of the women I met were still spending each day in a struggle to survive, facing serious health issues as a consequence of the genocide. Most had no hope for financial stability or social mobility. I knew I couldn't just turn my back on them.
I've always believed that talent is everywhere, but an opportunity isn't—and the talent of these women was incredible! So, together, we started Same Sky in 2008 with the mission of giving women the power to change their lives through employment. Same Sky began with just a handful of artisans making beautiful glass beaded necklaces and bracelets. Since then, our family of artisans has grown from tens to hundreds in Rwanda and the USA.
How do the designs reflect the brand's mission?
The women Same Sky employs in Rwanda have an amazingly defined skill set—they weave gorgeous goods. When I saw the intricacy of their handicraft work, I could tell that they would be the perfect fit for making the sophisticated jewelry I was envisioning.
The designs we create build our artisans' skills, giving them unique challenges and meaningful work. The result is jewelry that's just as beautiful as it is ethical. Same Sky wants to challenge the idea that artisan-made jewelry can't also be couture quality. It's our mission to make conscious consumerism the new standard by "elevating handmade."
What impact does Same Sky make on the communities who craft the jewelry?
Building a strong community starts with helping individuals build themselves up. When you give a woman the means to improve her status, you give her whole family the chance to flourish—and that improvement ripples out from one life to one household to entire communities.
Take Clementine, for example. She's a survivor of sexual violence, an HIV+ mother, and she was one of the first artisans in our pilot program. Before working for Same Sky, Clementine was among the countless Rwandan women who couldn't afford transportation to get the medication she needed to be healthy. Seeing how her life has changed over the past decade is astounding. She's saved enough money from making jewelry to open her own bank account. Her children go to school each day and come home to their own beds each night. The change in her health is a miracle—even her doctors were amazed! Clementine even gave birth to an HIV-free baby. And it's all a result of the security and confidence she's gained from having steady employment.
Our artisans have gone on to form collectives for their craftwork, and many have even opened their own businesses. What our artisans receive from working with Same Sky, they give back to their communities.
Why is this the best way to make a difference in these regions?
The greatest philanthropy you can give is a good job—instead of the short-term relief of a handout, you're giving a hand up into secure financial footing. Creating jobs and building bridges in the global marketplace is the most sustainable responses to poverty. When you work on the ground within impoverished communities to provide education, training, and employment, you're co-creating a healthy, self-sustaining economic infrastructure.
How does your jewelry empower the men and women who wear it?
Ask any Same Sky supporter, and they'll tell you that wearing our jewelry is a powerful experience. It's such a beautiful feeling to be connected with the woman who made your favorite necklace or bracelet, to know that you're wearing a piece of her story and sharing in her recovery every time you put it on. As believers in the power of looking good and feeling good while doing good, Same Sky is committed to giving jewelry lovers the ability to make an actual impact when they shop.
What's next for Same Sky?
In 2018 we'll be celebrating our 10th anniversary, and we're hoping to extend our education and employment programs in Rwanda, the USA, and beyond! We're also aiming to help our artisans sell their work locally, letting their talent and hard work shine even brighter within their communities. There are some inspiring events and partnerships on Same Sky's horizon!
---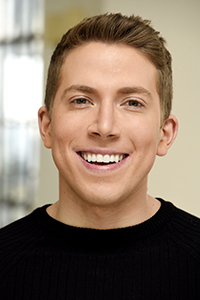 Baruch Shemtov is a New York-based television reporter. A graduate of Harvard College, Baruch has interviewed a long list of leaders and stars including Senator John McCain, Secretary of State Madeleine Albright, Prime Minister Gordon Brown, Tom Cruise, Ryan Seacrest, Yo-Yo Ma, and many more. Baruch grew up in the City and is passionate about everything the Big Apple has to offer. Visit Baruch Shemtov at baruch.tv.